FOSTER, WILDCATS BLANK RIVER HAWKS, 2-0
Junior Brian Foster posts shutout with 29 saves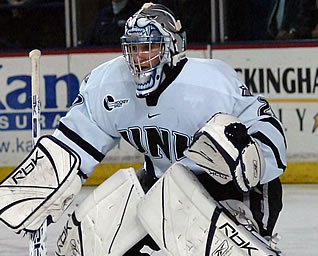 Brian Foster posted a shutout with 29 saves
LOWELL, Mass. (Dec. 5, 2008) - Brian Foster (Pembroke, N.H.) made 29 saves and Peter LeBlanc (Hamilton, Ont.) scored the game-winning goal as No. 19 New Hampshire shutout No. 17 UMass Lowell, 2-0, in Hockey East action Friday night at the Tsongas Arena.
The Wildcats improve to 6-6-3 overall and 4-4-2 in league play. Friday's win was New Hampshire's first on the road this season (1-5-2).
The River Hawks had their two-game win streak snapped and fall to 8-6-0 overall and 5-4-0 in league play.
The shutout was the second of the season and fourth of the career for Foster. It was also his second career blanking against UMass Lowell. Foster made 15 of his 29 saves in the third period. He is 6-4-2 on the season.
LeBlanc got the Wildcats on the board at 11:25 of the first period with his seventh goal of the season. Danny Dries (Lake Orion, Mich.), who had two goals on Nov. 14 against UML, and Bobby Butler (Marlboro, Mass.) had the assists.
Mike Sislo (Superior, Wis.) added an empty net goal at 18:41 of the third period. James van Riemsdyk (Middletown, N.J.) and Kevin Kapstad (Boxboro, Mass.) had the assists.
Nevin Hamilton (Ashland, Mass.) stopped 33 of the 35 shots he faced, but took the loss to fall to 5-3-0 on the season. Hamilton stopped 15 of 16 first period shots.
The Wildcats out-shot the River Hawks 35 to 29 for the game. UML held the advantage 15-10 in the third period.
Both teams were 0-for-5 on the power play. New Hampshire had six shots on its five power plays. UMass Lowell had five shots on the power play.
"UNH started the game with a lot of inspiration," said UMass Lowell head coach Blaise MacDonald. "They played tenaciously in their own zone. They were very determined defensively. I thought as the game went on, we were the better team. We had to be because UNH was playing so well. We certainly have to give their goaltender his due."
The River Hawks and Wildcats conclude their two-game home-and-home series Saturday night at the Whittemore Center. Game time is set for 7:06 p.m.