Saturday, February 7, 2009
UMASS LOWELL EDGES MASSACHUSETTS, 2-1
Mark Roebothan scores game-winner and adds assist for River Hawks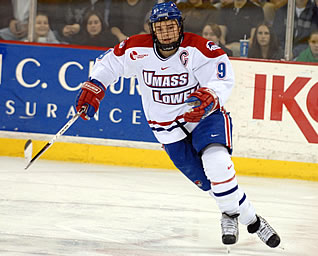 Mark Roebothan had a goal and an assist for UML
AMHERST, Mass. - Mark Roebothan stuffed home the game-winning goal just one minute into the third period and the River Hawks took a 2-1 win over the UMass hockey team at the Mullins Center on Saturday night. With the win, UMass Lowell won the regular-season series against the Minutemen. Shawn Saunders scored the lone goal for UMass - his first of the season and the second of his career. UMass (11-14-3, 6-10-3 HEA) will return to action next Friday and Saturday against No. 3 Northeastern in a home-and-home series.
Saunders put UMass up first with a wrister from the right slot 14 minutes, 23 seconds into the first period. It was his first game action since Nov. 28 against St. Lawrence.
UMass Lowell (13-13-0, 10-9-0 HEA) evened the score at the 12:29 mark of the second period when Patrick Cey scored his 10th goal of the season to tie things at 1-1.
Roebothan scored the go-ahead goal with just one minute elapsed in the third period. The puck seemed to be frozen in the UMass crease as a scrum broke out in front of UMass goalie Paul Dainton (32 saves). With no whistle being blown, the puck squirted out and Roebothan tipped it in for the game-winner.
The River Hawks outshot UMass 34-to-28 for the game. Neither team could find a goal with the extra-man advantage as UMass was 0-for-5 on the power play and UMass Lowell was 0-for-6.
Nevin Hamilton made the start for the River Hawks making 27 saves in the win.