VERMONT DEFEATS US UNDER-18 TEAM, 6-4
Corey Carlson posts goal and two assists for Catamounts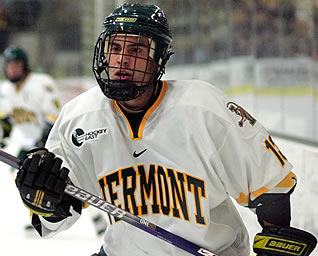 Corey Carlson had a goal and two assists for Vermont
BURLINGTON, Vt. - Senior assistant captain Corey Carlson (Two Harbors, Minn.) had a goal and two assists while 10 different players recorded a point as No. 12 Vermont defeated the USA Under-18 Team 6-4 at Gutterson Fieldhouse on Friday night. Freshman goalie John Vazzano (Trumbull, Conn.) made his debut for the Catamounts and stopped 12 shots in the third period to pick up the win.
Senior captain Dean Strong (Mississauga, Ont.) notched a power-play goal and Colin Vock (Detroit, Mich.), Viktor Stalberg (Gothenburg, Sweden), Justin Milo (Edina, Minn.) and Wahsontiio Stacey (Kahnawake, Quebec) also scored goals for the Catamounts. Freshman defenseman Lance Herrington (Bow, N.H.) had a team best plus-3 rating.
Chris Brown, Kyle Palmieri, Chris McCarthy and Jerry D'Amigo scored goals for the U.S. National Development Team.
"I thought, to be honest with you, we had one really good line tonight; we had pieces, parts of other lines," Vermont head coach Kevin Sneddon said. "I thought the Milo line with Jack Downing and Wahs Stacey was hands down our best line. I thought Brayden Irwin played very well. I thought we had spotty performances from everybody else. I don't think we sharpened the saw as we wanted to do, to be honest with you. We did some okay things offensively, but I don't think we had enough players take advantage of this game."
Vermont out shot the USA U-18 Team 33-29. Freshman Rob Madore (Venetia, Pa.) started the game in goal for the Catamounts and made 13 saves in 40 minutes. Brandon Maxwell made 27 saves for Team USA, who has wins over No. 15 Alaska-Anchorage, Harvard, RPI and Union this season.
U-18 took a 1-0 lead 2:06 into the game on Brown's sixth goal of the season. Vermont answered by scoring the next four goals before Palmieri scored with five seconds left in the second period to make it 4-2.
Milo made it 5-2 Vermont with a wrister from the slot at 6:33 of the third period on a terrific feed from Stacey.
After McCarthy scored for the USA U-18 Team with five minutes left, Stacey gave the Catamounts a 6-3 advantage when he scored on a rebound at 16:03. Downing setup the goal with a shot from the slot.
D'Amigo scored with 1:14 left to make it 6-4 but the USA U-18 Team would get no closer.
"They're a great team," Sneddon said. "They have a lot of talent. They move the puck better than most college teams. They've got size, that's probably the difference from the team we've seen in the past. These guys played a lot stronger, and physical."
Vermont (9-3-2, 6-3-1 HEA) returns to action next Saturday at 7 p.m. at St. Lawrence.