Saturday, January 3, 2009
VERMONT TAKES CATAMOUNT CUP WITH 4-0 WIN OVER SLU
Jack Downing scores twice for Catamounts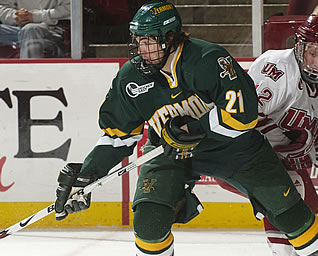 Jack Downing scored two goals for the Catamounts
BURLINGTON, Vt. - Freshman Rob Madore (Venetia, Pa.) made 29 saves to record his first career shutout and sophomore Jack Downing (New Canaan, Conn.) scored two goals and had an assist to lead No. 13 Vermont to a 4-0 win over St. Lawrence in the championship game of the 13th Sheraton/TD Banknorth Catamount Cup at Gutterson Fieldhouse on Saturday night. Vermont improved to 11-4-2 (6-3-1 HEA) with the win and claimed its first Catamount Cup title since 2005. St. Lawrence dropped to 8-9-1 with the loss.
"The key to success for us tonight was our defensemen moving the puck out our zone as quickly as possible," Vermont head coach Kevin Sneddon said. "St. Lawrence's forecheck is relentless. I thought in two areas, we did a good job of getting pucks deep behind them, and pressing them, which didn't allow them always to come up the ice with a lot of speed and numbers."
Sophomore Wahsontiio Stacey (Kahnawake, Quebec) and junior Viktor Stalberg (Gothenburg, Sweden) each added a goal and an assist as the Catamounts avenged a 4-3 loss at St. Lawrence on Dec. 13 earlier this season.
Vermont senior assistant captain Peter Lenes (Shelburne, Vt.) was named the Sheraton/TD Banknorth Catamount Cup MVP with two goals and an assist on the weekend. Sophomore Justin Milo (Edina, Minn.), who had four points on the weekend, as well as Madore and Downing were each named to the Catamount Cup All-Tournament Team.
For the second straight game Vermont took a 3-0 lead in the opening period. Downing scored his first goal of the season just 75 seconds into the contest. Milo setup the goal with a wrist shot from the left circle. St. Lawrence junior goalie Alex Petizian (12 saves) made the initial stop but Downing was there for the rebound to make it 1-0.
Then Downing put Vermont in front 2-0 at 4:17 with a power-play goal. Stalberg and Milo both assisted on Vermont's fifth power-play tally of the weekend.
"I thought we played outstanding for most of it (Catamount Cup)," Downing said. "I think coming off break to play and get out to a good lead is what we've wanted to do all season. It's the first time we've really done that. We've kept it close all year, and this was the first time we've had really good starts."
Vermont, who has played in nine one-goal games this season, took a 3-0 lead when Stacey scored his fifth goal of the season at 12:50. Downing setup the goal to earn his third point of the night.
A scoreless second period included a combined seven power-play chances for the two teams. The Catamounts held the Saints to 0-for-4 on the man advantage in the second and went 7-for-7 on the penalty kill for the game.
Trailing by three goals in the third period, St. Lawrence head coach Joe Marsh pulled junior goalie Kain Tisi (17 saves), who entered the game in the second period, for an extra skater. Stalberg took advantage of the empty net, recording his eighth goal of the year with 2:19 left to cap off the victory.
"I think we were actually able to build off of the things we were doing first half this weekend," Sneddon said. "We didn't take a step back at all, and offensively that's as good as we've looked this weekend, in quite some time. Our power play didn't click as well as it did last night, but we had a lot of opportunities and we saw some great things."
"Our penalty kill was fantastic tonight, a big part of that was Rob Madore, but I really liked the play of our penalty kill. So we were able to use this tournament to get better, not just to get back into game shape, but to actually get better as a team. I think the guys are very excited about how they played and they deserve it, they were the best team this weekend."
Vermont returns to action next Friday at 7:30 p.m. at Gutterson Fieldhouse against Boston College. The game will be televised on NESN.
SHERATON/TD BANKNORTH CATAMOUNT CUP ALL-TOURNAMENT TEAM
Jack Downing, So., F, Vermont
Peter Lenes (MVP), Sr. F, Vermont
Rob Madore, Fr., G, Vermont
Justin Milo, So. F, Vermont
Casey Parenteau, Sr., F, St. Lawrence
Zach Redmond, Jr., D, Ferris State
NOTES: Ferris State and Colgate skated to a 3-3 tie in the consolation game of the Catamount Cup ... The Bulldogs won the shootout 2-1 ... Tonight's game was televised on CN8 ... Peter Lenes had a team-high seven shots ... Lenes was named to the Catamount Cup All-Tournament Team for a second straight season ... Josh Burrows had a team best plus-3 rating ... Vermont has now won the Catamount Cup twice (2005, 2009) ... Vermont is 7-2-1 in the Catamount Cup under head coach Kevin Sneddon ... The Catamounts are 46-10-12 in their last 68 games when scoring first ... UVM finished non-league play this season with a 5-1-1 mark ... 200 Teddy Bears were collected from the sixth annual Teddy Bear Toss sponsored by Vermont Teddy Bear ... Members of the UVM hockey team will deliver the Bears in January to local nursing homes and the Vermont Children's Hospital.