Saturday, October 11, 2008
VERMONT TOPS RENSSELAER IN QUEBEC CITY, 4-1
Sophomore Justin Milo scores two goals for Catamounts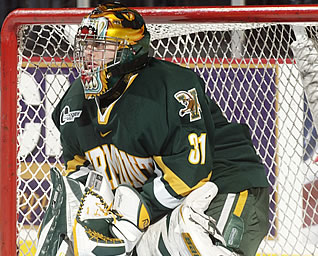 Mike Spillane stopped 20 shots for Vermont
QUEBEC CITY - No. 20 Vermont won the first-ever NCAA hockey game in Quebec City with a 4-1 victory over Rensselaer at the Pavillon de la Jeunesse on Saturday afternoon. Sophomore Justin Milo (Edina, Minn.) scored twice and junior Mike Spillane (Bow, N.H.) stopped 20 shots as the Catamounts picked up the win in their season opener.
Sophomore Chris Atkinson (Sparta, N.J.) added a goal and junior Brayden Irwin (Toronto, Ontario) notched a power-play tally for Vermont.
Freshman Patrick Cullen scored a first period goal for the Engineers.
"This was a great experience for our student-athletes and the fans that made the trip," Vermont head coach Kevin Sneddon said. "We appreciate the fact that we got to play the first NCAA game in Quebec City and we showcased college hockey to the fans here in a positive way."
RPI took a 1-0 lead at 17:33 of the first period when Cullen scored on a rebound.
Milo tied the game 1-1 for the Catamounts at 1:17 of the second period with a goal at the left post. Sophomore Jack Downing (New Canaan, Conn.) sent in a shot from the right point that went off the end boards to Milo for the goal. Senior assistant captain Peter Lenes (Shelburne, Vt.) also assisted.
Atkinson gave the Catamounts the lead for good with a goal at 3:45 of the third period. Sophomore Josh Burrows (Prairie View, Ill.) and freshman Matt Marshall (Hingham, Mass.) setup the goal at the bottom of the left circle to make it 2-1.
"He (Atkinson) doesn't like to talk about his injury and the past," Sneddon said. "But it was great to see the smile on his face and to have him get that first goal. I'm just proud of him, and it's a testament to all that he has gone through."
The Catamounts took a 3-1 lead on a power-play goal by Irwin from the middle of the slot at 6:47 of the third. Junior Brian Roloff (West Seneca, N.Y.) fed Irwin with a pass from the right circle and junior Colin Vock (Plymouth, Mich.) also assisted on the play.
Milo added his second goal of the game at 11:36 to make it 4-1. Downing and Lenes both picked up their second assists of the contest on the goal.
"He's (Milo) been a great addition to our team," Sneddon said. "His first goal was the result of someone that has great hand eye coordination and the second goal was just being in the right place at the right time. That line was good for us all night."
UVM out shot RPI 28-21. The Catamounts went 1-for-10 on the power play while the Engineers were 0-for-5.
Vermont returns to action next weekend for a two-game series against No. 8 Miami at Gutterson Fieldhouse on Friday and Saturday. Both games are 7:05pm starts.
NOTES: Vermont is 3-3-0 in season openers under head coach Kevin Sneddon ... The Catamounts are unbeaten in 39 straight games when scoring at least four goals ... RPI leads the all-time series against UVM 32-31-7 ... Brian Roloff went 14-for-20 on face offs ... Brayden Irwin had a team-high four shots