Saturday, November 22, 2008
NEW HAMPSHIRE HOLDS OFF PROVIDENCE, 4-3
Danny Dries scores two goals for Wildcats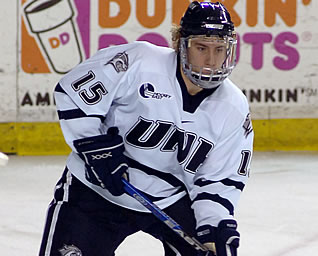 Danny Dries scored two goals for the Wildcats
DURHAM, N.H. - Danny Dries (Lake Orion, Mich.) scored a pair of second-period goals to pace a three-goal second and lift the 13th-ranked University of New Hampshire men's ice hockey team to a 4-3 win over Providence College in Hockey East action on Saturday night at Whittemore Center.
UNH, which remains unbeaten at home a 5-0-1, improves to 5-5-3 with a 3-3-2 record in Hockey East. Providence is now 2-9-1, 0-8-1 HE.
With the scored tied 1-1 at the first intermission, UNH broke the deadlock with three second-period goals. The first came just two minutes into the period. James van Riemsdyk (Middletown, N.J.) stole the puck from a PC defender at the top of the right offensive zone fired a shot that was stopped and bounced out to a crashing Mike Sislo (Superior, Wis.), who scored on the rebound. The second tally came just 91 seconds later as Dries scored on a one-timer from the right slot with assists from Moses and Joe Charlebois (Potsdam, N.Y.). Dries added UNH's fourth goal on the power play with assists from Charlebois and Kevin Kapstad (Boxboro, Mass.). Kapstad and Charlebois cycled the puck around to right side where Dries rifled a shot passed PC netminder Justin Gates for the score to make it 4-1.
PC would cut into the Wildcat lead with an even-strength goal just 1:27 into the third period. Matt Bergland scored with assists from Kyle Laughlin and Joe Lavin. The Friars made it a one-goal game during a 5-on-3 opportunity with a goal by Mark Fayne. The goal, which was scored with 7:37 left to play, was assisted by Pierce Norton and Matt Taormina.
Providence drew first blood as John Cavanagh scored an even-strength goal at 8:34 with assists from Ian O'Connor. UNH tied it up with an even-strength goal just over four minutes later as Mike Borisenok (Watervliet, N.Y.) potted his first collegiate goal with assists from Steve Moses (Leominster, Mass.) and Danny Vranek (New Port Richey, Fla.) at 12:44. Vranek fed Moses near the UNH blue line and Moses made a cross-ice pass to Borisenok, who fired a one-timer passed PC netminder Justin Gates. The teams went into the first tied despite the Wildcats' 18-9 advantage in shots.
With 1:01 remaining in regulation, the Friars pulled netminder, Justin Gates, to give the visitors an extra skater. The Wildcats, however, were able to hold its opponent from recording a shot during the final seconds to secure the win. Gates made 26 saves including 16 in the opening stanza, while Brian Foster (Pembroke, N.H.) tallied 32, including 16 in the third period, in his fifth victory of the season for the Wildcats.
The Wildcats return to action Saturday, Nov. 29 at home against Merrimack College. Game time at the Whittemore Center is 7 p.m.