MASSACHUSETTS ROLLS PAST PROVIDENCE, 9-4
James Marcou posts five-pont game for MInutemen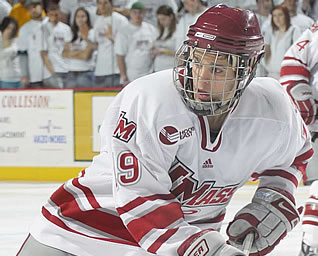 James Marcou had two goals and three assists for UMass
AMHERST, Mass. - James Marcou netted two goals and three assists to lead the UMass hockey team to a 9-4 win over Hockey East rival Providence on Friday night in the Mullins Center. The nine goals were the most ever for UMass in a Hockey East game and the most since scoring 10 against Army in 1996. The line of Alex Berry, Cory Quirk and Marcou combined for 12 total points after having nine points entering the night.
UMass (3-1-1, 1-0-1 HEA) dug itself out of a 2-0 first period deficit and scored six unanswered goals in the final 36 minutes of the game.
Providence (2-3-0, 0-3-0 HEA) scored just 5:31 into the game with John Cavanagh's third goal of the season. The Friars added another goal less than two minutes later to take a 2-0 lead in the first 10 minutes of play.
Berry, Chris Davis and Michael Lecomte all scored within a six minute span to close the first with three unanswered goals giving UMass a 3-2 lead at the first intermission.
In the second period, Nick Mazzolini netted his first goal for Providence followed by Andy Balysky's goal as the Friars retook the lead 4-3 in the first 2:08 of action.
Two minutes later, Berry scored his second of the game to spark the 6-0 run through the remainder of the second and third periods.
Along with Berry, James Marcou finished with two goals. Freshman Casey Wellman had a game-high four assists.
Dan Meyers started the game, but played just 22:08 before being lifted for Paul Dainton who pitched a shutout in the remainder of the game. Meyers made 11 saves, while Dainton had 17 in his first action of the season.
The Minutemen penalty kill was 4-for-4 in the game extending its perfect streak to 12-for-12 in the last three games. UMass was 2-for-6 on the power play.
Despite the lopsided score, UMass only outshot Providence by one, 33-to-32, for the game.
UMass and Providence will play again Saturday night in Rhode Island. The game is set for a 7 PM start and will be televised on COX-TV in Rhode Island.