Saturday, November 22, 2008
COSTA LEADS NORTHEASTERN PAST UMASS LOWELL, 4-3
Junior Greg Costa posts hat trick for Huskies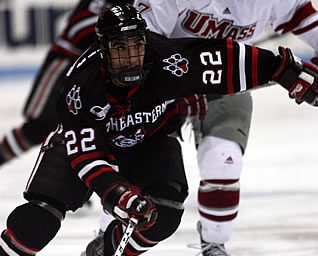 Greg Costa netted a hat trick for the Huskies
LOWELL, Mass. - Greg Costa (Crownsville, Md.) had a hat trick and Brad Thiessen (Aldergrove, B.C.) had 36 saves as No. 6 Northeastern, 4-3, Saturday night in Hockey East action at the Tsongas Arena.
The Huskies have won two straight and four of five. They improve to 9-2-2 overall and 8-2-1 in league play. The River Hawks had their three-game win streak snapped with the loss and fall to 6-5-0 overall and 4-3-0 against the league.
Costa and Ryan Ginand (Milford, Mass.) each had three points to lead all scorers. Ginand scored the game-winning goal and had two assists.
Ben Holmstrom (Colorado Springs, Colo.) led the River Hawks with two points (both assists.). Michael Budd (Burlington, Ont.), Paul Worthington (Lanhorne, Pa.) and David Vallorani (Hamilton, Ont.) scored for UML.
The first two goals Costa scored tied the game after UMass Lowell goals. Budd opened the scoring for UML at 10:53 of the first. Costa followed with his first at 14:18.
Worthington gave the River Hawks their second lead of the contest 20 seconds into the third. Costa followed with his second of the night 25 seconds later.
Costa's second tally was the first of three unanswered goals by the Huskies. Ginand scored at 7:39 of the third. Costa completed the hat trick at 9:17.
Vallorani made it a one-goal at 19:35 on an extra-attacker goal. Holmstrom, who assisted on Worthingon's goal, picked up his second helper of the night.
Thiessen stopped 36 of 39 shots faced to pick up his ninth win of the season. Thiessen made 13 saves in the first period and 13 in the third.
Nevin Hamilton (Ashland, Mass.) took the loss for UML, ending his three-game win streak. He stopped 28 shots and allowed four goals.
UML out-shot Northeastern, 39-32, including a 15-7 edge in the third period.
The River Hawks had their streak to seven straight games with a power play goal end as they were 0-for-6 on the man-advantage. The Huskies were 0-for-5 on the power play.
"I thought we played a really energized, good first period," said UMass Lowell head coach Blaise MacDonald. "We did everything we wanted to do. We were hoping to get a little bigger lead though. (Northeastern) scored off two face offs, which from our standpoint is unacceptable. It was very difficult to play with any rhythm in the second period when you have to kill of four penalties. We had to fight through that. But we still had a lot of energy and felt great going into the third period."
The River Hawks return to the ice Tuesday night when they travel to Merrimack. Game time is set for 7:00 p.m. The Huskies are next in action Friday for the RPI Holiday Tournament. They play Princeton at 4:00 p.m.