AUGER'S OVERTIME GOAL LIFTS UMASS LOWELL PAST NORTHEASTERN, 3-2
Chris Auger scores 3:00 into overtime to propel River Hawks into Hockey East title game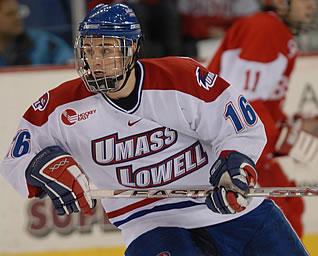 Chris Auger scored the game-winner for the River Hawks
BOSTON -- Chris Auger's goal three minutes into overtime lifted fifth-seeded UMass Lowell to a 3-2 comeback win over second-seeded Northeastern in the opening semifinal of the 2009 Hockey East Championship Friday evening at the TD Banknorth Garden. The River Hawks, who tied the game with 20 seconds left in regulation, advance to the title game to take on the winner of the semifinal nightcap between top-seeded Boston University and sixth-seeded Boston College. Saturday's championship game will be held at 7 p.m. and will be televised on NESN.
OTHER LINKS: Video highlights and features from the semifinals (Courtesy of NESN.com) - Blaise MacDonald Audio (mp3) - Greg Cronin Audio (mp3) - Joe Vitale Audio (mp3) - Chris Auger, Scott Campbell, Carter Hutton Audio (mp3) - - Postgame Quotes (PDF Format)
Auger's goal, assisted by Ben Holmstrom and Paul Worthington, gives UMass Lowell (20-15-2) its second appearance in the title game where they will bid for the school's first-ever Hockey East Championship. UML lost to Boston University in their first trip to the finals in 1994 and it is the first fifth-seeded team to move on to the title game since BU in 2003.
UMass Lowell outshot the Huskies, 44-27, for the contest and Auger's was its only shot on goal in overtime to cap the comeback.
With UML goalie Carter Hutton on the bench for an extra attacker, Scott Campbell rapped home a rebound of Maury Edward's shot with 20 seconds left in regulation to tie the contest at 2-2. Hutton then made two stops in the last five seconds to force overtime, the ninth time a semifinal has needed an extra session in the 25-year history of the league.
Brad Thiessen, the 2009 Reebok/Hockey East Player of the Year, made 25 saves in the first forty minutes, and Kyle Kraemer and Rob Rassey scored 25 seconds apart in the second period as Northeastern grabbed a 2-0 lead. With 1:16 left in the middle stanza, Ryan Blair cut the deficit in half for the River Hawks tallying his first of the year with assists to Scott Campbell and Paul Worthington.
UMass Lowell went 1-for-4 on the power play on Auger's goal while NU converted once in three opportunities.
Hutton finished with 25 saves, 14 after the first period, as UMass Lowell extended its winning streak to five games. Thiessen stopped 41 shots for the Huskies (25-10-4).
Game Notes
It was the 9th time in Hockey East semifinal play that a game has gone into overtime (last 2008 - BC 5, UNH 4)
Marks the 3rd time Northeastern has played a semifinal game in OT (other 1989: Maine 3, NU 2, 1991: Maine 4, NU 3)...NU is now 4-3 in OT in Hockey East postseason play
Lowell joins BC - 2005 and BU - 2003 as the only teams to win 2 OT games in one Hockey East playoff season
It's the first-ever semifinal OT game for UMass-Lowell...Lowell is now 3-1-2 career in Hockey East postseason play in OT
UMass-Lowell Notes
Advances to the Championship Game for the 2nd time in history (other - 1994 - 3-2 loss vs. BU)
Become the 2nd ever #5 seed to advance to the championship game (other - 2003 BU)... No #5 seed has ever won the Hockey East Championship
#5 seed is now 2-8 lifetime in Hockey East semifinals play
Lowell is now unbeaten in 10 of their 11 last games away from home
Lowell is now 7-9-1 when their opponent scores first, including going 3-0-0 in Hockey East postseason play this season when their opponent scores first
Ryan Blair - Scored his first goal of the season and 2nd career goal (other: 12/07/08 vs. BU)
Scott Campbell - Extended his point-scoring streak to 5 games (4 G - 6 A = 10 over 5 games)...He leads tournament play in points with 3-3 = 6
Chris Auger - It was his 2nd career GWG (other: 11/20/07 vs. MC)
Paul Worthingon now has 8 points (2 g, 6a) in 6 career postseason games
Northeastern Notes
Brad Theissen - Made 30+ saves for the 20th time this season (NU: 14-5-1 in those games)...With today's game became the 1st Northeastern goalie ever to play 40 games in one season
Kyle Kraemer - Both of his goals this season have come in the postseason play (other: 3/14/09 vs. UMA - 1st goal)...It was his 3rd career PPG, 2 of his career 3 PPG have come in Hockey East postseason play (other - 3/15/08 at UVM)
David Strathman - Leads all NU defensemen with 17 assist (3rd on team overall)
---
PHOTO GALLERY FROM THE GAME

Members of the 25th Annual Hockey East Tean were recognized between periods ...

more players will be recognized during Saturday's championship game
---
CHECK OUT OUR LIVE GAME BLOG:
8:02 p.m. Lowell wins! First time since 1994 they are in the Hockey East Championship. Chris Auger scores the winner off a pass from Ben Holmstrom. He redirected a pass in front over Thiessen's blocker for his second goal of the season exactly 3:00 into the overtime. The second assist was credited to Paul Worthington. So we'll have No. 5 UMass-Lowell against either BC or BU in the finals tomorrow night! Game two coming up in 45 minutes, or about 8:50 p.m.
8:01 p.m. Petrick Cey was stopped from the left circle by Thiessen, and Northeastern answered with a rush that nearly resulted in a goal. 18:00 left in overtime...and no, Donovan, this one can't end in a tie
8:00 p.m. We're underway in overtime. Northeastern just polished off a rush with a player sliding into the goal - that, however, does not count. And we play on...
7:40 p.m. Tie game! Lowell ties it on a rebound goal with 19.9 seconds remaining. Scott Campbell collected a rebound at the bottom of the right circle and slid the puck into a wide-open net. OVERTIME at the Garden! Hockey East mogul Dan Parkhurst predicted prior to the start of the contest that these two schools would go into overtime. I'm going to ask him for tonight's winning lottery numbers...back in 15.
7:36 pm. Penalty on Northeastern for too many men on the ice with 1:05 remaining. 6-on-4 attach for UML, which has called timeout.
7:35 p.m. 2:02 remaining. Lowell had a 3-on-2 rush but was unable to capitalize on it. Hutton should be off the ice once UML gets the puck deep...
7:32 p.m. 3:44 remaining, 2-1 Northeatsern. UML is going to have to start pinching in. I'll let you know when Hutton comes to the bench.
7:26 p.m. Northeastern just broke in 3-on-2, but a pass to Rassey in the slot was broken up by Scott Campbell in front of Hutton. Still 2-1, 5:50 left in the third...
7:22 p.m. Northeastern nearly made is 3-1, but Hutton stopped Silva and Chris Donovan on consecutive attempts.
7:14 p.m. 11:44 left, still 2-1 Northeastern. Back and forth action, no solid scoring chances either way.
7:10 p.m. Each team has a man in the box after a brief scrum in front of Thiessen. 4-on-4 for another minute.
7:07 p.m. Nice wrap-around chance by Kraemer but the puck rolled off his stick at the last minute. 15:30 left, 2-1 Northeastern, shots 32-21 Lowell.
7:03 p.m. Back underway here after a lengthy intermission - Lowell had had the better of the play through the opening minutes, peppering Thiessen with shots.
6:48 p.m. Hockey East is honoring some of its best players from the past 25 seasons. Players include Jon Morris of UML, Bob Beeers of Maine, Tim Army of Providence, Brian Leetch of BC, Mike Dunham of Maine, Garth Snow of Maine, Jim Montgomery of Maine, David Sacco of BU, Shawn McEachern of BU, Craig Janney of BC, and Greg Brown.
6:34 p.m. Lowell is back in the game on a goal by Ryan Blair, who one-timed a pass from Scott Campbell at 18:44. The 4-on-4 goal was his first of the season. The period ends with UML holding a 26-19 edge in shots. The River Hawks held a 10-8 lead in shots in the second.
6:32 p.m. The sides are evened up as UML's Maury Edwards is sent off for tripping. Tough break for the River Hawks, who had their PP unit set up and moving the puck well.
6:30 p.m. Cross-checking penalty issued to Denis Vhisholm of Northeastern. The TV timeout gives Blaise a chance to gather his players and draw up a play. The D isn't pinching yet for UML - there is still plenty of time, but Thiessen looks solid.
6:24 p.m. The River Hawks are trying to pick up the offense, but the Huskies are keeping their shots to the outside. This is the first time for the Huskies in the HEA semis since 1994 and the first for UML since 2002, so experience in these situations is at a minimum.
6:19 p.m. Louis Liotti of Northeastern just upended a River Hawk as he staked down the boards into the defensive end. Not too many quality hits so far, but that certainly qualifies as the hit of the game to this point.
6:12 p.m. Huskies take a 2-0 lead on a PP goal by Kyle Kraemer and an even-strength tally from Rob Rassey 25 seconds apart. Kraemer skated down the right side and fired a beautiful wrister high to the short side, over Hutton's glove at 8:44. Twenty-five seconds later, Rassey grabbed a loose puck in front and found the back of the net. The goal was Kraemer's second of the season while Rassey potted his eighth. Kraemer has appeared in only 18 games this season, and with a shot like that would no doubt have double-digits had he remained healthy.
6:11 p.m. Solid cycle on the PP for the Huskies, but no shots. Mike Potacco just missed a chip in front off a pass from Chris Auger short-handed for UML.
6:11 p.m. No goal. PP for the Huskies.
6:07 p.m. Northeastern just had its best flurry of the game. After Hutton enarly cost his team a goal with a giveaway behind the net, the Huskies peppered him with a series of shots that resulted in a penalty to Scott Campbell of UML for cross-checking. The Huskies are 0-2 so far with the man advantage. Hutton made his best save of the game on Chris Donovan - the play is under review. The puck may be in the net, but first glance is inconclusive. Back in a minute.
6:05 p.m. Holmstrom just had a great scoring chance at the left side of the net. He took a pass and had a wide open net facing him, but Thiessen got across and stoned the junior forward. Huskie fans are chanting 'Hobey Baker' for Thiessen. Dan Fisher called the opportunity 'a Grade A chance.'
6:01 p.m. Best scoring chance of the game goes to Lowell. They had a 3-on-2 rush that ended with David Vallorani just missing a tap-in on a loose puck at the left side of the net. PP chance for the River Hawks as Joe Vilate is in the box for hooking. Third hooking call of the game.
6:01m p.m. Shots are 1-1 through the first media timeout.
5:57 p.m. Barry Goers just had a fantastic chance for the River Hawks. he took a pass from behind the net and ripped a shot that missed high and wide.
5:38 p.m. Ben Holmstron had a slapshot from the right side turned away by Thiessen. Period one is in the books, shots are unofficially 16-11 in favor of the River Hawks. Blaise MacDonald will no doubt be pleased with his teams performance. Back in 15!
5:33 p.m Monroe had a great chance to chip in a rebound for UML but was tied up. Jonathan Maniff was just stopped from the right circle for the River Hawks. Shots are 15-11 in favor of UML, who has turned it up the last few minutes. 2:24 left in the first, commcercial timeout.
5:32 p.m. No shots on the Pp for the Huskies. 3:20 left in the period.
5:29 p.m. Mike Potacco was accessed a hooking penalty and the Huskies will go on the PP. This will be their first chance tonight with the man-advantage. The Huskies are 15.0 pct. (33-for-220) on the PP this season. UML has killed off 87.9 pct. of the time.
5:25 p.m. Both teams are still feeling each other out. The play is evening up. Each teams has fired off a few shots in the past few minutes, and like most playoff contests, the first goal will certainly be key.
5:22 p.m. The River Hawks just tried a move out of 'Mighty Ducks 2,' as one of their forwards attenpted to beat Thiessen with the knucklepuck. The junior goalie is a solid Hobey candidate, and I'm sure the River Hawks will use every shot they have to tickle the twine.
5:20 p.m. A few chances for UML but nothing that would be considered a solid scoring chance. Shots are now even 10-10.
5:18 p.m. ...and the UMass-Lowell band answers with the same song. It's a budding rivalry. Hutton is holding the fort for UML as Northeastern was just denied on another solid scoring chance. Shots are 8-6 Huskies, but the betetr chances have gone to the Huskies.
5:16 p.m. The Huskies band just entertained us with the theme from 'Family Guy.' What the deuce?
5:15 p.m. Hutton just made a great save on an odd-man rush. She slid to his right and got his glove on a shot by Ryan Ginand from the left circle.
5:11 p.m. Kory Falite was just stopped on a breakway. He tried to beat Thiessen blocker side and was denied. Penalty to Mcnealy is over. Shots are 5-4 Northeastern at the commercial break.
5:09 River Hawks will go on the PP as Tyler McNealy is sent off for hooking in the defensive zone.
5:06 p.m. First scoring chance goes to the Huskies as Wade Macleod and Kyle Kraemer had chances in close on Hutton.
4:59 p.m. The two teams are on the ice and the starters are being introduced. The River Hawks are in their road red sweaters while the Huskies ahve their traditional white sweaters. Both mascots are trying to intimidate the opposing school.
4:52 p.m. The Northeastern fans have turned out in full force for this semifinal contst. Chants of 'North-Eastern' and 'Let's go Huskies!' are echoing throughout the Garden. The lights just went down and the spotlight is roaming the stands while Hockey East highlights from previous championships are shown on the video board.
4:39 p.m. 26 Minutes on the clock and both teams are on the ice for warm-ups. As expected, Thiessen is in goal for the Huskies and Hutton for the River Hawks.
3:59 p.m. About an hour away from face-off
3:35 p.m. About an hour-and-a-half from game time. Northeastern making its first appearance in the Hockey East semifinals since 1994, while UMass Lowell is in the semifinals for the first time since 2002.