UMASS LOWELL CLINCHES FIFTH SEED WITH 5-3 WIN OVER MAINE
River Hawks strike for four power-play goals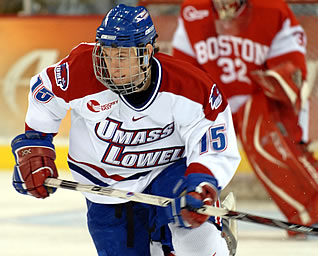 Scott Campbell had a goal and an assist for UML
LOWELL, Mass. - UMass Lowell overcame a 3-2 deficit in the second period with three power play goals in a span of 4:50 to defeat the University of Maine, 5-3, Friday night in a Hockey East clash in front of 4,211 at the Tsongas Arena.
OTHER LINKS Blaise MacDonald Audio (mp3)
With the win, UMass Lowell improved to 16-15-2 overall and 13-11-2 in Hockey East and closes the regular season Saturday night against the Black Bears at the Tsongas Arena (7:00).
The victory, coupled with Northeastern's 2-1 overtime victory over Boston College, gives UMass Lowell fifth-place on 28 points in Hockey East, and the No. 5 seed for the HE playoffs.
Maine, in the midst of a seven-game winless streak, slipped to 12-19-4 overall and 7-16-3 in Hockey East.
Sophomore F Scott Campbell (Navan, Ont.) scored the proven game-winner and set up UMass Lowell's fifth goal while junior D Nick Schaus (Buffalo, N.Y.) dished out three assists. Junior Kory Falite (Billerica, Mass.) and sophomore D Ryan Blair (Ashburn, Va.) had two assists apiece.
Junior goalie Nevin Hamilton (Ashland, Mass.) had 32 saves.
Sophomore F Tanner House (Cochrane, Alta.) scored a pair of goals for Maine while freshman F Brian Flynn (Lynnfield, Mass.) added one goal and one assist. Freshman goalie Scott Darling (Lemont, Ill.) stopped 26 shots.
The River Hawks trailed 3-2 midway through the second period but capitalized on three straight power plays. Sophomore Maury Edwards (Rocky Rapids, Alta.) knotted the score 3-3 with a goal 13:20 into the second period with help from Falite and junior D Barry Goers (Ivyland, Pa.).
Campbell scored the go-ahead goal 1:21 later off assists from Schaus and freshman F Michael Budd (Burlington, Ont.), and set up the insurance goal from junior F Paul Worthington (Penndel, Pa.) at 18:10.
Freshman F Michael Scheu (Buffalo, N.Y.) opened the scoring 3:33 into the first period (from Schaus and Blair) on a power play, but the Black Bears answered with two goals within 2:14 of one another for a 2-1 edge.
House scored his first at 8:30 and Flynn capitalized on a power play at 10:44, but sophomore F Patrick Cey (Saskatoon, Sask.) evened matters with a goal at 12:14 from Falite and Blair.
Just 11 seconds later, however, House scored his second to allow the Black Bears take a 3-2 lead into the first intermission.
UMass Lowell tallied a season-high four power play goals, going 4-for-8. Maine was 1-for-8 on the man-advantage.
The Black Bears out-shot the River Hawks 35-31 for the game.
"We had many opportunities to cave in and relinquish a two-goal lead," said UMass Lowell head coach Blaise MacDonald. "Our penalty killing was very, very good. It gave us a chance to win. We took far too many penalties, no question. Tonight was really a special teams type of game. It was a really crazy start to the game. You have to give our guys a lot of credit for hanging in there and overcome a desperate Maine team."