Saturday, November 15, 2008
MAINE SWEEPS WEEKEND SERIES AT PROVIDENCE WITH 3-0 WIN
Gustav Nyquist scores two goals for the Black Bears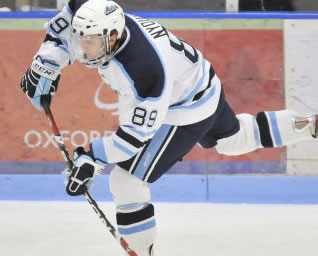 Gustav Nyquist scored two goals for the Black Bears
PROVIDENCE, R.I. - The Providence College men's hockey team was defeated by the University of Maine, 3-0, Saturday night at Schneider Arena. The Black Bears scored two short-handed goals and never looked back as they swept the weekend series against the Friars.
The Black Bears (6-3-0, 3-2-0 Hockey East) took a 1-0 lead at the 7:37 mark of the second period when Tanner House scored a short-handed goal. House gained possession of the puck behind the PC net and made scored on a wrap-around. It marked House's third goal of the season. The Friars (2-7-1, 0-6-1 Hockey East) had a flurry towards the end of the second period, but were unable to score. Sophomore Matt Germain (Rockland, Mass.) hit the post, while senior Matt Taomina (Washington Township, Mich.) fired a shot from the slot that was saved by Maine goalie Scott Darling.
At 4:09 of the third period, Gustav Nyquist scored while short-handed to give Maine a 2-0 edge. Nyquist stole the puck at the neutral zone, skated in on a two-on-one break before ripping a high shot past PC goalie Justin Gates (Cranston, R.I.). Nyquist capped off the win with his second goal of the night at 18:42.
Darling finished with 24 saves to earn the shutout, while Gates recorded a career-high 33 stops.
The Friars are back in action on Friday, November 21 when they travel to Lowell, Mass. to face the UMass Lowell River Hawks beginning at 7:00 p.m.