Saturday, October 25, 2008
NORTHEASTERN RALLIES TO TOP MAINE, 2-1
Rob Rassey and Ryan Ginand score third period goals for Huskies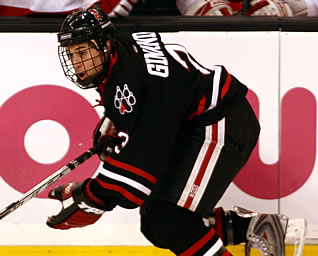 Ryan Ginand scored the game-winning goal for the Huskies
ORONO, Maine -- Northeastern University scored a pair of third period goals to erase a 1-0 deficit and defeat the University of Maine men's ice hockey team 2-1 on Saturday night at Alfond Arena in Orono, Maine. Spencer Abbott (Hamilton, Ontario) scored the lone goal of the game for the Black Bears, who drop to 1-3-0 on the season and 0-2-0 in Hockey East play. Northeastern improves to 5-0-1 overall and 4-0-0 in conference play.
Maine took a 1-0 lead at 18:11 of the first period with a power play goal. Simon Danis-Pepin (Vaudreuil-Dorion, Quebec) and Josh Van Dyk (Woodstock, Ontario) passed the puck back and forth on the blueline. Van Dyk took a shot that Northeastern goalie Brad Thiessen was able to save, but the rebound went right to Abbott who was to the left of Thiessen. Abbott was easily able to beat Thiessen for his first collegiate goal, giving Maine the 1-0 lead.
Maine held the 1-0 leaad until 9:02 of the third period. Maine goalie Scott Darling (Lemont, Ill.) tried to clear the puck, but Alex Tuckerman was able to control the lose puck on the boards and find Rob Rassey who was all alone in front of Darling. Rassey was able to beat Darling to knot the score at 1-1.
The Huskies got the game-winning goal at 16:23 of the third period. Northeastern's Ryan Ginand was battling for the puck behind the Maine net. He was able to come away with the puck and beat Darling with a wrap around back-hand shot. For Ginand, it was his third goal of the season.
Maine pulled Darling and had several chances late, but was never able to tie the game. The Black Bears had a commanding 27-13 edge in shots in the game.
Darling finished the game with 11 saves. He falls to 1-1-0 on the season. Thiessen made 26 saves and improves to 5-0-1.
Maine was 1-for-5 on the power play, while Northeastern finished the game 0-for-3.
During the second intermission, Maine's Chris Hahn (Fort Qu'Appelle, Saskatchewan) along with former women's ice hockey player Pam Patterson were honored for being named Hockey East Top Scholar-Athletes for 2007-08 academic year.
The Black Bears return to action on Friday, Oct. 31 when they host Niagara. Puck drop is scheduled for 7 pm.