Saturday, November 8, 2008
MERRIMACK UPENDS MASSACHUSETTS, 3-1
Braithwaite makes 34 stops in Warrior net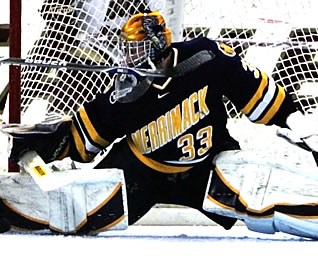 Andrew Braithwaite made 34 saves for the Warriors
NORTH ANDOVER, MA - Junior netminder Andrew Braithwaite made 34 saves, leading the Warriors to a 3-1 win over 19th-ranked UMass on Saturday night at Lawler Arena.
Braithwaite stopped all 14 third-period shots while his defense blocked four others while down two men for two-minutes late in the third to preserve the win, Merrimack's first in Hockey East this season.
Leading 2-1 in the third, Karl Stollery and Brandon Sadlowski were whistled for separate infractions with 2:50 remaining, giving the Minutemen power play, which was a big reason they scored 14 goals in two games last weekend, the chance to tie the score. But Braithwaite and his defense, led by Joe Loprieno and Adam Ross, blocked four shots and forced others to sail wide, successfully killing off the power play. Eight seconds after the Warriors were back at full strength, Stollery hammered a shot from outside the blue line into the empty net for his first collegiate goal which sealed the game for Merrimack.
Freshman Jesse Todd wasted no time getting the Warriors on the board, as he fired a slapper that beat Minutemen goaltender Paul Dainton stick-side at 1:40 for his first collegiate tally. J.C. Robitaille and Ryan Flanigan earned the helpers, with Flanigan getting his first collegiate point.
Brian Keane tied the score at 7:31 as he took a pretty feed from Brett Watson and beat Braithwaite, who was out-of-position after the pass.
Captain Rob Ricci potted what turned out to be the game-winner as he pulled the puck out of a scramble at the blue line, dribbled in, and beat Dainton for his second of the season, unassisted at 7:08 of the second.
Braithwaite made it stand up from there as he stopped 24 shots in the final two periods. UMass outshot Merrimack 35-20 in the game.
The Merrimack defense blocked 20 shots in the game, 13 of them in the third period. The Minutemen, in comparison, blocked seven in the game, none in the third.
The Warriors (3-4-1, 1-3-0 HEA) host second-ranked Boston College on Friday at 7 p.m., looking to avenge the 4-3 overtime loss from last week at Lawler Arena.