Sunday, February 22, 2009
MERRIMACK SKATES PAST PROVIDENCE, 5-1
Joe Cucci scores twice for Warriors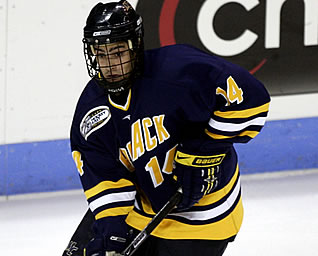 Joe Cucci scored two goals for the Warriors
PROVIDENCE, R.I. - Merrimack scored three straight power-play goals en route to a 5-1 win over Providence College Sunday afternoon in a Hockey East game played at Schneider Arena.
The Warriors (8-18-4, 4-16-3 Hockey East) scored on their first power-play chance when Jesse Todd slid a pass Joe Cucci who tapped the puck into the open net. Chris Barton setup Cucci in front and Cucci was able to record his second goal of the night from in close. It also marked the sixth goal of the season. The Friars (7-18-5, 4-14-5 Hockey East) finished the period with a 17-6 shot advantage, but were unable to score.
In the second period, Rob Ricci put his team up 3-0 as he also scored on the man advantage at the 3:44 mark. The Friars pulled to within, 3-1, just over one minute later when sophomore Austin Mayer (Providence, R.I.) scored his fourth goal of the season. Senior Pierce Norton (South Boston, Mass.) played the puck ahead to Mayer who moved into the slot before firing a shot past Merrimack goalie Joe Cannata at 4:54.
The Warriors regained their three-goal lead (4-1) at 1:49 of the second period when Francois Ouimet stole the puck behind the PC net and played it out front to Carter Madsen who potted his second goal of the season. Adam Ross added late empty-net goal to seal the win.
The Friars finished with a 39-21 shot advantage as Cannata stopped 38 of those shots to earn his sixth win of the season. PC's Alex Beaudry (Cumberland, Ontario) finished with 16 saves.
Both teams are back in action on Friday, February 27. PC travels to Boston College, while Merrimack hosts UNH.