Saturday, October 25, 2008
MERRIMACK EDGED BY NIAGARA, 1-0
Warriors outshoot Niagara 31-16 in Loss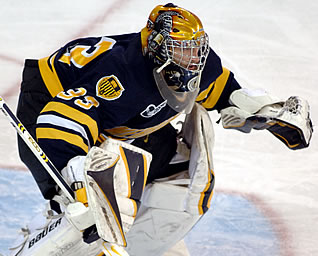 Andrew Braithwaite made 15 saves for Merrimack
BUFFALO, NY - The Merrimack hockey team outshot Niagara 31-16 Saturday but allowed ten power plays to the Purple Knights in a 1-0 loss Saturday afternoon at Dwyer Arena.
The Purple Knights' lone goal came in the second on a power play as freshman Sam Goodwin netted his first career goal at 8:30. Juliano Pagliero stopped 31 shots for his sixth career shutout as Niagara improved to 2-3-1 on the season.
The Warriors dominated five-on-five but their failure to stay out of the box ultimately cost them in this game. They committed 11 penalties in all, including four in the third period when they were battling back to tie the game.
Merrimack ramped up its offensive pressure with the clock winding down and with Braithwaite pulled, but Pagliero made two big glove saves in the final seconds on shots from the point from Karl Stollery to preserve the win. The Warriors drilled three posts, one in each period off the sticks of Fraser Allan, Chris Barton and Francois Ouimet.
Andrew Braithwaite stopped 15 shots in net in the loss as the Purple Knights were 1-for-9 on the power play. The Warriors were 0-for-3 and failed to score on two two-man advantages, including one for the two full minutes in the second.
Merrimack started strong, outshooting Niagara 10-2 early, but Pagliero answered each challenge, including two quality chances from Joe Cucci.
The loss snaps Merrimack's nine-game unbeaten streak (8-0-1) against non-conference teams which began against Niagara on opening night last season at Lawler Arena.
After missing the first three games with an injury, captain Rob Ricci returned to the lineup, centering the top line of J.C. Robitaille and Barton. Stollery led the Warriors with five shots, with Pat Kimball registering four.
This game was the second straight 1-0 decision for Merrimack, with the first a 1-0 victory at Army last Saturday.
Merrimack (2-2, 0-1 HEA) wraps up its two-game Buffalo trip at Canisius Sunday at 5 p.m.