Saturday, November 22, 2008
MAINE TIES UP MERRIMACK, 1-1
Maine get's game-tying goal from Keif Orsini; Warriors get goal from Francois Ouimet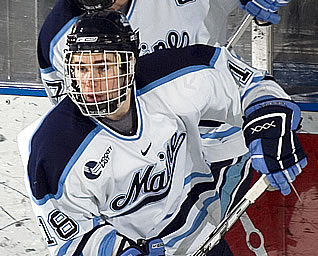 Keif Orsini scored the game-tying goal for the Black Bears
ORONO, Maine - The University of Maine men's ice hockey team extended its unbeaten streak to seven games with a 1-1 tie against Merrimack on Saturday night at Alfond Arena. Maine moves to 7-3-1 on the season with the tie and 4-2-1 in Hockey East play, while Merrimack moves to 3-6-3 overall and 1-5-2 in conference play.
Merrimack got on the board with a goal at 14:07 of the second period. Maine goalie Scott Darling (Lemont, Ill.) went behind the net to play the puck, only to see it take an odd bounce and land on the stick of Merrimack's Pat Kimball. Kimball was able to find Francois Ouimet, who notched his third goal of the season. Merrimack held the 1-0 lead until midway through the third frame.
Maine knotted the score at 1-1 at 14:14 of the third period. Robby Dee (Plymouth, Minn.) got the puck to Will O'Neill (Salem, Mass.) on the blueline. O'Neill fired a shot that Keif Orsini (Montreal, Quebec) tipped past Merrimack goalie Joe Cannata. For Orsini, it was his first goal of the season.
The teams skated through a scoreless overtime period and the game ended in a 1-1 tie.
Merrimack held a 24-17 edge in shots in the game. Both teams were 0-for-4 on the power play. Maine's Scott Darling made 23 saves in goal and moves to 5-1-1 on the season. Cannata made 16 saves and moves to 1-1-3 on the campaign.
Maine returns to action when it travels to Vermont on Saturday, Nov. 29 for a 7 p.m. game with the Catamounts.