MASSACHUSETTS SKATES PAST CONNECTICUT, 5-1
Chris Davis posts goal and two assists for Minutemen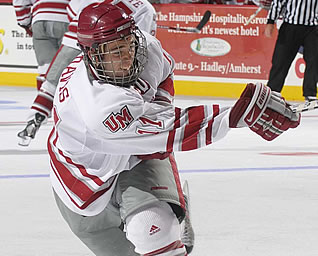 Chris Davis had a goal and two assists for UMass
AMHERST, Mass - The Minutemen jumped out to a quick 2-0 lead and scored three insurance goals in the final seven minutes to top the UConn Huskies, 5-1, on Friday evening at the Mullins Center. UMass received goals from five different players, including T.J. Syner's first collegiate tally that gave the Minutemen a 1-0 lead early in the first period. Chris Davis, Cory Quirk, and Casey Wellman each finished with a goal and an assist. UMass will be off until next Friday when it hosts American International at 7 PM in the Mullins Center.
UMass came out hard in the first period, outshooting the Huskies 14-5 in the frame and scoring twice. UConn, however, was able to come away with a power play goal late in the period to give UMass a 2-1 lead heading into the first intermission. Five minutes into the period, Syner scored the first goal of his career when he picked up a loose puck and lifted it over UConn goaltender Beau Erickson's shoulder for the score.
After the Minutemen took a hooking penalty with 8:47 to play in the frame, UMass extended its lead to two when Quirk cleared the puck out of the UMass zone. Berry then sped through the neutral zone to gather the puck and went in alone on Erickson. Berry deeked left and tucked the puck under Erickson's pad for his sixth goal of the season. The Huskies got on the board near the end of the period when Chris Ochoa scored his sixth goal of the season while on the power play. After receiving a pass from Matt Pedemonti, Ochoa snuck the puck past Dainton to cut UMass' lead in half.
The teams played scoreless hockey the next 34:10 until Quirk beat Erickson from a shot in between the faceoff circles at the 13:00 mark of the third period.
Only 3:58 later, Wellman poked in a loose puck after Erickson made the initial save on Davis.
The Minutemen lit the lamp one last time at 19:37 of the third when Davis put home his sixth goal of the season assisted by Syner and Wellman.
Final shots were 43-21 in favor of UMass. Dainton finished with 20 saves for his fifth win of the season. The Minutemen were 0-for-5 on the powerplay while the Huskies were 1-for-6.
UMass enjoys a week off before hosting American International at 7 PM at the Mullins Center.