BOSTON COLLEGE TOPS VERMONT, 3-2
Carey, Smith and Orpik score goals for Eagles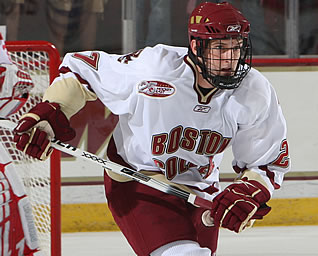 Andrew Orpik notched the game-winning goal for BC
CHESTNUT HILL, Mass. - Senior Andrew Orpik scored the decisive goal late in the third period to lift Boston College to a 3-2 Hockey East win over Vermont before 5,675 fans in Kelley Rink.
The game marked the first meeting of the season between the two teams who last met in the 2008 Hockey East Tournament title game.
Orpik's score, an unassisted goal, gave BC a 3-1 lead at 16:25.
Vermont pulled junior goalie Mike Spillane with 1:37 to play and cut the margin to 3-2 when junior Brian Roloff scored 48 seconds later.
After a scoreless first period, freshman Paul Carey tallied his first collegiate goal - on the power play - at 7:39 to give BC a 1-0 lead. Junior Ben Smith doubled the host's margin less than two minutes later with a power-play goal at 9:26.
Vermont junior Colin Vock scored a power-play goal at 15:05 to make the score 2-1 after two periods.
BC sophomore John Muse made 23 stops to earn his third win of the season and the 28th of his collegiate career.
Spillane made 26 saves in 58:36.
Team Records: Boston College 3-1-0, 1-1-0 Hockey East; Vermont 2-1-1, 0-1-0 Hockey East