Saturday, January 10, 2009
VERMONT NOTCHES 4-2 WIN OVER BOSTON COLLEGE
Rob Madore makes 26 saves for Catamounts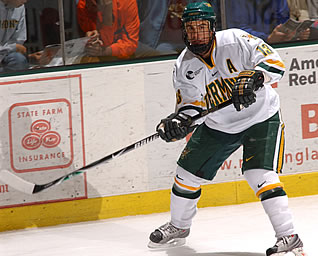 Corey Carlson had the game-winner for Vermont
BURLINGTON, Vt. - No. 10 Vermont scored four unanswered goals on the way to a come-from-behind 4-2 victory against No. 9 Boston College in front of a sellout crowd at Gutterson Fieldhouse on Saturday night in Hockey East action. Senior captain Dean Strong (Mississauga, Ont.) notched two assists to record his 100th career point and freshman Rob Madore (Venetia, Pa.) made 26 saves as the Catamounts improved to 12-4-3 (7-3-2 HEA). The Eagles dropped to 9-6-3 (5-5-3 HEA) with the loss in a game televised on Comcast SportsNet New England.
Senior assistant captain Corey Carlson (Two Harbors, Minn.) scored what proved to be the game-winning goal on the power play in the third period. Sophomore Jack Downing (New Canaan, Conn.), senior assistant captain Peter Lenes (Shelburne, Vt.) and junior Viktor Stalberg (Gothenburg, Sweden) added goals for the Catamounts
Boston College sophomore Brian Gibbons scored at even strength and junior Ben Smith notched a power-play goal. Sophomore John Muse made 30 saves for the Eagles.
"When it counted we were excellent," Vermont head coach Kevin Sneddon said. "I can't say enough about our senior leadership tonight. I thought Lenes, Carlson and Strong really took the team, not just with their physical play, but with the way they addressed the team at different TV timeouts, they really wanted this game bad."
"I felt like the team was in need of energy, and that's a good sign you know when a coach doesn't always have to be the guy to fire up the troops. It's nice when your leadership really takes over, and second half of the game it was all them. They deserve all the credit; they did a great job. And again, this is a great three points for us."
Boston College, who relinquished three one-goal leads in a 3-3 tie against Vermont on Friday, took a 2-0 lead in the opening period behind goals by Gibbons and Smith both coming on deflections.
Madore stopped 14 of 16 shots in the first 20 minutes to keep the game within reach for Vermont going into the locker room.
"I don't know what it was," Sneddon said. "We just didn't have our energy and our passion, and again we knew BC was going to come out with a lot more effort and intensity tonight than maybe they did at times last night and we seemed shocked by it. So, it was a little frustrating from that standpoint; but Rob (Madore) single-handedly allowed us to get back into this hockey game."
Vermont responded in the second period with a pair of goals to tie the game. Downing cut the deficit in half when he scored his third goal of the season in the low slot on a rebound. Sophomores Justin Milo (Edina, Minn.) and Wahsontiio Stacey (Kahnawake, Quebec) both assisted.
Lenes tied the game 2-2 with his ninth goal of the season with just 49 seconds left in the second. A quick wrister by Lenes at the circle beat Muse top shelf.
The Catamounts, who out shot the Eagles 25-12 in the final 40 minutes, took their first lead in the weekend series with BC at 12:58 of the final period. Carlson jammed in a rebound at the left post on a play setup by Downing in transition to make it 3-2. Strong also assisted to earn his 100th career point, as he became the 41st Catamount to reach the century mark in his career.
"They're a great hockey club and we wanted to prove that we have a good hockey club," Carlson said. "We're just as good as the next; so, it was huge for us to get three points."
Stalberg capped off the scoring when he notched his team leading 10th goal. Stacey fed Stalberg in transition and his wrister beat Muse to the top corner to extend his scoring streak to a career best nine games.
Madore, who was starting on back-to-back nights for the first time in his collegiate career, improved to 6-2-2 with the win. The reigning Hockey East Rookie of the week has a 2.45 goals against average and .931 save percentage on the season.
"It felt nice to be able to make a couple of saves that maybe I shouldn't have," Madore said. "You know just to help my team out when we made a couple of mistakes; so, it felt great."
Vermont finished 1-for-5 on the power play while Boston College went 1-for-3. The Catamounts and Eagles split the season series 1-1-1.
Vermont returns to action next weekend against Hockey East leading Northeastern (14-4-2, 10-2-1 HEA) for pair of games on Friday and Saturday at 7 p.m. at Matthews Arena.