Saturday, February 28, 2009
BOSTON COLLEGE NOTCHES 4-3 OVERTIME WIN AT PROVIDENCE
Benn Ferriero scores game-winner :45 into overtime for Eagles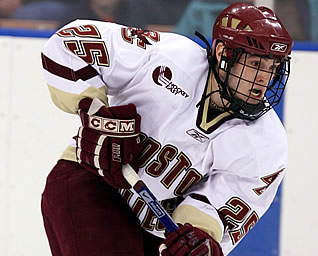 Matt Price scored the game-winning goal for BC
PROVIDENCE, R.I. - The Providence College men's hockey team jumped out to a 3-0 lead, but Boston College rallied to post a 4-3 overtime win. Matt Price's re-direction just 45 seconds into overtime was the game winner.
The Friars scored twice in the first period to take a 2-0 lead. Junior Chris Eppich (Surrey, B.C.) scored on a breakaway at 1:24, while freshman Matt Bergland (Faribault, Minn.) tallied his ninth goal of the season from the left circle at 10:57.
Junior Mark Fayne (Sagamore Beach, Mass.) gave the Friars a three-goal at 3:42 of the second period as he scored his fourth goal of the season. However, the Eagles began their comeback at 13:24 when Brock Bradford potted his first goal of the night at 13:24. Bradford struck again at 4:37 of the third period, this time on the power-play, to cut the lead to 3-2. Just over three minutes later, Andrew Orpik scored the equalizer off a feed from Matt Lombardi.
The Eagles won the game when Benn Ferriero lofted the puck towards the net and Price was able to deflect the puck past PC freshman goalie Alex Beaudry (Cumberland, Ont.). Beaudry finished with 29 saves, while John Muse stopped 23 shots.
Both teams are back in action on Friday, March 6. PC will host Boston University, while Boston College travels to Northeastern.