Saturday, January 24, 2009
Boston College Defeats Maine, 6-3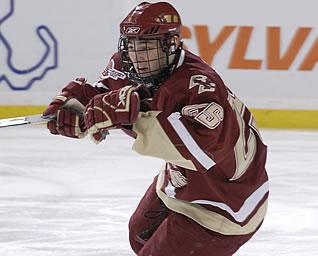 Matt Price scored two goals for the Eagles
CHESTNUT HILL, Mass. - Junior Matt Price scored twice while defenseman Tommy Cross tallied three assists and sophomore Joe Whitney recorded one goal and one assist to lead No. 14 Boston College to a 6-3 Hockey East victory over Maine before 6,909 fans in Kelley Rink.
BC scored the game's first three goals and never trailed in the contest to earn their first victory in seven games. Additionally, five BC players scored and five of the victors' six goals came while skating at even strength.
Senior Benn Ferriero opened the scoring with his fourth goal of the season at 4:09 of the opening frame.
Price doubled the BC lead at 13:26 of the first period and tallied his second score of the game at 3:53 of the middle stanza for the 3-0 lead.
Price's second score launched a flurry of six goals in a span of 6:31.
Maine's Brian Flynn and Lem Randall netted consecutive goals at 4:14 and 5:48 to cut the Eagles' lead to one goal - at 3-2.
Whitney countered with his third goal of the season at 7:28.
After Maine's Mike Banwell (1 goal, 1 assist) cut the Eagles' lead back to one goal - at 4-3 - just 18 seconds later, BC freshman Barry Almeida concluded the second-period scoring with a power-play tally at 10:22 to give the host Eagles a 5-3 after two periods.
Junior Matt Lombardi scored the game's lone third-period score just 2:11 into the period for the 6-3 final.
Sophomore goalie John Muse made 23 saves in his 21st start of the season and the 65th of his career.
Maine freshman goalie Scott Darling recorded 16 saves in 34:35 to take the loss. Junior Dave Wilson totaled seven saves in the final 25:25.