Friday, November 14, 2008
MERRIMACK TIES UP BOSTON COLLEGE, 5-5
Barton ties game for Warriors; Bradford posts hat trick for Eagles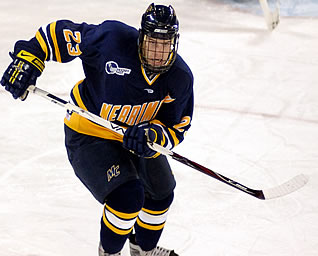 Chris Barton notched the game-tying goal for the Warriors
NORTH ANDOVER, MA - John Jamieson (Billerica, MA) scored his first two collegiate goals while Chris Barton (Calgary, Alberta) tied the game with 3:25 remaining in regulation to give Merrimack the 5-5 tie with fifth-ranked Boston College Friday night at Lawler Arena.
The Warriors trailed 5-3 entering the third after Brock Bradford netted his third of the night with 51 seconds remaining in the second, but Joe Cucci (Melrose Park, IL) one-timed a pass from Francois Ouimet (Lorraine, Quebec) past John Muse to cut the lead to one at 1:44 of the third.
After a 15 minute delay midway through the third due to a power outage, Merrimack evened the score at 16:35 as Barton knocked home a power-play tally, Merrimack's second man-advantage goal of the night, for his fourth of the year.
Merrimack's penalty kill, which had surrendered three goals on its first seven penalty kill attempts, was forced to kill two more, one with 2:08 remaining and another taken at 19:56 of the third, which carried over into overtime. Joe Cannata (Wakefield, MA) and his defense came up big, as the freshman goaltender stopped four shots on the man advantage in overtime while the Warrior defense blocked three others to preserve the tie.
After tying and winning a 4-3 overtime game at Merrimack two weeks ago, Bradford picked up where he left off as he tallied his eighth of the season just 22 seconds into the game on a breakaway. Brian Gibbons made it 2-0 BC at 3:10 of the first as he took feeds from Barry Almeida and Carl Sneep.
Freshman Karl Stollery (Camrose, Alberta) cut the lead in half as he wristed home his second goal in as many games, this time on a two-man advantage at 5:49 of the first. With 3:51 remaining in the first, Jamieson evened the score, taking passes from Carter Madsen (Calgary, Alberta) and Adam Ross (Red Deer, Alberta) for his first goal in 28 collegiate games.
Ben Smith added a power-play goal with 1:15 left in the first to regain the lead for the Eagles, and Bradford doubled the lead in the second with another man-advantage tally. After Jamieson cut the lead to 4-3 on a goal that deflected off an Eagle defender, Bradford tallied his third of the game just before the intermission.
Boston College out shot Merrimack five-to-two in overtime, but Cannata turned back every shot he faced. Both teams fired 34 shots in the game, with Cannata and Muse each stopping 29 shots.
Cucci and Stollery each finished with a goal and an assist, as ten Warriors tallied at least one point. Bradford had four points, giving the captain seven points in three games against Merrimack this season, including five goals and an assist on the Eaglesí last eight goals against the Warriors.
This tie marked the first point Merrimack has earned against the Eagles at Lawler Arena since February 5, 2004, seven games ago, when they tied 4-4.
Merrimack (3-4-2, 1-3-1 HEA) visits 15th-ranked Vermont for a conference matchup on Sunday at 4 p.m., while the Eagles (5-3-1, 3-2-1 HEA) battle New Hampshire on Saturday at 7 p.m. at Conte Forum.