Saturday, October 18, 2008
MAINE SHUTS OUT ALASKA-FAIRBANKS, 2-0
Scott Darling earns shutout in collegiate debut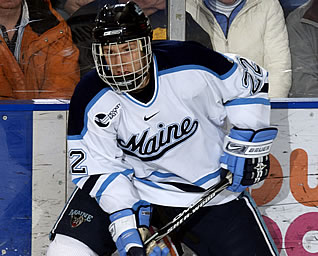 Lem Randall notched a goal for Maine
FAIRBANKS, Alaska - The University of Maine men's ice hockey team picked up its first win of the season with a 2-0 shutout victory over the previously unbeaten University of Alaska Nanooks on Saturday night in Fairbanks, Alaska. Maine got goals from Lem Randall (Snow Lake, Manitoba) and Jeff Marshall (Kyle, Saskatchewan), while Scott Darling (Lemont, Ill.) recorded a shutout in his collegiate debut. Maine improves to 1-1-0 on the young season, while Alaska falls to 2-1-1.
Maine took a 1-0 lead at 12:24 of the first period when Lem Randall notched a power play goal. Spencer Abbott (Hamilton, Ontario) began the play and passed the puck to Keif Orsini (Montreal, Quebec) on the left face-off circle. Orsini found Randall on the right goal post, and he was easily able to beat Alaska goalie Chad Johnson. Johnson had committed to Orsini, leaving the right side of the goal open. The Black Bears took the 1-0 lead into the first intermission.
Maine took a 2-0 lead just 1:37 into the second period. Josh Van Dyk (Woodstock, Ontario) redirected to the puck to Maine co-captain Jeff Marshall, who beat Johnson with a quick shot that found the top of the goal. Matt Duffy (Windham, Maine) also assisted on the play. It was the first goal of the season for Marshall and first career point for Van Dyk. Maine took the 2-0 lead into the second intermission.
Neither team was able to notch a goal during the third period and Maine took the victory 2-0.
Darling was outstanding for Maine and he stopped all 24 shots in his collegiate debut. He moves to 1-0-0 on the season. Alaska goalie Chad Johnson made 23 saves and falls to 0-1-1 on the season.
Simon Danis-Pepin (Vaudreuil-Dorion, Quebec) was named to the Brice Alaska Goal Rush All-Tournament Team.
Maine returns to action when they host Northeastern in the home-opener on Friday, Oct. 24, 2008 at Alfond Arena. The puck is scheduled to drop at 7 PM. Tickets remain for the game and are available by calling the Maine ticket office at 207-581-BEAR.