LAWSON GOAL PROPELS VERMONT INTO FROZEN FOUR WITH 3-2 WIN OVER AIR FORCE
Dan Lawson scores twice in game for Catamounts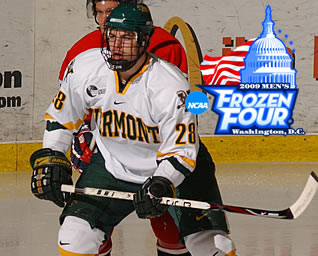 Dan Lawson scored twice for the Catamounts
BRIDGEPORT, Conn. - Sophomore Dan Lawson (Oak Forest, Ill.) scored on a one-timer from the point with 5:50 left in double overtime to lift third-seeded Vermont to a thrilling come-from-behind 3-2 victory against fourth-seeded Air Force at the East Regional in one of the most entertaining games in NCAA men's hockey history. Freshman Rob Madore (Venetia, Pa.) made a career high 46 saves in front of a sellout crowd of 8,478 at Bridgeport Arena at Harbor Yard as the Catamounts advanced to the 2009 Frozen Four which is set for April 9-11 at the Verizon Center in Washington, D.C.
OTHER LINKS: Kevin Sneddon Video - Vermont Student-Athletes (Lawson, Madore, Strong Video
"This is a big moment for us," Vermont coach Kevin Sneddon said. "It hasn't really sunk in - I don't think to any of us right now - but we're certainly going to enjoy this night and as I will tell our team shortly when we've all calmed down from the emotion that we're not going to participate, we're going to win it. That's what you go to a Frozen Four for."
"I thought that the fans here were treated to an outstanding hockey game," Air Force head coach Frank Serratore said. "Going deep into two overtimes, everyone in attendance got their money's worth. It was very entertaining. This game was one of those games, truly, where you hate to see somebody lose because both teams played so hard."
In a bizarre sequence of events, Lawson scored the game winner at 14:10 of double overtime when he took a feed from sophomore Wahsontiio Stacey (Kahnawake, Quebec) and blasted a shot past the glove side of Air Force junior goaltender Andrew Volkening (32 saves).
Lawson's shot went directly through the net under the crossbar and caromed off the end boards. Play continued for nearly two minutes until the next whistle. The officials convened and called for a video review.
"Associate head coach John Micheletto and I were the ones kind of screaming to the referees because I saw (Lawson) take the shot as a left shot defenseman, I saw the back of the net move on the other side and the puck kind of took a weird bounce after that," Sneddon said. "It was a bullet of a shot and it just didn't make sense how it came out of the net."
"I thought it went in," Lawson said. "It looked good, but everyone else kept playing, so I did too. I came back to the bench and everybody was (like) 'I think that went in' and 'I saw the net move' and I was like alright, let's get a review."
Both teams and the crowd held their collective breath, waiting more than 12 minutes until official Marco Hunt emerged from the review booth and pointed to the center dot to call the goal good, sending Vermont into a wild celebration.
"Thankfully that's the system in place," Sneddon said. "The referees obviously took their time but they made the right call and we're very fortunate to have that bounce go our way tonight."
"A lot of us had no clue what the call was going to be," senior assistant captain Peter Lenes (Shelburne, Vt.) said. "It was an amazing feeling when they counted it. We got a second life and we wanted to run with it. That's what we did so far, so hopefully, we can keep it going."
The Falcons took a 1-0 at 3:46 of the second period when freshman Paul Weisgarber scored on a rebound during a four-on-two in transition. Sophomore Sean Bertsch took a shot from the bottom of the right circle and Madore made the stop but the rebound squirted back to Weisgarber who buried the puck in an open net.
Air Force out shot Vermont 22-14 through the first 40 minutes and held a 1-0 lead going to the final period. The Falcons entered the contest 22-1 on the season when leading after two periods.
Vermont battled back to tie the game at 3:56 of the third period. Taking a feed from junior Patrick Cullity (Tewksbury, Mass.), sophomore Josh Burrows (Prairie Grove, Ill.) snapped off a quick wrist shot from the right point that went through traffic and beat Volkening top shelf.
The goal ended Volkening's scoreless streak at 262:04. He entered the game with three consecutive shutouts after stopping 43 shots in a 2-0 upset of top-seeded Michigan on Friday.
"I felt like in the early parts of the game - the first two periods - we couldn't buy anything," Sneddon said. "I think he (Volkening) was making the first save, there were rebounds but their defensemen and their back pressure from their forwards prevented us from getting to those rebounds and it was frustrating for our guys. We just felt like we couldn't get anything going on the attack and I think that's the reason why they've had so many shutouts as of late, they just play such stingy defense."
Vermont struck again midway through the third to take a 2-1 lead. Lawson took a pass from senior assistant captain Corey Carlson (Two Harbors, Minn.) and sent a shot from the right point past Volkening.
Air Force battled back to tie the score 2-2 less than two minutes later. Bertsch ripped a shot from between the circles that hit Madore's shoulder then trickled into the goal at 11:18 to force overtime.
Less than a minute to go in the first 20 minute overtime Volkening initially denied a blast from the left point by Vermont sophomore defenseman Kyle Medvec (Burnsville, Minn.) but junior Viktor Stalberg (Gothenburg, Sweden) jumped on the loose puck and looked to bury the rebound to give the Catamounts the victory.
However, in an amazing last-ditch effort, Falcons' junior Brett Nylander dove in the crease and stopped the puck just before it crossed the goal line. The officials went to the video replay but it was ruled no goal sending the game to a second overtime.
That's where Lawson's heroics earned him Most Outstanding Player honors for the East Regional. Joining Lawson on the All-Tournament team was teammate Viktor Stalberg.
"I don't think it has settled it in yet," Stalberg said. "It's a tremendous group of guys here and we are really excited right now and have a chance to win the national championship."
Vermont will face the winner of Sunday's Boston University and New Hampshire match-up in the Northeast Regional Final on April 9 in Washington, D.C., with a shot at advancing to the national championship game for the first time in program history.
NOTES: Vermont's only other Frozen Four appearance came in 1996 when the Catamounts lost in the national semifinal at Riverfront Coliseum against Colorado College 4-3 in double overtime in a game that went 89:31 ... Tonight's Vermont-Air Force game went 94:10 and moved past Vermont's game against Colorado College as the longest in program history ... The game was televised on ESPNU ... Vermont is 6-0 all-time against Air Force ... The Catamounts are 3-4 all-time in NCAA Tournament games ... Josh Appelbaum contributed to this report.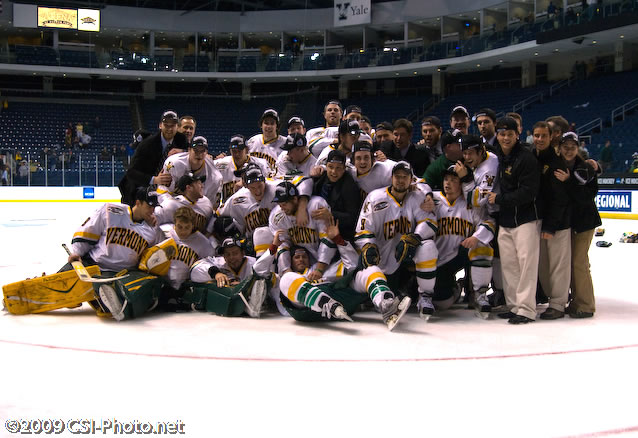 University of Vermont - 2009 NCAA East Regional Champions