Friday, February 29, 2008
FALLON, VERMONT SHUT OUT MAINE, 2-0
Joe Fallon posts 19th career shutout with 23 saves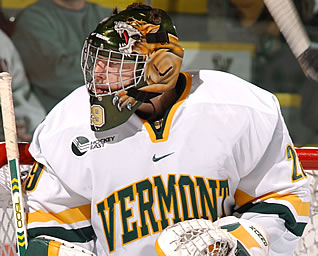 Joe Fallon posted his 19th career shutout
BURLINGTON, Vt. - Senior Joe Fallon (Bemidji, Minn.) made 23 saves to record his second straight shutout and the 19th of his career to lead Vermont to a 2-0 victory against Maine in front of a sellout crowd of 4,003 at Gutterson Fieldhouse in Hockey East action on Friday night. Sophomores Brayden Irwin (Toronto, Ontario) and Colin Vock (Plymouth, Mich.) each had power-play goals as the Catamounts won their fifth straight to improve to 13-11-7 (12-7-5 HEA). The loss ended a two-game winning streak for Maine, who fell to 10-18-5 (6-15-3 HEA).
Fallon is 8-1-1 in his last 10 starts with a 1.48 goals against average and a .944 save percentage. His 19 career shutouts move him past former Cornell goalie David McKee for second all-time in NCAA Division I history. Former Michigan State goalie Ryan Miller, now with the Buffalo Sabres, is first all time with 26.
"It's good to be on the right track down the stretch," Fallon said. "It felt good to do it in front of family and friends in town this weekend."
The Catamounts are 9-2-2 in their last 13 games and have won seven of eight overall. A Vermont win on senior night Saturday against Maine, coupled with a loss by either No. 8 Boston College or Providence would clinch home ice in the Hockey East Quarterfinals for the Catamounts.
"I though both goaltenders proved they are two of the best goalies in our league and certainly in the country," Vermont head coach Kevin Sneddon said. "Fallon was spectacular. I thought Ben Bishop (29 saves) made some great saves as well. We were fortunate to solve Maine's penalty kill and get a couple of power-play goals."
After a scoreless first period, Vermont was able to capitalize on a five-minute major for hitting from behind against Maine's Rob Bellamy midway through the second.
Irwin sent a blast from the left circle at 13:41 through the five-hole of Bishop for the first of two power-play goals during the major penalty. Freshman Wahsontiio Stacey (Kahnawake, Quebec) assisted on the ninth goal of the season for Irwin.
"We've been building a lot of confidence," said Irwin, who also went 10-for-13 on face offs. "All the guys are playing really well. We all know what we need to do to be successful and that's really helping the team come together."
Vermont struck again during the power play at 15:03 of the period. Vock scored his sixth goal of the season with a quick wrister from the left circle. Junior co-captain Dean Strong (Mississauga, Ontario) and junior assistant captain Corey Carlson (Two Harbors, Minn.) each assisted.
Maine had its opportunities in the period. Senior Keenan Hopson skated in alone short handed during the five-minute major but was denied by Fallon. Then senior Wes Clark hit the cross bar during a Black Bears power play with just over a minute left in the second.
Maine out shot Vermont 9-6 in the third period but couldn't get on the scoreboard, as they were shutout for the sixth time this season. The Catamounts out shot the Black Bears 31-23 for the game and went 3-for-3 on the penalty.
Vermont and Maine meet again on Saturday on senior night at Gutterson Fieldhouse at 7:30pm. The game is sold out. The game will be televised on NESN beginning with Hockey East "Friday Night Live" at 7pm.
The first 3,000 fans to Saturday's game will receive a paper helmet courtesy of USA Telephone Corporation. Saturday is also senior night at the Gut. The first 500 fans will receive a senior photo courtesy of Stillwater Graphics.
NOTES: Joe Fallon has recorded a shutout against 15 different teams in his career ... He has posted shutouts in back-to-back starts on four occasions ... Maine is 3-10-1 on the road this season while Vermont is 8-5-4 at home ... The Catamounts are 36-9-11 in games that Dean Strong records at least one point in the last three seasons ... UVM has allowed two or fewer goals in 10 of the last 13 contests.