Saturday, February 23, 2008
MERRIMACK NOTCHES 3-2 WIN AT PROVIDENCE
Matt Jones pots game-winning goal for Warriors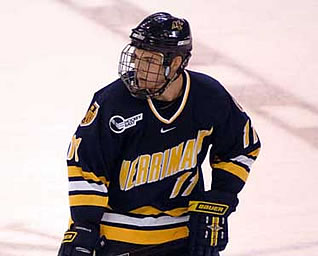 Matt Jones scored the game-winner for the Warriors
PROVIDENCE, R.I. - Matt Jones' goal with 3:41 left in the third period broke a 2-2 tie and lifted Merrimack past the 14th-ranked Providence College men's hockey team, 3-2, Saturday night in a Hockey East game at Schneider Arena. The Warriors improved to 12-15-3 overall and 6-15-2 in conference play, while the Friars fell to 13-13-4 and 10-9-4 in the league.
The Warriors took advantage of their first power-play opportunity to jump out to a 1-0 first period lead. Rob Ricci fired a shot from the top of the right circle that beat PC goalie Tyler Sims at 3:16. The lead increased to 2-0 as J.C. Robitaille tallied his 10th goal of the season at 6:17 of the second period.
The Friars rallied with two goals within a span on 2:20 to even the score. Junior Pierce Norton scored on a high wrist shot from the left circle at 6:17 to cut the lead in half. Classmates Kyle Laughlin and Cody Wild assisted on the goal. At 8:37, sophomore Greg Collins scored from in close off assists from Jon Rheault and Kyle MacKinnon.
However, Joe Cucci setup Jones right in front as he tapped the puck into the empty net at 16:19 for his 14th goal of the season. Merrimack goalie Andrew Braithwaite, who shutout the Friars last night, continued his strong play as he made 47 saves. Sims stopped 18 shots for the Friars, who outshot the Warriors, 49-21.
The Friars are back in action on Friday, February 29 when they battle Boston College in Chestnut Hill, Mass.