Friday, February 29, 2008
BENNETT, BONINO LEAD BU PAST UMASS, 3-0
Brett Bennett posts shutout with 20 saves, Nick Bonino scores two goals, assist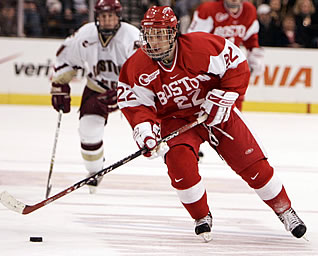 Jason Lawrence scored the game-winner for the Terriers
BOSTON, Mass. - Freshman Nick Bonino tallied two goals and an assist and sophomore Brett Bennett stopped all 20 shots he faced to lead the No. 16 Boston University men's ice hockey team to its seventh straight win - a 3-0 home victory over Massachusetts on Friday evening at Agganis Arena. The Terriers improve to 15-14-4 overall and 13-8-3 in Hockey East play.
BU inched one step closer to securing home ice for the league quarterfinals and remained tied with Vermont for second place in the standings following the Catatmounts' 2-0 win over Maine. UMass, which dropped to 11-14-6 (6-13-5 HEA), stayed in the eighth and final playoff spot thanks to the Maine loss.
Junior Jason Lawrence scored what would be the game-winning goal at 14:44 of the second when he broke a scoreless deadlock on the power play with a redirect at the left goalmouth off a pass from Bonino. Bonino scored two goals in the third less than four minutes apart to seal the victory.
Bennett made half of his 20 saves in the second period alone and secured his second career shutout. Freshman Paul Dainton made 27 stops in goal for the Minutemen.
Junior Brandon Yip and seniors Brian McGuirk and Ryan Weston each added an assist on the night.
The Terriers' penalty kill continued its strong play of late, keeping UMass scoreless on all of its seven chances with the man advantage. The two teams will wrap up their home-and-home series with a 7 p.m. contest on Saturday at Mullins Center.