Wednesday, April 18, 2018
2019 Friendship Four Field Revealed
Fifth Iteration of International Event To Feature Women's College Hockey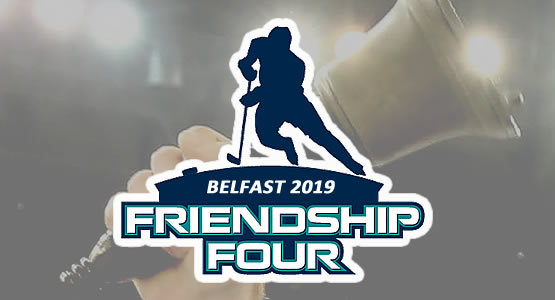 Fifth Iteration of International Event To Feature Women's College Hockey
BOSTON - The men's ice hockey programs from ECAC Hockey's Colgate University and Princeton University and Hockey East's University of New Hampshire and Northeastern University are slated to compete in fifth iteration of the annual Northern Irish Connections Friendship Four Tournament to be held in Belfast, Northern Ireland it was announced today.
Additionally, it was announced that NCAA women's hockey will also be featured in Belfast, as Clarkson University and Northeastern University will do battle on foreign soil. The Golden Knights and Huskies will twice clash at SSE Arena during the first week of January 2019, prior to Belfast Giants games.
"We are pleased that both Northeastern and Clarkson will bring women's ice hockey to Belfast," said Hockey East Commissioner Joe Bertagna. "They are two traditionally strong programs who will entertain Belfast crowds with their skill and passion. We hope to expand into tournament format at some point.
In 2019, the four teams will once again compete in conference games on the Friday after American Thanksgiving, with the winners advancing to the fifth annual Belpot Title Game.
The 2018 version of the tournament will be held over this coming American Thanksgiving weekend, as Clarkson, Yale, Boston University and UConn will travel to Northern Ireland to first play against their conference rival in a league contest on November 23 for the right to compete for the 2018 Belpot Trophy the next night in the Northern Irish Connections Friendship Four Tournament.
The squads will square off at The SSE Arena, home of the Belfast Giants, a professional team that competes within the Elite Ice Hockey League. The arena has hosted the Friendship Four Tournament since 2015, when the inaugural tournament provided a four-game set that featured the ECAC's Brown University and Colgate University and Hockey East's UMass Lowell River Hawks and Northeastern Huskies.
Additionally, the teams will take part in cultural experiences, including visiting with youth groups and exploring the deep history of Northern Ireland. Last year's iteration of the tournament was an international success, seen on television across North America and Europe, and attended by over 20,000 spectators. The 2015 event, part of Boston and Belfast's sister cities project, marked the first time that NCAA college hockey was played outside of North America.
---
Previous Friendship Four Results
November 27, 2015
UMass Lowell 3, Northeastern 2 (OT)
Brown 5, Colgate 0
November 28, 2015
UMass Lowell 5 *, Brown 5 (OT)
Northeastern 7, Colgate 1
November 25, 2016
Vermont 4, Massachusetts 2
Quinnipiac 0 *, St. Lawrence 0 (OT)
November 26, 2016
Vermont 5, Quinnipiac 1
St. Lawrence 2 *, Massachusetts 2
November 24, 2017
Providence 3, Maine 0
Clarkson 2, RPI 0
November 25, 2017
Clarkson 4, Providence 2
Maine 4, RPI 2

* Won in a shootout
---
Future Friendship Four Schedule
November 23, 2018
Boston University vs. UConn
Yale vs. Union
November 24, 2018
Belpot Title Game
Third-Place Game
November 29, 2019
New Hampshire vs. Northeastern
Colgate vs. Princeton
November 30, 2018
Belpot Title Game
Third-Place Game