Wednesday, March 14, 2018
Northeastern's Gaudette And Sikura Named Hobey Baker Award Top Ten Finalists
The Hobey Hat Trick (three finalists) to be announced on March 29 and the Hobey Baker Award winner will be announced on April 6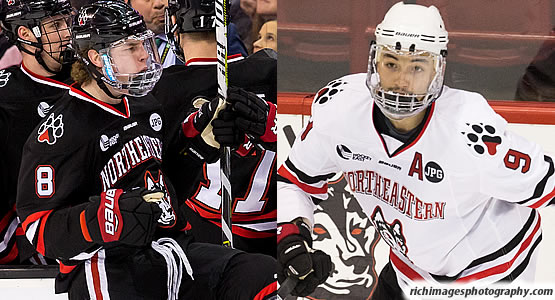 Adam Gaudette and Dylan Sikura added to their extensive list of individual achievements on Wednesday when both were named as a Hobey Baker Top Ten Finalist.
RELEASE COURTESY OF NORTHEASTERN ATHLETICS
BOSTON – Before leading the No. 7 Northeastern men's hockey team into the Hockey East semifinals later this week, Adam Gaudette and Dylan Sikura added to their extensive list of individual achievements on Wednesday when both were named as a Hobey Baker Top Ten Finalist.
Once again, fans will have the opportunity to show their support for Gaudette and Sikura by participating in the Hobey Baker fan vote, which is now open and runs through March 25. Fans can vote once per day through their Facebook accounts by visiting HobeyBaker.com/vote.
Gaudette and Sikura give Northeastern its fifth and sixth in team history to be named a top ten finalist in team history, and second time in as many seasons, joining Zach Aston-Reese (2017), Brad Thiessen (2009), Jim Fahey (2002) and Sandy Beadle (1981). Aston-Reese and Thiessen would go on to be named to the Hobey Hat Trick.
They are also the only representatives from Hockey East included on the list, and Northeastern is the only team to have two finalists. Other finalists include Henrik Borgstrom (Denver), Ryan Donato (Harvard), Matthew Galajda (Cornell), Dylan McLaughlin (Canisius), Cale Morris (Notre Dame), Colton Point (Colgate), Jimmy Schuldt (St. Cloud State), C.J. Suess (Minnesota State).
The three players selected to the Hobey Hat Trick will be announced on March 29, and the winner of the 2018 Hobey Baker Award will be announced on April 6 at the Frozen Four in Minneapolis.
Together, with captain Nolan Stevens, they make up Northeastern's Big 3, one of the most lethal offensive threats in the country in 2017-18. Gaudette and Sikura's dominant seasons make the Huskies one of just two teams in the country to have two players with at least 50 points (Princeton). They've also combined for the second highest points per game average among two teammates in the NCAA this season at 3.08 (points/team games played).
In the 92 career games that the two have played on the same line, Gaudette and Sikura have combined for 229 points (Gaudette: 56-57-113; Sikura: 43-73-116), leading NU to a 54-26-12 record in those games. Gaudette and Sikura joined an elite group of Huskies earlier this season: only 10 players in Northeastern history have recorded 100 points over two seasons.
Since 2012-13, only four players have record 50+ points in consecutive seasons: Gaudette, Sikura, Boston College's Johnny Gaudreau and St. Lawrence's Greg Carey.
Gaudette (Braintree, Mass.) currently leads the nation with 59 points this season. He's also first in the NCAA in points per game (1.64), power play points (27), and multi-point games (20), and is one of just 19 NCAA players over the last six seasons to reach 55 points in a season.
Gaudette's been filling the net in every way this season, and is among the national leaders in several goal categories: total goals (30, first in the NCAA) power play goals (11, tied for fourth), shorthanded goals (two; tied for 10th), game-winning goals (five; tied for second), multi-goal games (eight; first) and hat tricks (two; tied for second).
His game-winning goal against UMass in the Hockey East quarterfinals last weekend brought him to 30 on the season, making him the 11th player in Northeastern history with a 30-goal season and just the seventh player in the NCAA to accomplish the feat since the 2012-13 season.
Gaudette, who was named the Beanpot MVP after leading the Huskies to their first tournament title since 1988 earlier this season, has done his damage when it matters most this year. He's either scored or assisted on 12 of Northeastern's 23 game winning goals this season (five goals, seven assists), the second most game-winning points in the NCAA.
Gaudette also captured the Hockey East regular season scoring title with 33 points (19 goals, 14 assists) in conference play. Of Hockey East's nine Hobey Baker Award winners, five won the conference scoring title (Jack Eichel, Johnny Gaudreau, Jason Krog, Paul Kariya, David Emma).
Sikura (Aurora, Ontario), meanwhile, is third in the nation this season with 52 points (20 goals, 32 assists), his second consecutive 50-point and 20-goal season. He's also the nation's leader in power play goals with 13, one of 11 players in the country with season with at least 30 assists, currently tied for third, and tied for second in the country with 5.03 shots on goal per game.
What's most impressive about Sikura is his steady progression throughout his career at Northeastern. He went from a seven-point in 25-game freshman campaign to 28 points as a sophomore before a breakout 57-point junior season. 109 of Sikura's 144 career points (76%) have come in his last 71 games (1.54 points per game).