Monday, February 26, 2018
Weekly Release: 2018 Hockey East Tournament Begins Thursday
Best-of-Three Opening Round Kicks Off 34th Annual Playoff Tournament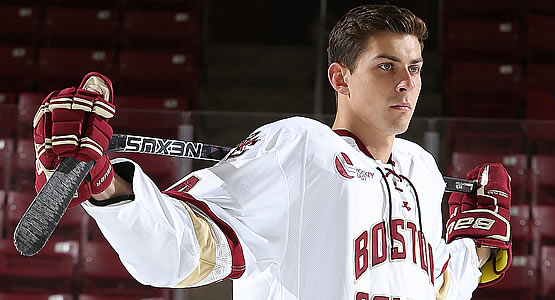 Hockey East Player of the Week Kevin Lohan of Boston College
AROUND HOCKEY EAST: The 34th annual Hockey East Tournament begins Thursday, March 1. The top five seeds, No. 1 Boston College, No. 2 Northeastern, No. 3 Providence, No. 4 Boston University and No. 5 UConn, will enjoy a bye into the quarterfinals, while seeds six through eight will host seeds nine through 11 next weekend, March 1-4. No. 6 Maine (16-14-4, 10-11-3 HEA) draws No. 11 New Hampshire (10-18-6, 5-13-5 HEA) to Alfond Arena Friday, March 3 at 7:30 p.m. The Black Bears went 1-0-2 against the Wildcats in the regular season, with both draws coming at Maine January 19-20. Maine and New Hampshire have never met in the opening round and Maine owns a 5-1-0 record over New Hampshire in four previous Hockey East Tournament series. The two have not met in the postseason since 2004 ... No. 7 UMass Lowell (17-17-0, 11-13-0 HEA) welcomes No. 10 Merrimack (10-19-4, 7-15-2 HEA) to the Tsongas Center Friday, March 2 at 7:15 p.m. to begin their best-of-three series. The River Hawks and Warriors split their two-game season series in the final weekend of the regular season. This is the first time UMass Lowell will participate in the opening round and just the second time meeting Merrimack in the Hockey East Tournament. The two programs clashed in the 1994 quarterfinals, a two-game sweep for UMass Lowell. The River Hawks have reached the Hockey East Championship game in each of the last five years ... No. 8 Massachusetts (15-17-2, 9-13-2 HEA) will entertain No. 9 Vermont (9-18-7, 6-12-6 HEA) in just their second-ever postseason tilt beginning Thursday, March 1 at 7 p.m. UMass hosts a Hockey East Tournament game for the first time since 2007. The Minutemen and Catamounts also met in the 2014 opening round, a single-elimination round that saw Vermont move into the quarterfinals. During the regular season, Massachusetts took a 1-0-1 mark on the road against Vermont, one of just three season-series victories for the Minutemen in league play ... No. 4 Boston University (17-3-4, 12-8-4 HEA) will host No. 5 UConn (15-17-2, 11-12-1 HEA) in the quarterfinals, March 9-11. This marks the highest finish in UConn's four-year stint with Hockey East and the first time Huskies' have earned a bye through the opening round. UConn has dropped quarterfinal series in each of its first three playoff appearances. Boston University and UConn split a three-game regular-season series, 1-1-1. The teams skated to a 2-2 stalemate on October 20 in their lone game at Agganis Arena and scored a combined 22 goals across the three games. The Terries hold the record for most Hockey East Tournament wins with a 70-39-1 mark.
---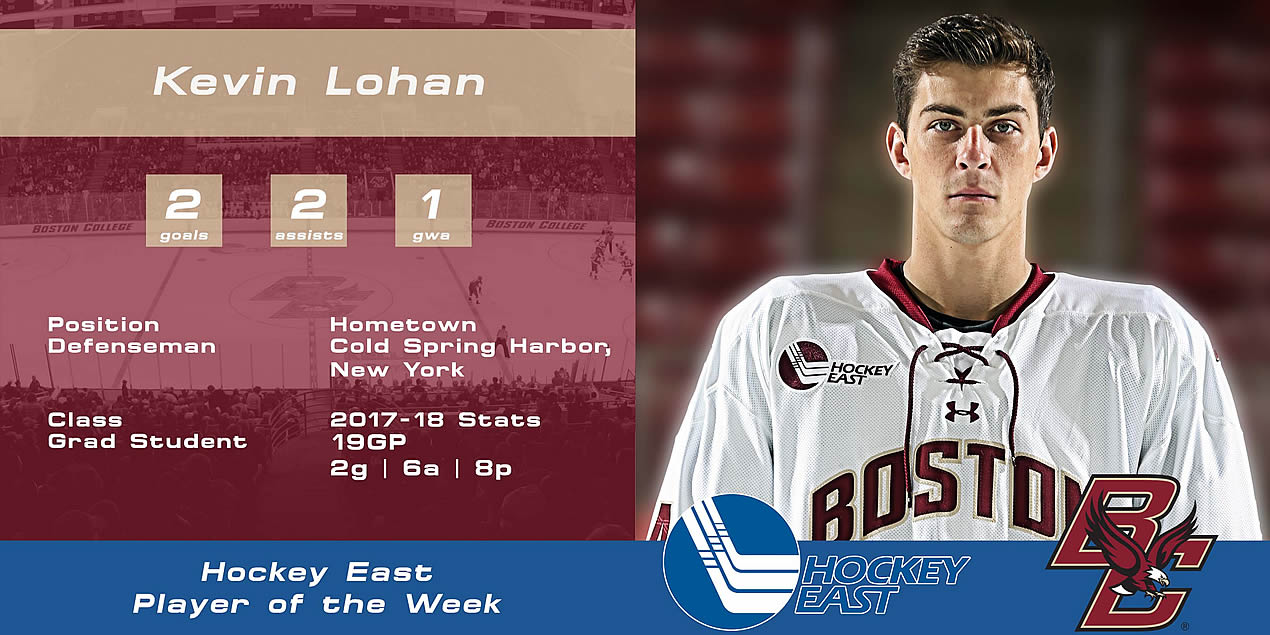 KEVIN LOHAN - BOSTON COLLEGE

Kevin Lohan (Cold Spring Harbor, N.Y.) notched the first two goals of his Eagles career in the final weekend of regular season play, scoring two goals and adding an assist on the game-winning strike Friday. His offense helped Boston College to secure the Hockey East regular season title Friday night. He dished out an assist on the game-tying score the next night, sparking a come-from-behind 2-1 win. In his previous 81 games with Michigan, Lohan had scored just two goals and eight assists. He now has two goals and a six helpers in 19 games this season.
---

CAYDEN PRIMEAU - NORTHEASTERN

Cayden Primeau (Voorhees, N.J.) stopped all 63 shots he saw in two games against New Hampshire, winning both games and becoming the Stop It Goaltending Champion in the process. Primeau collects his second-straight Pro Ambitions Rookie of the Week honor and fourth league honor to date. He also tied the Northeastern program record for shutouts by a freshman with four on the year.
---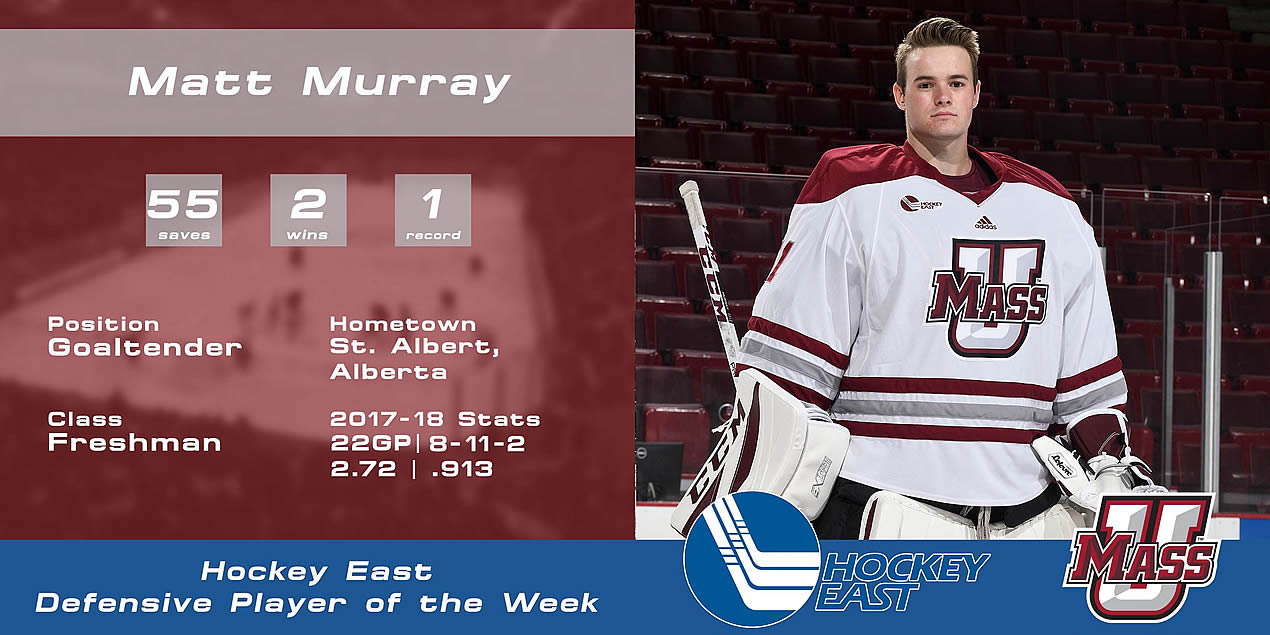 MATT MURRAY - MASSACHUSETTS

Matt Murray (St. Albert, Alta.) went 2-0-0 on the week, posting a 1.01 GAA and .965 save percentage and stopping 55 shots. He stopped 24 shots at UConn to snap the Huskies' seven-game winning streak and set a new UMass single-season shutout record with his fourth blank sheet of the year with 31 stops against #7 Providence.
---
HOCKEY EAST WEEKLY TOP PERFORMERS
Logan Hutsko, BC (Fr., F; Tampa, Fla.) Had two assists Friday night and scored a goal that proved to be the #1 play on SportsCenter that same evening as the rookie lead the Eagles to a Hockey East regular season title.
Jordan Greenway, BU (Jr., F; Canton, N.Y.) After flying to Boston from Korea where he was competing with the U.S. Men's Olympic Hockey Team, Greenway scored a goal and had an assist in his return to the Terrier lineup. His primary helper Friday proved to be the game-winner and he scored BU's only goal in Saturday's 1-1 tie with Vermont.
Jake Oettinger, BU (So., G; Lakeville, Minn.) Posted a 33-save shutout Friday and stopped 28 of 29 shots on Saturday to go 1-0-1 on the weekend. He had stopped 80 consecutive shots from Vermont, dating back to 2016-17, prior to the Catamounts' third period strike on Saturday.
Austin Albrecht, UMass (Fr., F; Flemington, N.J.) Led UMass in scoring with three points (2g, 1a), helping the Minutemen secure their first home-ice playoff series in 11 years with a 2-0-0 win. Set up the game-winning goal with just 68 seconds left in regulation at UConn Thursday and had the only goal of the game in a 1-0 win over #7 Providence Saturday at home.
Mitchell Fossier, ME (So., F; Alpharetta, Ga.) Had two assists in two games at #20 BC, including one on the power play. He had four shots on net and won four faceoffs.
Veli-Matti Tiruaniemi, ME (Fr., D; Piertaasi, Finland) Notched his second career goal Friday night at BC, firing a team-high five shots on net.
Rob Michel, ME (Jr., D; Camillus, N.Y.) Netted his fifth goal of the year with a power-play strike Saturday night.
Brett Seney, MC (Sr., F; London, Ont.) Scored twice in his final home game for Merrimack, extending his team lead to 13 goals and 29 points.
Jared Kolquist, MC (Sr., F; Hermantown, Minn.) Dished out a pair of helpers on the weekend, making 19 on the year for the senior defenseman. It is the sixth-best total in the league and he is the fourth-highest scoring defenseman in the league.
Adam Gaudette, NU (Jr., F; Braintree, Mass.) Finished the season as the conference scoring champion (20g, 15a) after scoring two goals and adding three assists in a sweep of UNH.