Thursday, February 15, 2018
Hockey East Weekend Preview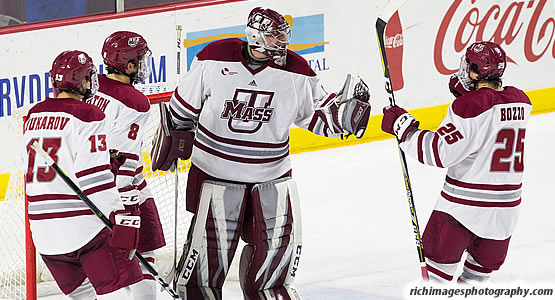 Massachusetts is 2-0-1 in its last three outings and sits just one point out of hosting an opening round series in the Hockey East Tournament.
Boston College vs. Massachusetts/Maine - Thu. 2/15 at UMass, Sat. 2/17 at Maine
- Boston College (14-13-3, 14-6-0 HEA) and Massachusetts (13-16-2, 7-12-2 HEA) close out a two-game regular-season series at the Mullins Center Thursday night. The Minutemen paid a trip to Kelley Rink on Jan. 23, where they fell, 2-1, to the Eagles. Overall, Boston College leads the all-time series against UMass 62-13-3.
- Heading into the weekend, Boston College remains at the number one spot in the Hockey East rankings with a two-point advantage over #2 Providence. The Eagles have secured an opening round bye already, the first team to do so this season, after amassing 28 points and owning a tie-breaker over UMass Lowell.
- Massachusetts is 2-0-1 in its last three outings and sits just one point out of hosting an opening round series in the Hockey East Tournament. Two Minutemen received weekly honors this week for strong performances last weekend. John Leonard (Amherst, Mass.) notched four points (2g, 2a) and was named the Pro Ambitions Co-Rookie of the Week while Matt Murray (St. Albert, Alberta) stopped 99 shots over his three starts to collect Hockey East Player of the Week accolades.
- A goal from Mitchell Fossier (Alpharetta, Ga.) gave the Maine Black Bears (16-11-4, 10-8-3 HEA) a 4-3 overtime win over league rival New Hampshire in a mid-week game on Wednesday night. The win bumped Maine up one spot in the standings, where they are now tied for fourth place with Boston University. Maine and Boston College will meet for the first of three regular season games on Saturday night. The three-game set between the Eagles and Black Bears will play a huge role in determining who claims the Hockey East regular season title and who earns byes through the opening round of the tournament as the top seven teams are separated by just seven points.

Merrimack vs. New Hampshire/#20 Boston University - Fri. 2/16, Sat. 2/17 at MC
- Merrimack (8-17-4, 5-13-2 HEA) and New Hampshire (10-15-6, 5-11-5 HEA) put an end to their two-game regular-season series at Lawler Rink Friday night. The teams first met on Dec. 10 at the Whittemore Center, a 4-3 New Hampshire win.
- The Wildcats and Warriors are separated by just three points in the Hockey East standings, sitting 10th and 11th, respectively. With a sweep, either team could put itself in position to host an opening round series.
- New Hampshire's Ara Nazarian (Boxford, Mass.) will lead the Wildcats into the series finale with Merrimack riding a three-game point streak (1g, 3a).
- After a contest against the Wildcats on Friday night, the Warriors will turn around and wrap up a three-game regular-season series against the Terriers on their home ice. Boston University took the first two meetings against Merrimack this season.
- Ludvig Larsson (Malmo, Sweden) posted the third two-goal game of his career last week in a 5-2 loss against UMass. Larsson is tied for the team lead in assists this season with 11.

#12 Northeastern vs. Vermont - Fri. 2/16, 2/17 at UVM
- Northeastern (17-8-5, 11-6-3 HEA), fresh off claiming its first Beanpot title in 30 years on Monday night, travels to Vermont sitting in third place and three points behind Boston College for first in the Army ROTC Hockey East standings.
- Huskies' junior Adam Gaudette (Braintree, Mass./24g, 23a), who leads the nation in scoring this season with 47 points, netted a hat trick to help the Huskies to a 5-2 win over Boston University in the Beanpot final. Gaudette has now scored five goals and eight points in his last three games.
- Vermont (9-15-6, 6-9-5 HEA) is currently riding a nation-best seven-game unbeaten streak (5-0-2), launching the Catamounts into hosting position for the opening round of the Hockey East Tournament.
- The Catamounts came away with three league points in a two-game set at New Hampshire last weekend, defeating the Wildcats 2-1 on Friday night and skating to a 2-2 draw on Saturday night. Vermont, with series against Northeastern and Boston University left, is the only school which will play solely opponents in the top five of the Army ROTC Hockey East standings for the remainder of the season.

UConn vs. #20 Boston University - Fri. 2/16 at UConn
- UConn (14-16-2, 10-11-1 HEA) and Boston University (15-12-3, 10-7-3 HEA) meet at the XL Center to cap off a three-game regular season series. The Terriers hold a 1-0-1 advantage over the Huskies this season and the third game will determined the first tie-breaker for the two programs should they end up even in the final Army ROTC Hockey East standings. UConn trails BU by just two points in the current standings.
- UConn is riding a six-game winning streak, including wins over all three nationally ranked programs in Hockey East: Boston College, Northeastern, and Providence. The Huskies earned two big league points last weekend when they defeated then-#11 Northeastern on the road, 4-2.
- Netminder Tanner Creel (Arlington Heights, Ill.) made 34 saves in the win, 14 in the third period alone, and was named this week's Hockey East Defensive Player of the Week. Creel is 6-1-0 since stepping in for injured goalie Adam Huska (Zvolen, Slovakia) this season.
- The Terriers rode a nine-game unbeaten streak that lasted from Jan. 12 to Feb. 9 (7-0-2). The streak was snapped in the Beanpot championship on Monday night when BU fell to Northeastern, 5-2. Shane Bowers (Halifax, N.S.) collected his 16th goal of the season in the loss and will enter the series finale with UConn with five goals in the last six outings. Bowers now leads all HEA freshman in scoring with 25 points (16g, 9a) on the season.
- On Wednesday, Boston University's Jordan Greenway (Canton, N.Y.) became the first men's player to score goals in the Olympics and the NCAA in the same season since Paul Kariya and Peter Ferraro of Maine did so in during the 1993-94 season.

#8 Providence vs. UMass Lowell - Fri. 2/16 at PC, Sat. 2/17 at UML
- Providence (18-9-4, 11-6-4 HEA) and UMass Lowell (16-14-0, 10-10-0 HEA) will meet for the first time this season in home-and-home fashion. The Friars took both meetings against UMass Lowell in regular season last year, defeating the River Hawks 4-3 and 3-2.
- This weekend's series is crucial for Providence as they vie for the first place spot in the HEA rankings. The Friars are just two points behind Boston College who currently sit at number one, but a sweep at the hands of UMass Lowell would eliminate Providence from regular season title contention.
- An overtime goal from Scott Conway (Basingstoke, England) last weekend in a home contest against Maine gave Providence a critical win last weekend. Conway has scored in three consecutive games for the Friars and has a goal in four of his last five outings.
- UMass Lowell sits seventh in the Army ROTC Hockey East standings with 20 points and just four points above UMass. The River Hawks need at least three points to secure at least home ice in the opening round of the Hockey East Tournament.