Thursday, January 4, 2018
Hockey East Weekend Preview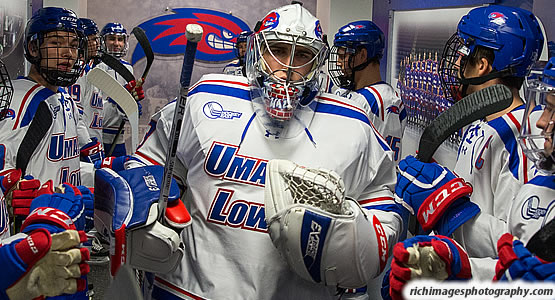 UMass Lowell hosts a pair of league contests this weekend
Merrimack vs. UConn/#11 Providence - Fri 1/5 at UConn, Sat 1/6 at PC
- Merrimack returns to conference play for the remainder of the season after defeating then-#2 Denver and falling to Colorado College on the road last weekend. Senior Brett Seney (London, Ont.) was named as Hockey East Player of the Week after a two-goal outing against the Pioneers, scoring twice in 44 seconds to secure the 3-2 win. His second tally marked his 100th career point with the Warriors.
- UConn seeks a win against Merrimack on Friday night after being shut out by BC and Quinnipiac in the team's last two outings. The Huskies and Warriors have needed overtime in six of their last seven meetings. Before the Holiday break netminder Adam Huska (Zvolen, Slovakia) tabbed the HEA Defensive Player of the Week after backstopping the Huskies to two wins over UMass and then-no16 Colgate.
- The Friars claimed the Three Rivers Classic title in Pittsburgh, Pennsylvania last weekend. Brian Pinho (North Andover, Mass.) was named the Three Rivers Classic Most Valuable Player and named to the All-Tournament team after a goal and two assists. Pinho also notched his 100th career point on an assist in a mid-week tilt against Brown on Wednesday.

UMass Lowell vs. Vermont/Massachusetts - Fri. 1/5 , Sat 1/6 at UML
- The River Hawks won the opening round of the Catamount Cup last weekend, defeating Harvard, 5-2, but fell to St. Lawrence, 3-0 in the title game. The River Hawks are now 2-3-0 in their last five, but just three of their remaining seven opponents have records over .500. Combined their winning opponents (UMass, BC, PC) are 32-21-3 while the other four (UVM, ASU, AIC, MC) are just 19-46-13.
- Vermont suffered two losses at the hands of St. Lawrence, 3-2, and Harvard, 4-1, in the 21st iteration of the TD Bank Catamount Cup last weekend. Forward Ross Colton (Robbinsville, N.J.) collected his team-leading 11th goal of the season in the second round against Harvard. The Catamounts have just Hockey East opponents on their schedule from this point on, with only two of seven opponents with a record above .500 in Hockey East play.

#13 Boston College vs. Michigan Tech/Arizona State or Northern Michigan - Fri. 1/5, Sat. 1/6 at Ice Vegas Invitational
- The Eagles kicked off the second half of the season with a conference win against UConn last Saturday. Ryan Edquist (Lakeville, Minn.) recorded his first career shutout in the 2-0 win over the Huskies, making 23 saves in the outing.
- Julius Mattila (Tampere, Finland) leads the Eagles in scoring (5g, 10a) and is currently riding a seven-game point streak (4g, 7a), which is tied for the longest streak in the league in 2017-18 (Erik Foley, PC, 6g, 8a).

Boston University vs. U.S. National Under-18 Team (ex.)/Maine - Fri. 1/5, Sat. 1/6 at BU
- Boston University and Maine will wrap up a three-game season series at Agganis Arena on Saturday. The Black Bears and the Terriers each collected a win when the teams met in Maine Nov. 17-18.
- BU junior forward Jordan Greenway (Canton, N.Y.) was named was named to the 2018 U.S. Olympic Men's Hockey Team, set to compete in the Winter Games in PyeongChang, South Korea in February. Greenway will be accompanied by three other BU alumni: Matt Gilroy, John McCarthy and Chris Bourque.
- The Black Bears look to extend a seven-game unbeaten streak in the series finale against BU on Saturday. Two wins against RPI last weekend moved Maine to 10-7-1 on the season, just one victory shy of last season's total with 16 games remaining on the schedule. On Wednesday, defenseman Patrick Holway (Cohasset, Mass.) and forward Tim Doherty (Portsmouth, R.I.) collected Player of the Month and Pro Ambitions Rookie of the Month, respectively, for their efforts in helping their squad to an unbeaten month of December.

#9 Northeastern vs. Bentley - Fri. 1/5 at Bentley, Sat. 1/6 at NU
- Sophomore Jeremy Davies (Ste-Anne-de-Bellevue, Que.) and Senior Dylan Sikura (Aurora, Ont.) will re-join the Huskies for a two-game series against Bentley after helping Team Canada capture Spengler Cup title in Davos, Switzerland over the holiday break. Both Davies and Sikura played in all four games for Team Canada, and tallied one assist each.
- Freshman goaltender Cayden Primeau (Voorhees, N.J.) made 24 saves to hold off AIC in Northeastern's last outing on Dec. 30, a 3-1 victory. The Huskies saw goals scored by Nolan Stevens (Sea Isle City, N.J.), Zach Solow (Naples, Fla.) and Matt Filipe (Lynnfield, Mass.).

#20 New Hampshire vs. Brown - Sat. 1/6 at UNH
- New Hampshire is looking to break a four-game skid, the longest of the season for the Wildcats. Over the Holiday break, UNH was swept by Dartmouth and Yale at the Ledyard Classic at Dartmouth. Kohei Sato (Nishitokyo, Japan) recorded his first collegiate point with an assist in the 4-2 loss against Yale.
- Wildcat alumnus Bobby Butler was named to the U.S. Olympic Team on Jan. 1. Butler last represented Team USA in the 2013 World Championship with three goals and one assist for four points to help the country to a bronze medal.

Massachusetts vs. Yale - Fri. 1/5 at Yale
- The Minutemen will see the ice for the first time since Dec. 10 this weekend at Yale. Before the break, Ryan Wischow made 31 saves to backstopp UMass in a 2-1 victory over then-#19 Union.
- Freshman defenseman Cale Makar (Calgary, Alta.) is currently representing Massachusetts in the 2018 IIHF World Junior Championship in Buffalo, New York with Team Canada. Makar has three goals in three straight games and was named the player of the game after a win against Switzerland in the quarterfinal round.
- UMass currently leads the nation in freshman scoring, getting 77 points from its 13 rookies. Five of the top six point-getters for the Minutemen are in their rookie campaigns, including leading scorer Oliver Chau (Oakville, Ont./7g, 8a).