Thursday, January 25, 2018
Hockey East Weekend Preview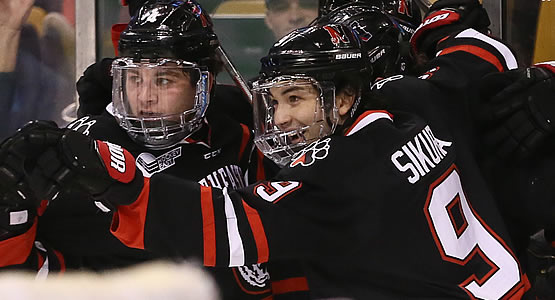 Northeastern (15-6-3, 11-4-1 HEA) and Providence (16-8-2, 9-5-2 HEA) currently sit second and third in the Hockey East standings, respectively.
#8 Northeastern vs. #10 Providence - Fri. 1/26 at NU, Sat. 1/27 at PC
- Northeastern (15-6-3, 11-4-1 HEA) and Providence (16-8-2, 9-5-2 HEA) currently sit second and third in the Hockey East standings, respectively. Providence (T10) and Northeastern (13) are separated by .0045 points in the current Pairwise rankings.
- The two highest nationally-ranked teams in Hockey East face-off in a home-and-home series this weekend. The match up is just one of two top-10 series taking place this weekend in the NCAA.
- The Huskies seek a win at home on Friday night after a season of success on its own ice. Northeastern is 9-1-0 in its last 10 home games, with a six-game winning streak. The Huskies are outscoring their opponents 29-11 in the first period this season, leading the nation with a plus-18 goal differential. Adam Gaudette (Braintree, Mass.) leads the Hockey East and the nation with 36 points on 17 goals and 19 assists.
- The Friars suffered a 3-1 setback to UConn on Saturday night, snapping its seven-game unbeaten streak. Erik Foley (Mansfield, Mass./13g, 16a) notched an assist to senior captain Brian Pinho's (North Andover, Mass.) to give him his 29th point of the season and placing him third among Hockey East scoring leaders. Pinho sits two spots behind with 24 points (11g, 13a).

#16 Boston College vs. UMass Lowell - Fri. 1/26 at UML, Sat 1/27 at BC
- Boston College (12-9-3, 12-4-0 HEA) and UMass Lowell (14-11-0, 9-7-0 HEA) begin a three-game regular series this weekend in a home-and-home. Friday night's tilt marks the first meeting between the Eagles and the River Hawks since last season's Hockey East championship game, where UML took home the Lou Lamoriello Trophy with a 4-3 win over the Eagles on TD Garden ice.
- After a short stint in second, the Eagles are back in the top spot in Hockey East after a midweek victory over UMass Tuesday night. Freshman forward Logan Hutsko (Tampa, Fla.) secured the win for the Eagles with a strike in the second period to make it a 2-1 game. The rookie is tied for first point scoring for the Eagles this season, registering 15 on five goals and 10 assists.
- The River Hawks split a series at Vermont last weekend and have won 10 out of their last 15 games this season (10-5-0).
- Ryan Lohin (Chadds Ford, Pa.) tallied a power play marker in Saturday night's contest and continues to lead the River Hawk offense with 21 points this season on eight goals and 13 assists.

New Hampshire vs. UConn - Fri. 1/26 at UNH Sat. 1/27 at UConn
- New Hampshire (9-11-4, 4-7-3 HEA) holds a 15-4-0 all-time advantage over UConn (9-16-2, 6-11-1 HEA), but UConn has come out on top in each of the last four outings against the Wildcats.
- The Huskies currently sit seventh in the league standings with 13 points, while the Wildcats are tied for eighth with 11 points.
- New Hampshire's Marcus Vela (Burnaby, B.C.) enters the weekend with a three-game point streak after registering one assist in each of his last three outings. Senior goaltender Danny Tirone (Trumbull, Conn.) earned Hockey East Co-Defensive Player of the Week honors after an undefeated weekend at conference rival Maine last weekend.
- UConn last took down #10 Providence on the road its most recent outing. Junior forward Max Letunov (Moscow, Russia/7g, 14a), who leads the Huskies in scoring, netted the game-winner to secure the 3-1 win over the Friars. Letunov is tied for ninth among all league point-getters.

Vermont vs. Merrimack - Fri. 1/26, Sat. 1/27 at MC
- Vermont (5-15-4, 2-9-3 HEA) heads south for two games against Merrimack (7-13-4, 4-9-2 HEA) at Lawler Rink this weekend in a battle between two programs separated by just three points in the league standings. The teams last met in Vermont during the 2016-17 season, splitting the series 1-1-0.
- The Catamounts earned a big win last weekend, toppling UMass Lowell, 6-3, Saturday night. Liam Coughlin (South Boston, Mass.) netted his first career hat trick in the win, earning him Hockey East Player of Week honors.
- Ross Colton (Robbinsville, N.J.) also contributed a goal in the win and now leads the Catamounts with 12 strikes this season, sixth-most in the league.
- The Warriors are 5-4-1 in their last 10 games after dropping two to Boston University last weekend. Cole McBride (Kindersley, Sask.) pushed his career- high point streak (1g, 4a) to five games in the series with two assists.
- Ludvig Larsson (Malmo, Sweden) found the net in Saturday night's contest, and now shares the team lead in goals this season tied with eight with senior Brett Seney (London, Ont.)

Maine vs. Massachusetts - Fri. 1/26, Sat. 1/27 at MC
- Maine (12-9-4, 6-6-3 HEA) and Massachusetts (11-12-1, 5-8-1 HEA) top off a three-game regular season series in Amherst on Friday and Saturday night. The teams met at Alfond Arena on Jan. 16, when Black Bears took two league points in a 3-1 win over the Minutemen. Maine, currently sitting sixth in the league with 15 points, holds a spot just four points ahead of eighth-place UMass.
- The Black Bears currently rank second in the league in overall scoring offense, averaging 3.32 goals per game.
- Both teams saw the spotlight this week with a player receiving a Hockey East weekly award. UMass goaltender Matt Murray (St. Albert, Alta.) was named Pro Ambitions Rookie of the Week after earning his second shutout of the season in a 5-0 win over the #8 Northeastern last weekend. It was the first shutout of the Huskies' offense this year. Meanwhile, Maine's Jeremy Swayman (Anchorage, Alaska) was named a co-defensive player of the week after going undefeated in three games and stopping a league-high 92 shots on the week for a .939 save percentage and a 1.89 goals against average.

Boston University vs. Arizona State University - Fri. 1/26, Sat. 1/26 at ASU
- Boston University (11-11-2, 9-7-2 HEA) prepares for two of its final four non-conference games as the Terriers travel west for a two-game set with Arizona State. The only other out of conference tilts will come during the annual Beanpot tournament in February.
- This weekend marks the first ever matchup between the Boston University and Arizona State.
- BU won four league points last weekend in a sweep of Merrimack. The Terrier offense was paced by Dante Fabbro (New Westminster, B.C.), who netted his first career hat trick in a road contest on Friday night, and Bobo Carpenter (North Reading, Mass.), who scored two goals and assisted on another in a 3-1 victory Saturday night.
- Carpenter leads the team in points this season, sitting sixth in the league with 13 goals and 10 assists for 23 points.