Thursday, January 11, 2018
Hockey East Weekend Preview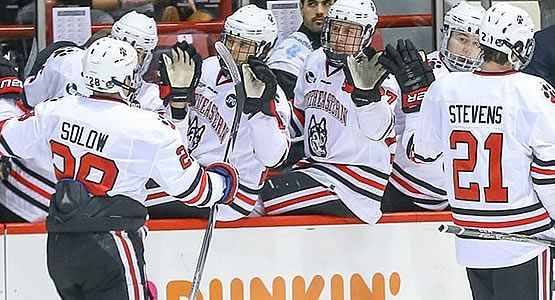 Northeastern hosts Maine for a Hockey East weekend series at Matthews Arena
#20 Maine at #10 Northeastern - Fri.1/12, Sat. 1/13 at NU
- Maine (11-7-2, 5-4-1) and Northeastern (12-5-3, 8-3-1 HEA) will meet for the first time this season in a two-game series at Matthews Arena. Both teams are riding unbeaten streaks: Maine is unbeaten in its last nine games at 7-0-2 while Northeastern in 5-0-2 in its last seven.
- The Black Bears closed out non-conference play for the season with a 4-4 draw at Brown on Monday night.
- Goaltender Jeremy Swayman (Anchorage, Alaska) has had a strong year in the net, sitting first in overall save percentage with .932, and earned Hockey East Rookie of the Week accolades after his first career shutout at BU last weekend with 31 saves.
- The Huskies are 6-0-1 in their last seven games at home and 8-3-0 overall this season, the sixth-most home victories in the NCAA this year. Junior Adam Gaudette (Braintree, Mass.) enters the weekend series carrying a six-game point streak (7g, 5a), his longest this season.

#11 Providence vs. #16 Boston College/Boston University - Fri. 1/12 at BC, Sat 1/13 at BU
- Providence (14-7-1, 7-4-1 HEA) and Boston College (10-8-3, 10-3-0 HEA) close out a three-game regular season series on Friday night. The Eagles took the first meeting, 4-3, in overtime on Oct. 15 with a goal from Casey Fitzgerald (North Reading, Mass.). Providence then defeated BC on Oct. 29, a 2-1 home win.
- The Friars enter the weekend on a four-game winning streak. Providence has overwhelmed their last four opponents by a combined score of 18-3.
- Junior forward Erik Foley (Mansfield, Mass.) has had a record season thus far, averaging 1.30 points per game (12g, 14a), sitting 12th in the nation. Friars captain Brian Pinho (North Andover, Mass.) led the team to two victories last weekend with two goals and three assists, earned the Hockey East Player of the Week.

New Hampshire vs. Boston University/#16 Boston College - Fri. 1/12 at UNH, Sun. 1/14 at BC
- The Terriers (8-11-1, 6-7-1 HEA) and the Wildcats (9-9-2, 4-5-1 HEA) will close out a two game regular season series at the Whittemore Center Friday night. In the last meeting, BU shutout UNH at home on Nov. 11, 4-0. The teams are currently tied for fifth in Hockey East in overall scoring offense with 3.00 goals per game.
- Boston University sits third in the league scoring offense with 3.14 goals per game. Patrick Harper (New Canaan, Conn.) is tied for fourth in Hockey East overall point scoring with 21 points on eight goals and 13 assists.
- The Wildcats have outscored its overall opponents by a 60-52 margin this year, the fifth-best in the league.
- Senior assistant captain Danny Tirone (Trumbull, Conn.) now has the most saves in UNH history after reaching 3,252 saves last weekend. Tirone sits fourth in overall save percentage (.916).
- Boston College and New Hampshire close out a two-game season series Sunday afternoon. The Eagles traveled to Durham earlier this season and defeated the Wildcats, 3-2, on Nov. 17. BC remains at the top of the Hockey East standings with 20 points in league play this season, winning 10 of its 13 contests.
- Sophomore forward Julius Mattila (Tampere, Finland) currently rides the longest point streak in the league, putting up one or more points in his last nine outings (5g, 9a).

UConn vs. Merrimack - Fri. 1/12 at MC
- Friday night's matchup marks the second meeting between the Huskies (8-14-2, 5-9-1 HEA) and the Warriors (6-11-4, 3-7-2 HEA), who clashed last weekend in Connecticut. Merrimack's Sami Tavernier (Morzine, France) found the net in overtime, securing the win for the Warriors, 3-2.
- Merrimack is 4-2-1 in its last seven games dating back to Dec 8, when the team was 2-9-3. Seniors Jace Hennig (Port Moody, B.C./8g,11a) and Brett Seney (London, Ont./6g,13a) lead the team with 19 points apiece.
- UConn junior Maxim Letunov (Moscow, Russia) enters the series finale with Merrimack with a team-leading 20 points on six goals and 14 assists. Senior defenseman Johnny Austin (St. Louis Park, Minn.) is tied for first in conference-only assists with 11 on the season.

Massachusetts vs. Vermont - Fri. 1/12, Sat. 1/13 at UVM
- Massachusetts (9-9-0, 3-5-0 HEA) and Vermont (4-13-3, 1-7-2 HEA) last met at the Friendship Four in Belfast, Northern Ireland last year. The Catamounts defeated the Minutemen in the contest, 4-2. UMass will seek its first win against Vermont since the 2012-13 season.
- Massachusetts freshman defenseman Cale Makar (Calgary, Alta.) became just the second Minuteman in program history to win gold at the 2018 IIHF World Junior Championship. Makar finished the tournament with three goals and five assists for eight points and was plus-five over seven games. He leads all UMass defensemen in scoring through sixteen games with nine points on one goal and eight assists.
- Vermont will only see Hockey East opponents for the rest of the regular season. Sophomore forward Ross Colton (Robbinsville, N.J.) leads the Catamounts with 13 points on 11 goals and two assists. Colton ranks third in the league on the power play with four strikes, and is also tied for ninth in the league in goal scoring.

UMass Lowell vs. Arizona State - Fri. 1/12, Sat. 1/13 at ASU
- UMass Lowell (12-9-0, 8-6-0 HEA) will break from league play for two games at Arizona State after capturing four league points last weekend. The River Hawks last met the Sun Devils at the Tsongas Center in the 2015-16 season, where UML defeated ASU twice in a two-game series by a combined score of 12-2.
- Christoffer Hernberg (Espoo, Finland) was named the Hockey East Defensive Player of the Week after backstopping the River Hawks to the two conference wins against Vermont and Massachusetts. He picked up his third career shutout in a 21-save performance against the Catamounts
- Sophomore forward Ryan Lohin (Chadds Ford, Pa.) notched a career high four points (2g, 2a) in an 8-3 win over Massachusetts on Saturday night. Lohin is tied for third in Hockey East conference-only scoring leaders with 14 points (7g, 7a) and sits fifth in the league in goal scoring.