Thursday, December 7, 2017
Hockey East Weekend Preview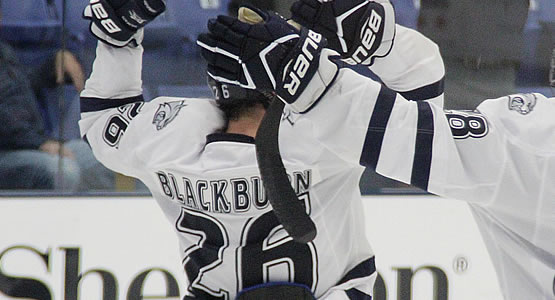 New Hampshire hosts Army West Point and Merrimack this weekend
#9 Providence vs. RIT - Fri. 12/8, Sat. 12/9 at PC
- After a home-and-home series split with New Hampshire last weekend, the Providence Friars (9-6-1, 6-4-1 HEA) break from conference play to host RIT this weekend.
- Providence defeated UNH last Friday night, 5-2. Brian Pinho (North Andover, Mass.) registered an assist in the win, extending his point streak to six straight games.
- Erik Foley (Mansfield, Mass.) was named Hockey East Player of the Month for his production across November. In seven games played, Foley led the conference with 11 points (4g, 7a) and posted three multi-point games, including a career-high of four points (2g, 2a) in a single outing on Nov. 18.

#10 Northeastern vs. #14 Boston College/Merrimack - Sat. 12/9 at BC, Sat. 12/16 at NU
- Despite having their eight-game unbeaten streak snapped last weekend, the Eagles (9-6-2, 9-2-0 HEA) retain their hold at the top of the Hockey East standings after a split with the Boston University Terriers (7-9-1, 5-5-1 HEA).
- Boston College's Christopher Grando (Islip, N.Y.) was named the Pro Ambitions Hockey East Rookie of the Month on Tuesday, finishing November with eight points on three goals, five assists, and a plus-8 rating as he helped his team cap off an unbeaten month (7-0-1).
- After a four-point weekend, the Northeastern Huskies (9-5-1, 7-3-0 HEA) moved into the top-10 of the national rankings and sit fourth in Hockey East. Freshman goaltender Cayden Primeau (Voorhees, N.J.) was named Pro Ambitions Rookie of the Week after only allowing three goals on 68 shots during the week, picking up a pair of wins over Merrimack.
- Northeastern and Merrimack clash for the third time this season next Saturday, Dec. 16 The Huskies defeated the Warriors in the first two outings Dec. 1-2, winning each contest, 3-1.

#13 New Hampshire vs. Army West Point/Merrimack - Fri. 12/8 at MC, Sat. 12/9, Sun. 12/10 at UNH
- Merrimack (2-9-3, 1-6-1 HEA) fell in two games to NU last weekend, dropping 3-1 decisions each night to extend its winless streak to four games. Logan Coomes (Northville, Mich.) netted his first goal of the season on Saturday.
- New Hampshire (9-5-1, 4-4-1 HEA) downed RPI on the road on Wednesday, 6-3. The Wildcats moved to 5-1-0 in non-league play with the victory, the best mark of any Hockey East team this season.
- Both Merrimack and UNH welcome Army West Point to their rinks this season. On the year, Army is 6-2-1 on the road and carries just a 1-5-1 record at home.

Massachusetts vs. #19 Union - Sat. 12/9 at Union
- The Minutemen fell at UConn earlier this week in a Tuesday Hockey East matchup, 8-2. It was UMass's first setback in four tries after clipping off three straight wins over Quinnipiac ant UConn. Junior Brett Boeing (Barrington, Ill.) recorded his first career goal in the loss.
- UMass has skated against Union just twice in the past seven seasons, taking a 4-3 win on Dec. 29, 2009 and a 4-3 overtime loss on Dec. 11, 2015.
- UMass freshman defensemen Mario Ferraro (King City, Ont.) and Cale Makar (Calgary, Alta.) were named to Canada's selection camp roster for the upcoming 2018 IIHF World Junior Championship in Buffalo, New York on Wednesday. Ferraro leads the Minutemen with a plus-nine rating with three goals and three assists. Makar paces the UMass defensive corps in overall scoring through 15 games with one goal and eight assists and a plus-seven rating.

UMass Lowell vs. Boston University - Fri. 12/8 at UML, Sat 12/9 at BU
- Sophomore forward Ryan Lohin (Chadds Ford, Pa.) leads the River Hawks in scoring with 14 points (5g, 9a) on the season, despite being held off the score sheet in four of his last six games.
- River Hawks netminder Christoffer Hernberg (Espoo, Finland) was named Stop It Goaltending Goaltender of the Month on Tuesday after leading UML to five victories in November, allowing no more than two goals in five of his six starts. He went 5-1-0 on the month, improving to 8-2-0 overall for the 8-7-0 River Hawks.
- The Terriers split a home-and-home series with Comm. Ave rival Boston College last weekend. After assisting four of the seven BU goals in Friday night's contest, sophomore Patrick Harper (New Canaan, Conn.) was awarded Hockey East Player of the Week for the second time this season.

Maine vs. Quinnipiac - Fri. 12/8, Sat. 12/9 at QU
- In the 2016-17 season, Maine battled Quinnipiac in two overtime games, ultimately splitting the series 1-1-0.
- Maine (6-7-1, 4-4-1 HEA) is fresh off a three-point conference weekend at home against Vermont. In game two on Saturday, Mitchell Fossier (Alpharetta, Ga./0g,3a), Nolan Vesey (North Reading, Mass./2g,1a) and Patrick Holway (Cohasset, Mass./1g,2a) all had three point performances in a 6-2 victory.

UConn vs. Colgate - Fri. 12/8 at UConn
- UConn (7-11-2, 5-7-1 HEA) closes out the first half of the season with a non-conference matchup against Colgate before returning to the ice Dec. 30 at Boston College.
- The Huskies were victorious in a midweek tilt against the Minutemen on Tuesday, an 8-2 win that saw goals from six different players. Senior Jeff Wright (Coquitlam, B.C.) and sophomore Benjamin Freeman (Falmouth, Maine) each had two goals apiece to lift the Huskies into a tie for fourth place in the league standings.

Vermont vs. Brown - Sat. 12/9 at UVM
- The Vermont Catamounts (4-10-2, 1-6-2 HEA) are back home after a two-game series on the road in Maine last weekend. Ross Colton (Robbinsville, N.J.) had two goals in the third period to lead the rally to tie the Black Bears, 2-2. Goaltender Stefanos Lekkas (Elburn, Ill.) tied his career-high with 41 saves in the draw.