Thursday, November 30, 2017
Hockey East Weekend Preview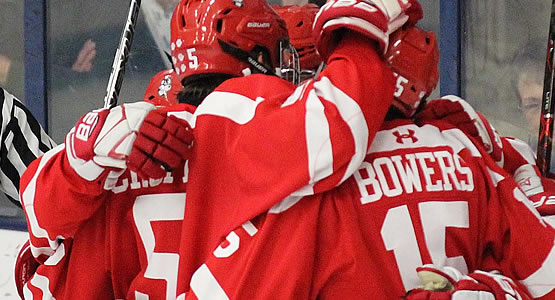 Boston University and Boston College resume the Battle of Comm. Ave this weekend
#15 Boston College vs. Boston University - Fri. 12/2 at BC, Sat. 12/3 at BU
- The Battle of Comm. Ave celebrates the 275th installment Friday night as Boston College and Boston University renew the Green Line Rivalry at Conte Forum. Last year, the Terriers and the Eagles met four times including in the Hockey East Tournament semifinal, which was the lone game won by Boston College.
- All-time, Boston University is 133-123-18 over Boston College but the series is locked at 57-57-12 in Hockey East play.
- Boston College currently rides an eight-game unbeaten streak after a 4-4 draw with Harvard last Friday night. The Eagles enjoyed four-point performances from Julius Mattila (Tampere, Finland/2g, 2a) and David Cotton (Parker, Texas/1g, 3a) while their linemate Jacob Tortora (Victor, N.Y.) added a goal and two helpers.
- Despite a third period surge, Boston University fell to then-#7 Cornell at Red Hot Hockey, 4-3, last Saturday at Madison Square Garden. Sophomore Dante Fabbro (New Westminster, B.C.) scored one goal and added two assists for a career high of three points in the loss.

#13 New Hampshire vs. #9 Providence/RPI - Fri. 12/2 at PC, Sat. 12/3 at UNH, Wed. 12/6 at RPI
- Providence returns from Belfast, Northern Ireland for a home-and-home series with New Hampshire as the teams are separated by just four points in the league standings. New Hampshire leads the all-time series with Providence 89-60-15.
- In Belfast, Friars goaltender Hayden Hawkey (Parker, Colo.) earned his sixth career shutout in a 3-0 win over Maine in conference play.
- Providence junior forward Erik Foley (Mansfield, Mass.) has posted 11 points in his last six games and led all of Hockey East with seven assists and 11 points during the month of November.
- UNH most recently defeated Yale on the road, 4-0, last Saturday. Senior goaltender Danny Tirone (Trumbull, Conn.) was awarded the Hockey East Defensive Player of the Week after posting his third shutout of the season with 34 saves in the win.

#11 Northeastern vs. Merrimack - Fri. 12/2 at NU, Sat. 12/3 at MC
- Northeastern is 5-3-0 in its last eight outings, but just 1-3-0 in its last four after taking four-straight league wins over UMass Lowell and Boston University Oct. 27 - Nov. 10.
- The Huskies' junior Adam Gaudette (Braintree, Mass.) recorded his 100th career point on Tuesday, a helper on Dylan Sikura's (Aurora, Ont.) lone goal for Northeastern in a 4-1 setback. Gaudette is the 52nd player in team history to reach the 100th point mark and the 22nd to do so in three seasons or less.
- Merrimack returns to the ice for the first time since Nov. 17-18, a 0-1-1 home-and-home weekend against Providence. Three Merrimack players enjoyed career-high four-point outings in the 6-6 draw, including Jace Hennig (Port Moody, B.C./1g, 3a), Ludvig Larsson (Malmo, Sweden/2g, 2a) and Jared Kolquist (Hermantown, Minn./1g, 3a).

Vermont vs. Maine - Fri. 12/2, Sat. 12/3 at Maine
- Vermont snapped a four-game skid with a 2-1 overtime win over Dartmouth last Saturday, as the Catamounts enter a two-game series at Maine this weekend. Max Kaufman (Rochester, N.Y.) was named the Pro Ambitions Rookie of the Week after he scored the game-winning goal for the Catamounts, his first career game-winner.
- Fellow freshman Alex Esposito (West Haven, Conn.) tallied a goal for Vermont early in the second period, extending his goal-streak to three games, highlighted by the first three markers of his career.
- Since 2012, the Catamounts are 10-3-2 against the Black Bears, including a four-win season in 2014-15.
- Maine is back home after participating in the Friendship Four Tournament in Belfast, Northern Ireland during Thanksgiving. After falling to Providence, 3-0, the Black Bears skated past RPI, 4-2, securing third place in the tournament. Four different Black Bears found the back of the net in the contest, including Brendan Robbins (Nashua, N.H.), Nolan Vesey (North Reading, Mass.), Mitchell Fossier (Alpharetta, Ga.), and Tim Doherty (Portsmouth, R.I.).

UConn vs. Massachusetts - Fri. 12/2 at UMass, Tue. 12/5 at UConn
- UConn defeated then-#12 Northeastern in a weekday tilt at home on Tuesday, 4-1. The win marked the first win for UConn in the all-time series with the Huskies (1-10-0) and lifted UConn into a tie for fifth place in the Hockey East standings with Boston University. With nine conference points, those programs sit just two points back from the second-place Providence Friars (11).
- UConn senior defenseman Johnny Austin (St. Louis Park, Minn.) set a new career-high with three points on a goal and two assists, marking his fifth multi-point game this season in Tuesday's outing. Classmate Jesse Schwartz (Toronto, Ont.) also extended his point streak to a career-best three games after posting a goal and adding a helper in the outing.
- After making 79 saves and leading his team to a weekend sweep over Quinnipiac last weekend, its first sweep since 2015, UMass sophomore goaltender Ryan Wischow (Green Bay, Wis.) earned Hockey East Player of the Week honors. The backstop logged a 2.00 goals against average and a .952 save percentage over the two outings, improving to 4-1-0 on the year.
- Graduate student Niko Rufo (Stoneham, Mass.) and freshman Oliver Chau (Oakville, Ont.) combined for five goals in the second game, a 6-3 win, with a hat trick and two goals, respectively. The two tallies marked Chau's first multi-goal game of the season and his fourth multi-point outing.