Thursday, November 2, 2017
Hockey East Weekend Preview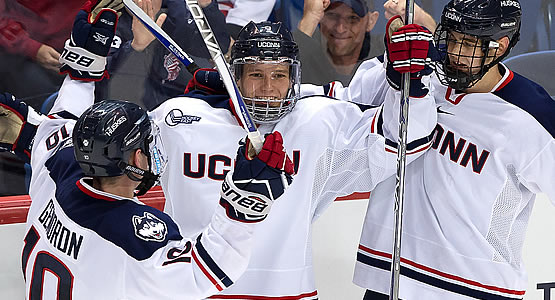 UConn will play three Hockey East games in a five-day stretch starting on Friday
#11 Boston University vs. #6 Providence/#15 Northeastern - Fri. 11/3, Sat. 11/4 at BU
- Boston University carries a 3-4-1 overall record heading into a weekend of conference play against ranked opponents. The Terriers fell to top-ranked Denver on Friday, 4-3. Sophomore defenseman Dante Fabbro (New Westminster, B.C.) evened the game at 13:21 of the third period to record his second goal of the season. Forward Bobo Carpenter (North Reading, Mass.) contributed a power-play goal for BU, notching his sixth of the year. RPI transfer Drew Melanson (Paramus, N.J.) also made his mark in the Denver contest, recording his first assist playing for the Terriers.
- Providence and BU will meet for the second time this year after squaring off on Saturday, a 3-0 win for the Friars. Goaltender Hayden Hawkey (Parker, Colo.) recorded his fifth career shut out in the tilt with the Terriers, earning this week's Hockey East Defensive Player of the Week. Hawkey stopped 45 of 46 shots in the weekend overall, earning a 2-1 win over Boston College.
- Northeastern swept UMass Lowell last weekend to kick off the Huskies' conference play this season. Junior Adam Gaudette (Braintree, Mass.) had an NCAA-high four goals on the weekend and was named the Hockey East Player of the week for his performance, including a hat trick in a 3-1 win over the defending Hockey East regular season and tournament champions.
- With a 14-point start to the season, Northeastern senior Dylan Sikura (Aurora, Ont.) earned Hockey East Player of the Month accolades on Wednesday. Sikura has recorded multi-point efforts in six of the seven games in which he has played this season.

Merrimack vs. Boston College - Fri. 11/3 at BC, Sat 11/4 at MC
- Merrimack secured its first win of the year last weekend at Massachusetts, picking up two league points. The Warriors marked a single-game high, scoring five goals on the Minutemen in Saturday's contest. Senior Jace Hennig (Port Moody, B.C.) registered his first multi-goal game this year, putting two in the net for Merrimack.
- Alfred Larsson (Malmo, Sweden) was nominated as a candidate this week for the 2017-18 Senior CLASS award, an award given to a student athlete who has notable achievements in four areas of excellence: community, classroom, character, and competition.
- While both the Warriors and Eagles have just one win apiece through the first month of competition, Boston College has skated against teams currently ranked first, second, sixth, seventh, and 11th, with just two of their seven games coming against conference foes.
- With no seniors on its roster, Boston College's freshman class has contributed 11 of its 35 points through its first seven games (32%).

UConn vs. Vermont/Boston College - Fri. 11/3, Sat.11/4 at UConn, Tue. 11/7 at BC
- UConn returns to the ice after a road series at Miami last weekend, where the Huskies fell twice to the RedHawks. Adam Karashik (Ridgefield, Conn.) had the lone goal for UConn in the two-game series. Senior Corey Ronan (Franklin, Mass.) recorded his second point of the season with an assist on Karashik's goal.
- Vermont is fresh off a 4-4 stalemate with #13 New Hampshire last Saturday. Sophomore defenseman Matt O'Donnell (Fountain Valley, Calif.) contributed two goals in the third period to close the gap for the Catamounts en route to career high three-point night. Junior forward Craig Puffer (New Canaan, Conn.) notched the tying goal 45 seconds into the third period to secure the league point.

Maine vs. UMass Lowell - Fri. 11/3, Sat. 11/4 at UML
- Maine dropped a pair to Minnesota Duluth at Alfond Arena last weekend. In Friday night's contest, the Bulldogs defeated the Black Bears, 2-1. Freshman forward Eduards Tralmaks (Riga, Latvia) had the sole Black Bear goal.
- Last year, Maine and UMass Lowell split the season series 1-1-0 in a home-and-home Nov. 11 and 13.
- Avni Berisha (Lake Ariel, Pa.) and Connor Sodergren (Tewksbury, Mass.) each got their first career goals for UMass Lowell last weekend in game two of a series with Northeastern. Goaltender Christoffer Hernberg (Espoo, Finland) currently leads all league goaltenders in overall goals against average (1.34) and save percentage (.951).

Massachusetts vs. #13 New Hampshire - Sat. 11/4
- Massachusetts split a home-and-home series with Merrimack last weekend. In their Hockey East opener, the Minutemen skated past the Warriors, 4-0, as Matt Murray (St. Alberta, Alta.) earned his first collegiate shutout with 24 saves. After posting four points (1g, 3a) on the weekend, freshman forward Oliver Chau (Oakville, Ont.) was selected as the Pro Ambitions Rookie of the Week.
- New Hampshire enters this weekend's contests sitting 5-1-1 after opening at 5-0-0 for its best start in 24 years. The Wildcats last tied the Vermont Catamounts on Saturday, 4-4. Ara Nazarian (Boxford, Mass.) had two goals and one assist for three points in the matchup.
- This week, Max Gildon (Plano), who is tied for the lead league with six goals, received the Pro Ambitions Rookie of the Month award and Danny Tirone (Trumbull, Conn.) earned the Stop It Goaltending Goaltender of the Month for their performances in October.