Thursday, November 16, 2017
Hockey East Weekend Preview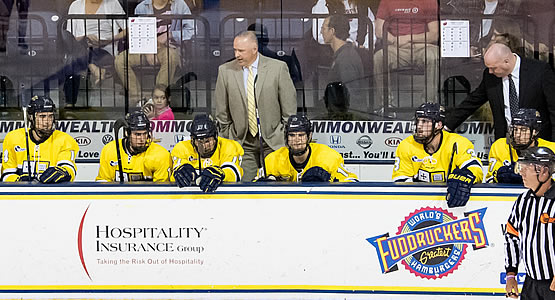 Merrimack College and Providence College skate in a home-and-home series this weekend
#10 Providence vs. Merrimack - Fri. 11/17 at PC, Sat. 11/18 at MC
- Providence split a home-and-home series with Massachusetts last weekend bringing the Friars to 3-3-0 in Hockey East play. After totaling three goals and two assists in two games against the Minutemen, including a career-high four-point game on Saturday, freshman defenseman Ben Mirageas (Newburyport, Mass.) earned Pro Ambitions Hockey East Rookie of the Week accolades. Providence fell in game one of the series and came back in game two with a 7-2 win. Scott Conway (Basingstoke, England) recorded his first goal of the season in the victory and added three assists, matching Mirageas for a game-high of four points.
- Merrimack enters the weekend fresh off a non-conference win over Bentley. Senior Brett Seney (London, Ont.) posted his second two-goal game of the year in the 5-2 triumph. Sophomore defenseman Johnathan Kovacevic (Grimsby, Ont.) also recorded a career-high three assists to extend his point streak to four games.
- Last season, Merrimack went 1-0-1 against Providence, including a 5-2 win over the Friars on Nov. 25 and a 2-2 draw on Nov. 5.

#12 Northeastern vs. Vermont/Boston College - Fri. 11/17, Sat 11/18 at NU
- Northeastern enters this weekend at 4-1-0 in Hockey East play for the first time since the 2008-09 season. In a victory over then-#15 Boston University, the Huskies' freshman goaltender Cayden Primeau (Voorhees, N.J.) stopped a season-high 33 saves.
- NU junior forward Adam Gaudette (Braintree, Mass.) is tied for third in the nation with 17 points (8g, 9a) along with seven multi-point games. Sophomore defenseman Jeremy Davies (Ste-Anne-de-Bellevue, Quebec) is currently tied for 10th in the NCAA with 10 helpers, the second most among blueliners in the country.
- The Catamounts look to regain momentum this weekend after falling to Boston College in a two-game series at home last weekend. In the opener, freshman forward Max Kaufman (Rochester, N.Y.) posted a career-high three points on a goal and two assists. Goaltender Stefanos Lekkas (Elburn, Ill.) also matched his career-high of 41 saves in Friday night's outing.

Boston College vs. #11 New Hampshire/#12 Northeastern - Fri. 11/17 at UNH, Sat. 11/18 at NU
- The Eagles enter this weekend riding a five-game winning streak, all in league play. With a pair of road games against New Hampshire and Northeastern, the first-place Eagles face off against the second and third place programs. BC sits first in the league with 12 points and a 6-1-0 record, while Northeastern is 4-1-0 with eight points and New Hampshire is tied with BU in third with seven points at 3-2-1 in conference play.
- The Eagles put up nine goals in two games at Vermont last weekend, a team-high this season. After standout performances in the sweep, freshman forward Christopher Grando (Islip, N.Y.) was named the Hockey East Player of the Week after posting five points (2g, 3a). Freshman Logan Hutsko (Tampa, Fla.), currently on a four-game point streak, leads the Eagles offense with 10 points (3g, 7a).
- The Wildcats skate into Friday night's tilt carrying a 1-2-1 record in their last four league outings.
- Senior goalie Danny Tirone (Trumbull, Conn.) is 10 saves away from posting 3,000 in his career, aiming to become just the second UNH goalie to reach the milestone (Kevin Regan, 2005-08).
- New Hampshire's offense is led by a pair of rookie defensemen as Benton Maass (Elk River, Minn./1g, 9a) and Max Gildon (Plano, Texas/6g,4a) each boast 10 points apiece.

#18 Boston University vs. Maine - Fri. 11/17, Sat. 11/18 at Maine
- Max Prawdzik (Andover, Mass.) was named the Hockey East Defensive Player of the Week after posting a shutout in his first collegiate start against then-#9 New Hampshire on Saturday. Prawdzik blocked all 29 shots he faced from the Wildcats and was the first Terriers goaltender to earn a shutout in his first NCAA start in 17 years.
- In the 4-0 win against the Wildcats, Bobo Carpenter (North Reading, Mass.) scored his team-leading seventh goal of the season, while Dante Fabbro (New Westminster, B.C.) recorded a goal and an assist for his second multi-point game of the season.
- After a weekend off from play, Maine takes to the ice this weekend for a series in Maine against Boston University. While Friday's contest will take place at Alfond Arena, Saturday will see the teams move to the Cross Insurance Arena in Portland, Maine for a neutral-site tilt.
- The Black Bears have split each of their two previous Hockey East series thus far this year, most recently taking a win on the road at UMass Lowell. In the 6-2 victory in game two against the River Hawks, rookie forward Eduards Tralmaks (Riga, Latvia) had two goals and an assist to earn the Pro Ambitions Rookie of the Week on Nov. 6. Last season, Maine dropped each leg in a home-and-home with the Terriers, falling 4-1 and 3-1 on Jan. 20-21.
- Chase Pearson (Alpharetta, Ga.) matched Tralmaks' three points with three assists of his own in the win, while Mitchell Fossier (Alpharetta, Ga.) and Daniel Perez (Bloomfield, N.J.) picked up a pair of points on one goal and one assist each.

UConn vs. UMass Lowell/Vermont - Fri. 11/17 at UML, Sat. 11/18 at UConn, Tue. 11/21 at UVM
- UConn went 0-1-1 in a home series against then-#17 Ohio State last weekend. Senior Jesse Schwartz (Toronto, Ont.) had three goals on the weekend for the Huskies, including the lone goal in Saturday night's 1-1 draw. Senior Spencer Naas (Minnetonka, Minn.) recorded a goal and posted two assists for a multi-point finish on Friday night.
- UMass Lowell heads into the UConn series coming off a four-point weekend in league play after wins against then-#9 New Hampshire and then -#13 Northeastern to climb into fifth place in the league table. Sophomore forward Ryan Lohin (Chadds Ford, Pa.) scored both goals in a 2-1 win over New Hampshire Friday night and one goal in the match up against Northeastern.
- In a 4-2 triumph over Northeastern Saturday night, Tommy Panico (Wall, N.J.) posted a career-high three points and two goals.
- Junior goaltender Christoffer Hernberg (Espoo, Finland) made a season high 33 saves against the Huskies to earn his sixth win of the year.