Thursday, October 5, 2017
Hockey East Weekend Preview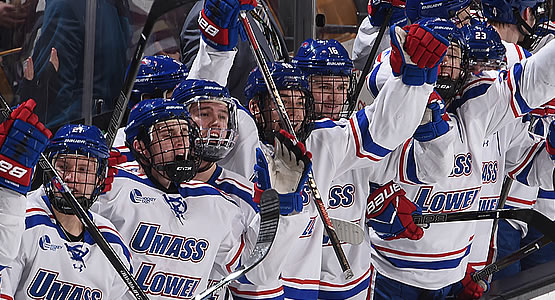 UMass Lowell will face New Hampshire in a home-and-home series this weekend
#2 Boston University vs. #14 Quinnipiac - Sun. 10/8 at QU
- BU is the first Hockey East team that has seen regular season game play. The Terriers defeated No. 16 Union last weekend 4-1.
- Freshman Brady Tkachuk (St. Louis, Mo.) picked up his first collegiate point assisting Bowers' empty netter. Sophomore Patrick Harper (New Canaan, Conn.) recorded two goals and set up Dante Fabbro's (New Westminster, B.C.) game winner.

Maine vs. UConn - Fri. 10/6, Sat. 10/7 at Maine
- Maine defeated Acadia last weekend in an exhibition, 3-1. Goals came from Tim Doherty (Portsmouth, R.I.), Alexis Binner (Stocksund, Sweden) and Rob Michel (Camillus, N.Y.). Last season. Michel was a standout for the Black Bear defense leading the team with 19 points on nine goals and 10 assists.
- Under fifth-year head coach Mike Cavanaugh, the Huskies are 3-4-1 in season-opening series. Junior Maxim Letunov (Moscow, Russia) returns as UConn's leading point producer after tallying 27 points last year.

New Hampshire vs. #5 UMass Lowell - Fri. 10/6, Sat 10/7 at UNH
- New Hampshire and UMass Lowell last met in the Hockey East Quarterfinals last season. The River Hawks came out on top, two games to one, en route to winning its third Hockey East Tournament title.
- Junior forward Marcus Vela (Burnaby, B.C.), freshman defenseman Max Gildon (Plano, Texas), sophomore forward Brendan van Riemsdyk (Middletown, N.J.) each scored a goal for the Wildcats in last weekend's 3-3 exhibition draw with St. Francis Xavier.

#20 Northeastern vs. Sacred Heart - Fri. 10/6, Sat. 10/7 at NU
- This is the first time in program history that Northeastern and Sacred Heart will meet. NU is 48-29-8 all-time in season openers and 48-32-5 all-time in home openers at Matthews Arena.
- Northeastern's returns two of the most prolific point-getters in the NCAA, including assistant captain Dylan Sikura (Aurora, Ont.) and Adam Gaudette (Braintree, Mass.). Sikura's 92 career points are tied for fourth most amongst all active players in the country, while Gaudette leads all active skaters in power-play goals with 21 in his two seasons at Northeastern.

#13 Boston College vs. #14 Quinnipiac - Fri. 10/6 at BC
- Boston College kicks off its 2017-18 campaign hosting Quinnipiac. The Bobcats have defeated the Eagles in each of the last two seasons, including in the 2016 Frozen Four in Tampa, Florida.
- Junior captain Christopher Brown (Bloomfield Heights, Mich./9g, 17) returns as the Eagle's leading point-getter from last season. His 26 points ranked sixth last season.
- Sophomore David Cotton (Parker, Texas), Boston College's leading freshman scorer last season (10g, 14a), also netted four power play goals, the most to return to the lineup this year.

Vermont vs. Colorado College - Fri. 10/6, Sat. 10/7 at UVM
- The Catamounts defeated Waterloo, 6-1, in exhibition match up last weekend. Ross Colton (Robbinsville, N.J./1g, 3a), Rob Darrar (Monroe Township, N.J./1g, 2a), and Liam Coughlin (South Boston, Mass./1g, 2a) combined for 10 points.
- Vermont returns sophomore goaltender Stefanos Lekkas (Elburn, Ill.), who last year posted a .911 save percentage and 2.56 goals against average in league play. His 535 saves were third-most among all Hockey East netminders.

Merrimack vs. Colgate - Fri. 10/6, Sat. 10/7 at Colgate
- Merrimack enters the 2017-18 season coming off an overall record of 15-16-6 from last year. Head coach Mark Dennehy was also part of the coaching staff of a U.S. Under-17 Select Team that captured a gold medal at the Five Nations Tournament in Ostrava, Czech Republic last summer.
- The Warriors return five of their top six point-getters from 2016-17, including Brett Seney (London, Ont.) and his 31 points.

#11 Providence vs. Miami - Fri. 10/6, Sat. 10/7 at Miami
- This is the third consecutive season that Providence and Miami will kick off their regular season against each other and the seventh straight year the Friars and the Red Hawks will play. In the last seven meetings of the two teams, the Friars carry a 4-1-2 record.
- Providence has racked up four consecutive seasons with at least 20 wins, including the 2014-15 season when they claimed the NCAA championship at TD Garden in Boston.

Massachusetts vs. Arizona State - Fri. 10/6, Sat. 10/7 at ASU
- Massachusetts was victorious in exhibition match up against Queens last weekend, taking a final score of 1-0 at the Mullins Center. The lone goal of the game came off the stick of Niko Rufo (Stoneham, Mass.). Rufo spent the last four seasons with the Providence Friars, appearing in 55 games.
- This season marks head coach Greg Carvel's second season with UMass. His roster features freshmen defensemen who are also the two highest NHL draft picks in program history in Cale Makar (Calgary, Alta./Fourth overall) and Mario Ferraro (King City, Ont./49th overall).