Thursday, October 5, 2017
Record 70 Hockey East Alumni Named to NHL Rosters
Hockey East Boasts Most NHL Players on Opening Night Rosters Ever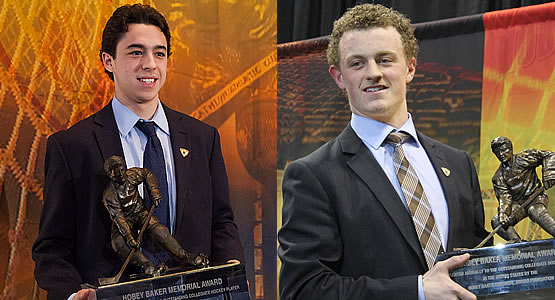 Hockey East Boasts Most NHL Players on Opening Night Rosters Ever
WAKEFIELD, Mass. – A record 70 alumni of the Hockey East Association will start the 2017-18 season on National Hockey League rosters, one more than the previous record of 69 set last season and 11 more players than began the 2015-16 season on NHL teams.
Hockey East alumni on NHL rosters to start the season represent 11 different schools. Boston College sends 20 players for opening night, while Boston University boasts 14, Maine, Massachusetts and UMass Lowell each send six, Northeastern and Providence claim four, New Hampshire and Vermont each have three Hockey East alumni, and UConn sends one, while three former Notre Dame skaters who spent time in Hockey East also appear on NHL rosters.
Five players that skated in the 2016-17 Hockey East season were named to an NHL club as Boston College's Colin White (Hanover, Mass./Ottawa), Boston University's Clayton Keller (Swansea, Ill./Arizona) and Charlie McAvoy (Long Beach, N.Y./Boston), UConn's Tage Thompson (Orange, Conn./St. Louis) and Notre Dame's Anders Bjork (Mequon, Wis./Boston) will all start 2017-18 at the game's highest level.
Hockey East alumni are featured on 27 of 31 NHL teams and 11 carry at least three Hockey East alumni: Anaheim, Boston, Carolina, Colorado, Dallas, Florida, Nashville, New Jersey, New York Rangers, Pittsburgh, and St. Louis. Boston and New Jersey each carry seven league alumni, the most of any NHL club.
NHL Team
First
Last
Pos.
School
Anaheim
Josh
Manson
D
Northeastern
Anaheim
Brandon
Montour
D
Massachusetts
Anaheim
Patrick
Eaves^
F
Boston College
Arizona
Adam
Clendening
D
Boston University
Arizona
Clayton
Keller*
F
Boston University
Boston
Noel
Acciari
F
Providence
Boston
Anders
Bjork*
F
Notre Dame
Boston
Matt
Grzelcyk
D
Boston University
Boston
Charlie
McAvoy*
D
Boston University
Boston
Kevan
Miller
D
Vermont
Boston
Tim
Schaller
F
Providence
Boston
Frank
Vatrano
F
Massachusetts
Buffalo
Jack
Eichel
F
Boston University
Buffalo
Evan
Rodrigues ^
F
Boston University
Calgary
Johnny
Gaudreau
F
Boston College
Carolina
Scott
Darling
G
Maine
Carolina
Noah
Hanifin
D
Boston College
Carolina
Brett
Pesce
D
New Hampshire
Carolina
Trevor
van Riemsdyk
D
New Hampshire
Colorado
Matt
Nieto
F
Boston University
Colorado
Colin
Wilson
F
Boston University
Colorado
A.J.
Greer
F
Boston University
Columbus
Cam
Atkinson
F
Boston College
Dallas
Ben
Bishop
G
Maine
Dallas
Stephen
Johns
D
Notre Dame
Dallas
Jamie
Oleksiak
D
Northeastern
Dallas
Devin
Shore
F
Maine
Detriot
Jimmy
Howard
G
Maine
Detriot
Gustav
Nyquist
F
Maine
Edmonton
Matt
Benning
D
Northeastern
Edmonton
Eric
Gryba
D
Boston University
Florida
Connor
Brickley
F
Vermont
Florida
Mike
Matheson
D
Boston College
Florida
Ian
McCoshen
D
Boston College
Los Angeles
Christian
Folin
D
UMass Lowell
Los Angeles
Jonathan
Quick
G
Massachusetts
Minnesota
Charlie
Coyle
F
Boston University
Montreal
Torrey
Mitchell
F
Vermont
Nashville
Anthony
Bitetto
D
Northeastern
Nashville
Matt
Irwin
D
Massachusetts
Nashville
Nick
Bonino
F
Boston University
New Jersey
Brian
Gibbons
F
Boston College
New Jersey
Jimmy
Hayes
F
Boston College
New Jersey
Ben
Lovejoy
F
Boston College
New Jersey
Steven
Santini
D
Boston College
New Jersey
Cory
Schneider
G
Boston College
New Jersey
Miles
Wood
F
Boston College
New Jersey
Brian
Boyle^
F
Boston College
NYR
Paul
Carey
F
Boston College
NYR
Kevin
Hayes
F
Boston College
NYR
Chris
Kreider
F
Boston College
NYR
Kevin
Shattenkirk
D
Boston University
Ottawa
Colin
White*^
F
Boston College
Philadelphia
Colin
McDonald^
D
Providence
Pittsburgh
Brian
Dumoulin
F
Boston College
Pittsburgh
Chad
Ruhwedel
D
UMass Lowell
Pittsburgh
Bryan
Rust
F
Notre Dame
Pittsburgh
Conor
Sheary
F
Massachusetts
Pittsburgh
Scott
Wilson
F
UMass Lowell
San Jose
Justin
Braun
D
Massachusetts
St. Louis
Carter
Hutton
G
UMass Lowell
St. Louis
Wade
Megan
F
Boston University
St. Louis
Zach
Sanford
F
Boston College
St. Louis
Tage
Thompson*
F
UConn
Toronto
Ron
Hainsey
D
UMass Lowell
Toronto
James
van Riemsdyk
F
New Hampshire
Vancouver
Ben
Hutton
D
Maine
Washington
Brooks
Orpik
D
Boston College
Winnipeg
Connor
Hellebuyck
G
UMass Lowell
Winnipeg
Brandon
Tanev
F
Providence
* Played in Hockey East in 2016-17 | ^ Will start NHL season on injured reserve