Thursday, October 26, 2017
Hockey East Weekend Preview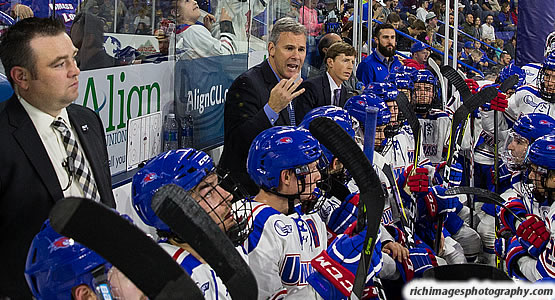 UMass Lowell and Northeastern square off in a home-and-home series this weekend
Merrimack vs. Massachusetts - Fri. 10/27 at UMass, Sat 10/28 at MC
- Senior defenseman Jared Kolquist (Hermantown, Minn.) finished last weekend with five points (2g, 3a) for the Warriors. Kolquist and sophomore Johnathon Kovacevic (Grimsby, Ont.) each recorded at least one point in last weekend's 0-1-1 series at #10 Minnesota Duluth.
- The Minutemen see Hockey East play for the first time this season as they welcome Merrimack on Friday. Sophomore Niko Hildenbrand (Vacaville, Calif.) had the sole goal in last weekend's series against Ohio State. Freshman goaltender Matt Murray (St. Albert, Alta.) made his second straight start, totaling 50 saves for the weekend.

#17 UMass Lowell vs. #20 Northeastern - Fri. 10/27 at UML, Sat.10/28 at NU
- This weekend's contest is the first conference matchup for Northeastern this season. Leading the nation, Dylan Sikura (Aurora, Ont.) has tallied 12 points (6g, 6a) in his first five games. Sikura and junior forward Adam Gaudette (Braintree, Mass.) have recorded four straight multi-point games this season, making the Huskies the first team since the 2012-13 season to do so at the start of a season.
- UMass Lowell is fresh off of two wins against Clarkson and St. Lawrence from last weekend, improving its record to 3-3-0. Junior goalie Christoffer Hernberg (Espoo, Finland) was named the Hockey East Defensive Player of the Week after his weekend performance, stopping 58 of 59 shots, recording a .983 save percentage. Hernberg recorded his first career shutout in a 5-0 victory over St. Lawrence.

#11 Providence vs. #9 Boston College/#6 Boston University - Fri. 10/20 at PC, Sat. 10/21 at PC
- Providence and Boston College will face off for the second time this season on Friday. In the last meeting, the Eagles won, 4-3, in overtime after originally trailing 3-0. The Friars then host the Terriers in the first of three contests between the two this season. Providence tied Boston University in the last meeting of the 2016-17 season, 2-2.
- Kasper Björkqvist (Espoo, Finland) recorded a hat trick in the first period of last weekend's victory over St. Lawrence. His hat trick marked the first Friars' hat trick to take place in the same period since 2002, when Devin Rask recorded four goals in the third period against Princeton.

#6 Boston University vs. #1 Denver - Fri. 10/27 at BU
- Boston University's Bobo Carpenter (North Reading, Mass.) came up clutch on special teams last weekend, earning him this week's Hockey East Player of the Week award. Carpenter scored five goals, two shorthanded and three power-play tallies, to help the Terriers take three of four points in the series against UConn and improve their record to 3-2-1 overall.
- Sophomore forward Patrick Curry (Schaumburg, Ill.) recorded his first career two-goal game in Saturday's victory over the Huskies.

#19 Boston College vs. #1 Denver - Sat. 10/28 at BC
- BC returns home to face the top-ranked and defending champion Denver Pioneers after a two-game series in St. Cloud last weekend.
- Logan Hutsko (Tampa, Fla.) and Christopher Brown (Bloomfield Hills, Mich.) scored their first goals of the season in game one against St. Cloud, an eventual 5-2 setback.
- In Friday's game, Graham McPhee (Bethesda, Md.) registered his first career three-point point streak, setting up Hutsko's opening goal. Sophomore goaltender Ryan Edquist (Lakeville, Minn.) picked up his first start of the year in the Friday night matchup, and stopped a career-high of 42 shots.

Maine vs. #10 Minnesota Duluth - Fri. 10/27, Sat. 10/28 at Maine
- Maine and UMD have met on 10 previous occasions, the coming last in 2012 when the Black Bears prevailed, 1-0. Maine is 4-6-0 against Minnesota Duluth all-time.
- The Black Bears are 2-2-0 overall after splitting a home series against Miami last weekend. In game two, Maine racked up half a dozen goals against the RedHawks, a team-high last recorded in 2010. In the 6-3 victory, six different Black Bears found the back of the net while 10 earned at least one point. Jeremy Swayman (Anchorage, AK) made his second career appearance and earned his first career win with 27 saves.

UConn vs. Miami - Fri. 10/27, Sat. 10/28 at Miami
- The Huskies and the RedHawks are set to meet for the first time this weekend. UConn is 1-1-0 all time in contests against teams in the NCHC.
- In a two-game series with BU last weekend, defenseman Johnny Austin (St. Louis Park, Minn.) finished with a total of four points (1g, 3a), which included his first goal of the season. Sophomore Alexander Payusov (Montreal, Que.) tallied three points (2g,1a) against the Terriers, extending his point streak to five games. Payusov leads UConn with six goals and four power-play strikes.

#14 New Hampshire vs. Vermont - Sat. 10/28 at UVM
- New Hampshire's freshman defenseman Max Gildon (Plano, Texas) was named the Pro Ambitions Rookie of the week after scoring four goals over two games last weekend against Colorado College. Gildon netted his first career hat trick in the 6-3 victory in game one.
- Senior goaltender Danny Tirone (Trumbull, Conn.) stopped a season high 45 shots on goal in Friday night's victory to help the Wildcats get off to their best start since the 1993-94 season.
- Vermont returns home after a series on the road at Michigan last weekend. In Friday night's matchup, goaltender Stefanos Lekkas (Elburn, Ill.) made a career-high 41 saves. In game two against the Wolverines, Drew Best (Plymouth, Mich.) made his mark scoring his first career goal. UVM is 2-4-0 headed into the contest against UNH.