Thursday, October 19, 2017
Hockey East Weekend Preview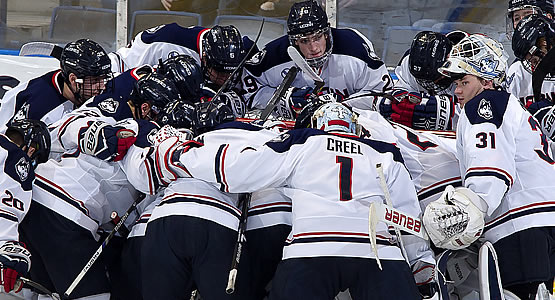 UCOnn battles Boston University in a home-and-home Hockey East series this weekend
#7 Boston University vs. UConn - Fri. 10/20 at BU, Sat 10/21 at UConn
- UConn sophomore Alexander Payusov (Montreal, Que.) leads the Huskies this season with four goals and one assist, including a hat-trick that paced UConn to a 6-4 comeback win against AIC last weekend.
- The series marks the first conference contest for the Terriers this season. BU fell to Minnesota State twice last weekend during a two-game series that saw freshman Shane Bowers (Halifax, N.S.) net two goals, bringing his total to four on the year.

#19 UMass Lowell vs. #12 Clarkson/St. Lawrence - Fri. 10/20 at CU, Sat.10/21 at SLU
- UMass Lowell is looking for back-to-back wins for the first time this season after downing Omaha, 5-2, last Saturday. Norm Bazin's program has met Clarkson 27 times previously, carrying a 13- 12-1 record. Last year, Clarkson took a 4-3 win at the Tsongas Center to hand UML its first loss of 2016-17 on Oct. 22. The River Hawks toppled St. Lawrence last season, 5-2, at home.

#10 Providence vs. St. Lawrence/#12 Clarkson - Fri. 10/20 at SLU, Sat. 10/21 at CU
- Through three games, Providence junior Ryan Tait (Santa Clarita, Calif./1g, 2a) and freshman Jason O'Neill (Odenton, Md./3a) lead the Friars' offense in scoring. After recording two assists in conference matchup against BC last Sunday, O'Neill leads the team with a plus-4 rating. He is followed by Tommy Davis (Ho-Ho-Kus, N.J./plus-3) and Jacob Bryson (London, Ont./plus-3).
- Providence defeated St. Lawrence in last season's matchup, 6-3. Providence and Clarkson skated to a tie during last year's contest in Providence.

#16 Northeastern vs. #18 Quinnipiac - Fri. 10/20, Sat. 10/21 at NU
- The Huskies (3-0-1) return home for a two-game series against Quinnipiac. A victory this weekend would give Northeastern head coach Jim Madigan his 100th career win.
- Freshman Zach Solow (Naples, Fla.), junior Adam Gaudette (Braintree, Mass.), and senior Dylan Sikura (Aurora, Ont.) are the nation's leaders in points per game (2.23) among their respective classes. Garret Cockerill (Brighton, Mich.) currently sits second in the nation among defenseman in career scoring with 74 points (19g/ 55a).

Massachusetts vs. Ohio State - Fri. 10/20, Sat. 10/21 at UMass
- The Minutemen are off to a 3-1-0 entering this weekend's series with Ohio State. UMass has met Ohio State once before at the Florida College Classic in 2002 where the teams skated to a 2-2 draw.
- After a five-point week (2g, 3a), freshman forward John Leonard (Amherst, Mass.) was named Pro Ambitions Rookie of the Week on Monday. Leonard's performance extended his point streak to four games and he currently sits tied for the national rookie lead with seven points on the year (3g, 4a).

#17 New Hampshire vs. Colorado College - Fri. 10/20, Sat. 10/21 at UNH
- UNH remains the lone undefeated Hockey East squad, sweeping Colgate last weekend thanks in part to Michael McNicholas' (Manhattan Beach, Calif.) five-point outing. McNicholas was named the Hockey East Player of the Week after recording one goal and four assists during the two wins.
- First-year forward Charlie Kelleher (Longmeadow, Mass.) helped pace the Wildcats offense against the Raiders, recording five points on one goal and four assists. Max Gildon (Plano, Texas) and Jason Salvaggio (Hanson, Mass.) each had two goals apiece in the series, and goaltender Daniel Tirone (Trumbull, Conn.) posted his seventh career shutout.

Maine vs. Miami - Fri. 10/20, Sat. 10/21 at Maine
- Maine leads the all-time series against Miami, 5-2-1, in the eight times the two programs have clashed. The Black Bears went 0-1-1 against the RedHawks during the 2016-17 season, earning a 3-3 draw on the road on Oct. 21.
- Tim Doherty (Portsmouth, R.I.) scored his first career goal during Maine's season-opening series split against UConn. The Black Bears defeated the Huskies, 4-3, in game one thanks to an overtime goal by senior Nolan Vesey (North Reading, Mass.).

Vermont vs. Michigan - Fri. 10/20, Sat. 10/21 at Michigan
- Vermont is at an even 2-2-0 heading into a two-game series at Michigan. Last season UVM defeated Michigan, 3-0, at home during a regular-season matchup that featured Stefanos Lekkas' (Elburn, Ill.) first career shutout.
- Last time out, Rochester, New York native Max Kaufman scored his first career goal to give the Catamounts a 3-2 win over Union. The win also marked the fourth consecutive game in which the Catamounts have scored the game's opening tally.

#13 Boston College vs. #3 St. Cloud State - Fri. 10/20, Sat. 10/21 at St. Cloud
- For just the second time in program history, the Eagles fly west for a two-game set at St. Cloud. Boston College enters the series with an overall record of 1-1-1, fresh off its first win of the year against conference opponent, Providence.
- Casey Fitzgerald (North Reading, Mass.) scored a pair of goals in come-from-behind 4-3 win, including the game-winner in overtime, to record his second career two-goal game and earn Hockey East Defensive Player of the Week accolades.
- Christopher Grando (Islip, N.Y.) and Graham McPhee (Bethesda, Md.) also contributed a goal apiece, making them the only two Eagles to score in back-to-back contests in the early part of 2017-18.

Merrimack vs. #9 Minnesota Duluth - Fri. 10/20, Sat. 10/21 at UMD
- This weekend is just the second all-time meeting between Merrimack and Minnesota Duluth. The Warriors defeated the Bulldogs in the only prior contest, a 4-2 win at the 2000 Silverado Shootout on Dec. 28, 2000.
- While Merrimack has scored just four times in three games so far, nine different Warrior skaters have recorded at least a point and four different players have found the back of the net.