Thursday, October 12, 2017
Hockey East Weekend Preview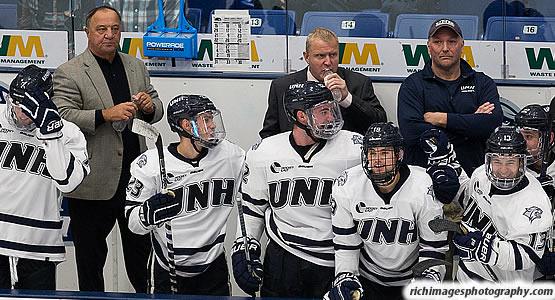 New Hampshire hosts Colgate for a pair of games this weekend
#2 Boston University vs. Minnesota State - Fri. 10/13, Sat. 10/14 at BU
- The Terriers boast a 2-0-0 record entering a weekend series against Minnesota State. This is the first time the Terriers will matchup against the Mavericks.
- Sophomore Patrick Harper (New Canaan, Conn.) has lead BU offensively, tallying two goals and an assist during each of the first two regular season games this year. He was named the Hockey East Player of the Week for his performance, including a two-goal, one-assist line in a 3-2 overtime win against then-#14 Quinnipiac last weekend.

#13 Boston College vs. #10 Wisconsin/#9 Providence - Fri. 10/13, Sun. 10/15 at BC
- This is the third straight season that BC and Wisconsin will matchup in regular season play. The Eagles hold a 2-1-0 advantage over the Badgers in their last three meetings.
- Freshman forward Jake Tortora (Victor, N.Y.) scored his first career goal last weekend during a 1-1 draw with Quinnipiac. It marked the third time in the last five seasons a rookie recorded BC's first goal of the season.
- Providence carries a 2-0-0 record into its first league game against BC after the Friars swept Miami on the road last weekend. Sophomore forward Kasper Björkqvist (Espoo, Finland) lifted Providence to a win in game two by finishing off a rebound with 0.9 seconds remaining.

Massachusetts vs. Union/AIC - Fri. 10/13 at Union, Sat. 10/14 at AIC
- The Minutemen picked up their first victory of the season with a 4-2 win at Arizona State. UMass split the series with ASU, 1-1-0.
- Amherst native John Leonard scored his first collegiate goal in game two of the series to secure the Minuteman victory. Freshman Matt Murray (St. Albert, Alta.) earned his first collegiate win in net, making a total of 22 saves for UMass against the Sun Devils in game two.

#20 New Hampshire vs. Colgate - Fri. 10/13, Sat. 10/14 at UNH
- UNH skates into a two-game set with Colgate after a sweep of then-#5 UML last weekend. The victories boosted the Wildcats into the national rankings for the first time this year.
- Goaltender Danny Tirone (Trumbull, Conn.) backboned UNH in the league wins, making 52 saves on 56 shots on net. The senior earned Hockey East Defensive Player of the Week for his efforts.
- The Wildcats are 25-10-2 overall against Colgate, including a 21-2-1 record in Durham.

UConn vs. AIC/Sacred Heart - Fri. 10/13 at AIC, Sat 10/14 at SHU
- UConn breaks from conference play after splitting a series at Maine last weekend. The Huskies fell to the Black Bears, 4-3, in game one, but bounced back in game two with a 5-1 win.
- Junior Miles Gendron (Shrewsbury, Mass.), and seniors Johnny Austin (St. Louis Park, Minn.) and Jeff Wright (Coquitlam, B.C.) all finished game two against the Black Bears with career highs of two assists. Sophomore goaltender Adam Huska (Zvolen, Slovakia) made 38 saves to record his first win this season.

#12 UMass Lowell vs. Omaha - Fri. 10/13, Sat. 10/14 at UML
- The River Hawks are 0-2-0 entering a two-game home set against Omaha. UML fell to UNH last weekend in the first two conference match ups of the season.
- On Wednesday, UMass Lowell named senior defenseman Tyler Mueller (Regina, Sask.) as team captain for the 2017-18 season. Chris Forney (Thief River Falls, Minn.), Ryan Lohin (Chadds Ford, Pa.), John Edwardh (Calgary, Alta.), and Connor Wilson (Calgary, Alta.) will all serve as alternate captains throughout the year.

Vermont vs. #17 Quinnipiac/Union - Sat. 10/14 at QU, Sun. 10/15 at Union
- Vermont is currently 1-1-0 after non-conference play against Colorado College last weekend. Catamount forward Ross Colton (Robbinsville, N.J.) recorded his first career hat trick in game two of the series and had a total of four goals in the two games. In game one, Stefanos Lekkas (Elburn, Ill.) blocked 33 shots to record his third career shutout, pacing the Catamounts to a 3-0 win.
- UVM last met with Quinnipiac in the 2016 Friendship Four championship game in Belfast, Northern Ireland. The Catamounts defeated the Bobcats, 5-1, to take home the Belpot Trophy.

Merrimack vs. #10 Wisconsin - Sat. 10/14 at MC
- The Warriors currently sit at 0-1-1 in the run up to their single tilt against Wisconsin on Saturday. Merrimack last clashed with Wisconsin in Madison Nov. 18-19, 2016, when the Warriors initially fell to the Badgers, 2-3, but came back in game two with a 2-0 win.
- In their season-opening series against Colgate, Merrimack defensemen Marc Biega (Pointe-Claire, Que.), Jared Kolquist (Hermantown, Minn.), and Johnathan Kovacevic (Grimsby, Ont.) all recorded assists in the 2-2 draw in game two.

#14 Northeastern vs. Rochester Institute of Technology - Sat. 10/14 at NU
- Saturday's contest marks first meeting between Northeastern and RIT.
- The Huskies carry a 2-0-0 record after a series sweep against Sacred Heart last weekend. Freshman Zach Solow (Naples, Fla.) led the Huskies offense, recording three goals, three assists, and a plus-six rating after only his first two collegiate games. Solow was awarded the Pro Ambitions Rookie of the Week after his debut.