Tuesday, September 26, 2017
Pete Souris Named Joe Concannon Award Winner
Former Hockey East Assistant Commissioner Is 26th Recipient of Award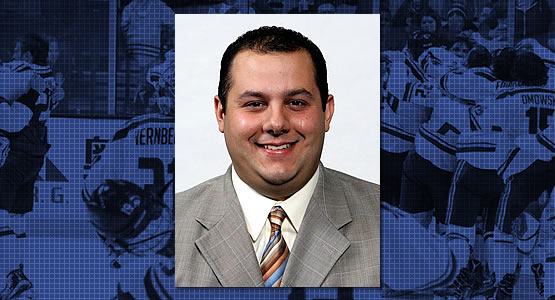 Former Hockey East Assistant Commissioner Is 26th Recipient of Award
WAKEFIELD, Mass. - Pete Souris has been named the recipient of the prestigious Joe Concannon Award, Hockey East Commissioner Joe Bertagna announced today from the league's annual media day at TD Garden. Souris becomes the first recipient with direct ties to the league after serving as Assistant Commissioner for Public Relations for over six years.
"I can't think of a better person to set the precedent of honoring someone outside the field of media representatives than Pete," said Bertagna. "Consistent with the purpose of this award, Peter has done an incredible job in promoting the interests of Hockey East through various media, going back to his undergraduate days at UNH. He has distinguished himself by a selfless desire to help the conference in any way he can."
Souris has spent nearly two decades promoting and assisting in the media coverage of Hockey East, including the last two years as Associate Athletic Director for Communications at UMass Lowell. He was hired in January of 2014 as Assistant Athletic Director for Communications.
Previously, Souris spent over six years at Hockey East as Assis tant Commissioner for Public Relations where he supported 11-member institutions in a media relations capacity, served as the media coordinator for six Hockey East Championships at the TD Garden and was the media coordinat or for two sold out Frozen Fenway events at Fenway Park in 2010 and 2012. In addition, he was charged with creating a digital media plan for the conference's website and social media channels, as well as serving as the li aison for the league's three national and regional television partners.
Souris previously spent six years from 2001-2007 working in the athletics media relations department at the Univer - sity of New Hampshire, serving as the primary contact for men's ice hockey. Also, he served as the media coordi - nator for the 2004 and 2007 NCAA hockey regionals in Manchester, New Hampshire.
Souris has worked the last 18 Frozen Fours in a media relations capacity, dating back to 2000 in Providence, R.I., which included two appearances with the Wildcats in 2002 and 20 03, and in a consulting role with the River Hawks in 2013.
ABOUT THE JOE CONCANNON HOCKEY EAST MEDIA AWARD: The prestigious honor, named in 2001 in memory of beloved Boston Globe sportswriter Joe Concannon, is bestowed annually upon an individual who has demonstrated an outstanding body of work in covering and promoting the interests of the Hockey East Association.
Hockey East Media Award History

1992
Larry Mahoney, Bangor Daily News
1993
Bob Whitelaw, New England Sports Network
1994
Bob Monahan, Boston Globe
1995
John Connolly, Boston Herald
1996
Charles Scoggins, Lowell Sun
1997
Bob Norton, New England Sports Network
1998
Joe Concannon, Boston Globe
1999
Dick Osborne, UNH Sports Network
2000
Bill Doherty, Huskies Radio
2001
Dave Hendrickson, U.S. College Hockey Online
2002
Roger Brown, Portsmouth Herald
2003
Bernie Corbett, Giant Sports Associates
2004
Rob Rudnick, Huskies Radio
2005
Eric Frede, NESN / CodRock Media
2006
Dan Hannigan, Maine Radio / CodRock Media
2007
Allen Lessels, New Hampshire Union Leader
2008
Mike Logan, Providence College Radio
2009
Bob Ellis, UMass Lowell Radio
2010
Brock Hines, UMass Sports Network
2011
Mike Machnik, Merrimack Radio, CHN & USCHO
2012
Jim Connelly, U.S. College Hockey Online (USCHO)
2013
Dan Parkhurst, UNH Radio/TV & Merrimack Radio
2014
Pete Webster, UNH Wildcat Sports Radio Network
2015
Nancy Marrapese-Burrell, The Boston Globe
2016
Ted Ryan, Burlington Free Press
2017
Pete Souris, New Hampshire/Hockey East/UMass Lowell