Hockey East Has Strong Showing at NHL Entry Draft
Over One-Third of NCAA Players Selected Have Ties to Hockey East Schools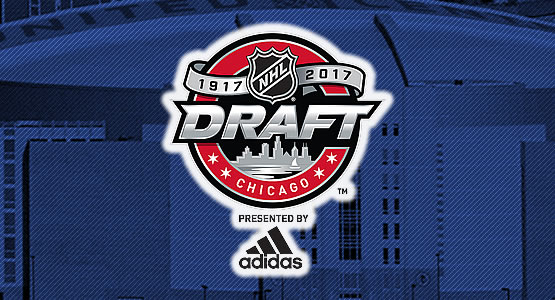 Over One-Third of NCAA Players Selected Have Ties to Hockey East Schools
WAKEFIELD, Mass. - In the 2017 NHL Entry Draft, 22 players representing all 11 Hockey East schools were selected to NHL clubs, the second-highest number of Hockey East players ever tapped in one draft. Overall, 60 NCAA players or recruits were chosen, representing 30 schools. A full list of Hockey East selections can be found below.
All 11 Hockey East member institutions were represented by at least one player in the draft, lead by seven from Boston University, three from Providence College, two from UConn, Massachusetts, and New Hampshire, and one each from Boston College, Maine, UMass Lowell, Merrimack, Northeastern, and Vermont. Boston University's seven selections were the most of any NCAA school, while Massachusetts had the highest NCAA player taken in incoming freshman Cale Makar (Calgary, Alta.), drafted by Colorado fourth overall.
In addition, three players who skated in Hockey East during the 2016-17 season heard their names called, including Terriers goaltender Jake Oettinger (Lakeville, Minn./Dallas), Merrimack defender Johnathan Kovacevic (Grimsby, Ont./ Winnipeg), and Providence blueliner Jacob Bryson (London, Ont./Buffalo).
In total, 18 NHL teams selected at least one player with Hockey East ties while Arizona, Nashville, the New York Islanders, and Winnipeg each took two.
Hockey East Players or Recruits Selected in the 2017 NHL Entry Draft

Rd.
Overall
Team
Player
Pos.
School
1
4
Colorado
Cale Makar*
D
Massachusetts
1
26
Dallas
Jake Oettinger
G
Boston University
1
28
Ottawa
Shane Bowers*
F
Boston University
2
49
San Jose
Mario Ferraro*
D
Massachusetts
3
66
Florida
Max Gildon*
D
New Hampshire
3
71
Detroit
Kasper Kotsansalo*
D
Providence
3
74
Winnipeg
Johnathan Kovacevic
D
Merrimack
3
77
NYI
Ben Mirageas**
D
Providence
3
82
Arizona
Cameron Crotty*
D
Boston University
3
92
Nashville
David Farrance*
D
Boston University
4
99
Buffalo
Jacob Bryson
D
Providence
4
111
Boston
Jeremy Swayman**
G
Maine
4
116
Minnesota
Bryce Misley**
F
Vermont
5
126
Arizona
Michael Karow*
D
Boston College
5
142
Vegas
Jack Dugan**
F
Providence
5
148
Columbus
Kale Howarth**
F
UConn
5
154
Nashville
Tomas Vomacka**
G
UConn
6
182
Washington
Benton Maass**
D
New Hampshire
7
199
Montreal
Cayden Primeau*
G
Northeastern
7
201
NYI
Logan Cockerill**
F
Boston University
7
203
Toronto
Ryan O'Connell**
D
Boston University
7
207
Winnipeg
Croix Evingson*
D
UMass Lowell
* expected 2017-18 ,** expected 2018-19