Eleven Hockey East Alumni To Skate for Team USA at World Championship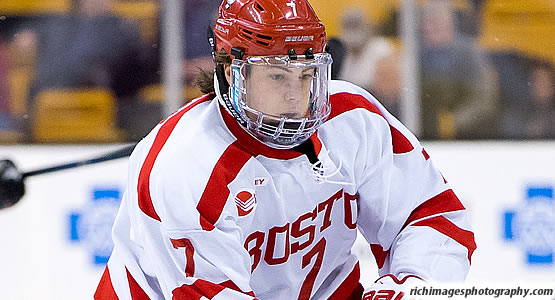 Charlie McAvoy is one of eleven Hockey East alumni on Team USA
WAKEFIELD, Mass. - Eleven Hockey East alumni are set to compete for Team USA at the 2017 International Ice Hockey Federation World Championships, beginning Friday (May 5) in Cologne, Germany. NBCSN and NHL Network will televise all Team USA games at the championship, May 5-21, from Cologne and Paris, France.
The 11 players represent six different Hockey East schools, including Boston College's Johnny Gaudreau (Carneys Point, N.J.) and Noah Hanifin (Norwood, Mass.), Boston University's Jack Eichel (North Chelmsford, Mass.), Jordan Greenway (Canton, N.Y.), Clayton Keller (Swansea, Ill.), and Charlie McAvoy (Long Beach, N.Y.), Maine's Jimmy Howard (Syracuse, N.Y.), UMass Lowell's Connor Hellebuyck (Commerce, Mich.), New Hampshire's Trevor van Riemsdyk (Middletown, N.J.), and Notre Dame's Cal Petersen (Waterloo, Iowa) and Anders Bjork (Mequon, Wis.).
Additionally, Chris Drury (Trumbull, Conn./Boston University) and Bill Guerin (Worcester, Mass./Boston College) serve on the U.S. Men's National Team Management committee while Jack Capuano (Cranston, R.I./Maine) is an assistant coach for the U.S. team.
Five of the 11 players named to the team competed in Hockey East during the 2016-17 season, including Bjork, Greenway, Keller, McAvoy, and Petersen. Further, all three of Team USA's goaltenders competed in Hockey East during their college careers.
All Team USA games of the 2017 IIHF Men's World Championship will be televised live across NBCSN and NHL Network, and live streamed on NBCSports.com, and the NBC Sports app.
The 2017 IIHF Men's World Championship is set for May 5-21 in Cologne, Germany, and Paris, France. Team USA is in Group A with Russia, Sweden, Slovakia, Germany, Latvia, Denmark and Italy.
Team USA begins play on Friday, May 5, against host Germany. Opening faceoff is set for 8 p.m. local (2 p.m. ET) live on NHL Network.
ABOUT HOCKEY EAST: The Hockey East Association is a nine-team Division I women's league which began play in the 2002-03 season and an 11-team Division I college men's hockey conference founded in 1984. The women's league has sent 11 teams to the Frozen Four and 22 to the NCAA Tournament in its 15 seasons on the ice while boasting two Patty Kazmaier Award winners. The men's league has also won nine NCAA championships in the past 25 years. Since 1999, Hockey East has won seven NCAA championships in 15 NCAA Championship Game appearances and has placed 26 teams in the Frozen Four and 64 teams in the NCAA Tournament during that time.