Stanley Cup Final to Feature Hockey East Flair in 2017
Seven Schools Represented By 20 Hockey East Alumni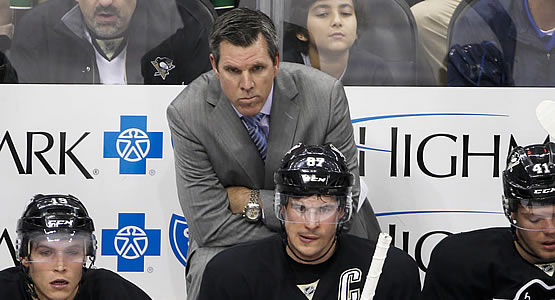 Pittsburgh Head Coach Mike Sullivan attended Boston University from 1986-1990
WAKEFIELD, Mass. - The Hockey East Association will boast 20 alumni representing seven schools in the 2017 Stanley Cup Final, as the Nashville Predators and Pittsburgh Penguins will compete for the right to win the National Hockey League's top prize. The first game of the series is set to begin Monday, May 29 at 8 p.m. in Pittsburgh.
The 20 Hockey East alumni are represented by 10 current players, one head coach, one general manager, two assistant general managers, and six other front-office personnel, including scouts and development coaches. A full list can be found below.
Boston College - Pittsburgh defenseman Brian Dumoulin (2009-12), Pittsburgh Assistant General Manager Bill Guerin (1989-91), Nashville Director of Hockey Operations Brian Poile (1996-97).
Boston University - Pittsburgh forward Nick Bonino (2007-10), Nashville Assistant General Manager Paul Fenton (1978-82), Nashville Chief Amateur Scout Jeff Kealty (1994-98), Pittsburgh Head Coach Mike Sullivan (1986-90), Nashville forward Colin Wilson (2007-09).
Massachusetts - Pittsburgh Goaltending Development Coach Mike Buckley (1996-2000), Nashville defenseman Matt Irwin (2008-10), Pittsburgh forward Connor Sheary (2010-14).
UMass Lowell - Pittsburgh defenseman Ron Hainsey (1999-2001), Pittsburgh defenseman Chad Ruhwedel (2010-13), Pittsburgh forward Scott Wilson (2011-14).
New Hampshire - Nashville Amateur Scout Tom Nolan (1993-98),
Northeastern - Nashville defenseman Anthony Bitetto (2010-12), Nashville Pro Scout Rob Cowie (1978-81), Pittsburgh Amateur Scout Jay Heinbuck (1982-86), Nashville General Manager David Poile (1967-70).
Notre Dame - Pittsburgh forward Bryan Rust (2013-14).
Last season, a record nine players from the Pittsburgh Penguins with roots in Hockey East had their names engraved on the Stanley Cup, including Bonino, Adam Clendening (BU, 2010-2012), Dumoulin, Ben Lovejoy (BC, 2002-03), Rust, Rob Scuderi (BC, 1997-2001), Sheary, David Warsofsky (BU, 2008-11), and Wilson.