Hockey East Honors 2016-17 All-Star Teams
League Names First, Second, Third Teams, Honorable Mentions at Championship Banquet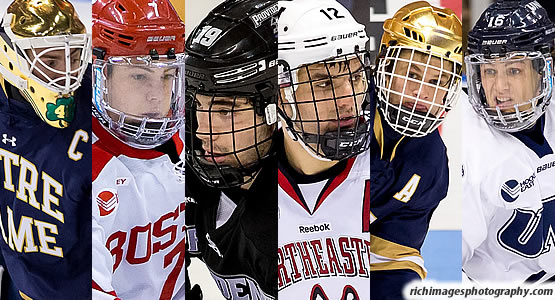 Hockey East 2016-17 First-Team All-Stars
CAMBRIDGE, Mass. - The Hockey East Association announced its three 2016-17 all-star teams as voted by the league's 12 head coaches Thursday night at the conference's annual awards banquet ahead of the 33rd Hockey East Championship, March 17 and 18 at the TD Garden in Boston.
BONUS VIDEO: 2016-17 Hockey East Highlights | Player of the Year Finalists | Rookie of the Year Finalists | Coach of the Year Nominees
The six Hockey East First Team All-Stars hail from five different schools and include goaltender Cal Petersen (Waterloo, Iowa/Notre Dame), defensemen Charlie McAvoy (Long Beach, N.Y./Boston University) and Jake Walman (Toronto, Ont./Providence), and forwards Zach Aston-Reese (Staten Island, N.Y./Northeastern), Anders Bjork (Mequon, Wis./Notre Dame), and Tyler Kelleher (Longmeadow, Mass./New Hampshire).
Comprising Hockey East All-Star Second Team are goaltender Jake Oettinger (Lakeville, Minn./Boston University), a pair of UMass Lowell defensemen in Michael Kapla (Eau Claire, Wis.) and Dylan Zink (Madison, Wis.), and forward Joe Gambardella (Staten Island, N.Y./UMass Lowell), Clayton Keller (Swansea, Ill./Boston University), and Dylan Sikura (Aurora, Ont./Northeastern).
Recognized as Hockey East All-Star Third Team members are goaltender Collin Delia (Rancho Cucamonga, Calif./ Merrimack), defensemen Dennis Gilbert (Buffalo, N.Y./Notre Dame) and Scott Savage (San Clemente, Calif./Boston College), and forwards Austin Cangelosi (Estero, Fla./Boston College), Adam Gaudette (Braintree, Mass./Northeastern), and Tage Thompson (Orange, Conn./UConn).
Also gaining acknowledgment from the league coaches are Hockey East All-Star Honorable Mentions in rookie netminder Joseph Woll (St. Louis, Mo./Boston College), defensemen Matias Cleland (Longmont, Colo./New Hampshire) and Jordan Gross (Maple Grove, Minn./Notre Dame), and forwards Blaine Byron (Ottawa, Ont./Maine) and C.J. Smith (Des Moines, Iowa/UMass Lowell).
The 22 All-Star honorees represent 10 of Hockey East's 12 member institutions while 14 can be seen competing in the 33rd annual Hockey East Tournament championship weekend, set to take place Friday, March 17, and Saturday, March 18, at the TD Garden in Boston. No. 1 UMass Lowell will square off with No. 4 Notre Dame Friday at 5 p.m., while No. 2 Boston University and No. 3 Boston College take the ice at 8 p.m. The winners advance to Saturday's championship tilt at 7 p.m. Fans can purchase tickets online at Ticketmaster.com or by calling 800-745-3000.
2016-17 Hockey East First-Team All-Stars

Goalie
Cal Petersen,
Jr., Notre Dame

Defense
Charlie McAvoy
So., Boston University

Defense
Jake Walman
Jr., Providence

Forward
Zach Aston-Reese
Sr., Northeastern

Forward
Anders Bjork,
Jr., Notre Dame

Forward
Tyler Kelleher
Sr., New Hampshire
2016-17 Hockey East Second-Team All-Stars

Goalie
Jake Oettinger
Fr., Boston University

Defense
Michael Kapla
Sr., UMass Lowell

Defense
Dylan Zink
Sr., UMass Lowell

Forward
Joe Gambardella
Sr., UMass Lowell

Forward
Clayton Keller
Fr., Boston University

Forward
Dylan Sikura
Jr., Northeastern
2016-17 Hockey East Third-Team All-Stars

Goalie
Collin Delia,
Jr., Merrimack

Defense
Dennis Gilbert
So., Notre Dame

Defense
Scott Savage
Sr., Boston College

Forward
Austin Cangelosi
Sr., Boston College

Forward
Adam Gaudette
So., Northeastern

Forward
Tage Thompson
So., UConn
2016-17 HOCKEY EAST ALL-STARS
First Team
G: Cal Petersen, ND (Jr.)
D: Charlie McAvoy, BU (So.)
D: Jake Walman, PC (Jr.)
F: Zach Aston-Reese, NU (Sr.)
F: Anders Bjork, ND (Jr.)
F: Tyler Kelleher, UNH (Sr.)

Second Team
G: Jake Oettinger, BU (Fr.)
D: Michael Kapla, UML (Sr.)
D: Dylan Zink, UML (Sr.)
F: Joe Gambardella, UML (Sr.)
F: Clayton Keller, BU (Fr.)
F: Dylan Sikura, NU (Jr.)

Third Team
G: Collin Delia, MC (Jr.)
D: Dennis Gilbert, ND (So.)
D: Scott Savage, BC (Sr.)
F: Austin Cangelosi, BC (Sr.)
F: Adam Gaudette, NU (So.)
F: Tage Thompson, UConn (So.)


Honorable Mention
G: Joseph Woll, BC (Fr.)
D: Matias Cleland, UNH (Sr.)
D: Jordan Gross, ND (Jr.)
F: Blaine Byron, ME (Sr.)
F: C.J. Smith, UML (Jr.)