Weekly Release: Top Four Seeds Advance to Hockey East Semifinals For First Time Since 2013
UMass Lowell, Boston University, Boston College, Notre Dame Destined for TD Garden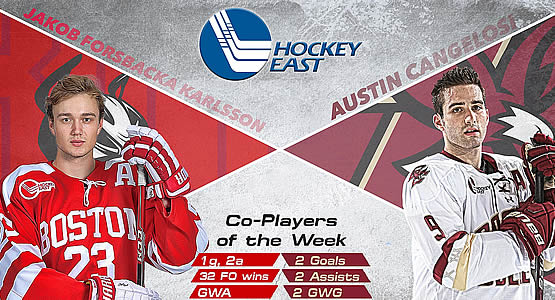 Co-Players of the Week Jakob Forsbacka Karlsson of Boston University and Austin Cangelosi of Boston College
AROUND HOCKEY EAST: The top four seeds in the Hockey East Tournament have advanced to the semifinal round, set for March 17 at 5pm and 8pm, at the TD Garden, for the first time since 2013. The games can be seen locally on NESN and streamed outside New England via ESPN3 ... #1 UMass Lowell (24-10-3/14-7-1 HEA) moves into the semifinals for the fifth straight season to meet #4 Notre Dame (21-10-5/12-6-4 HEA) for the third time in the four years Notre Dame has skated in Hockey Ea st. The River Hawks, who have appeared in the Hockey East Tourn ament title game for the last four years in a row, moved past #10 New Hamps hire in the lone three-game quarterfinal series, pumping in eigh t goals in the decisive Game 3. The Irish downed #5 Providence in straight gam es, 5-0 and 5-2, to move out of the quarterfinal round of postse ason play for the first time since 2014. That year, UMass Lowell knocked the I rish out of the semifinals, 4-0, en route to winning the first Ho ckey East Tournament title in program history. The River Hawks also won a thr ee-game quarterfinal series with Notre Dame in 2015 ... #2 Bosto n University (23-10-3/13-6-3 HEA) faces off with #3 Boston College (20-14-4/ 13-6-3 HEA) in the 23rd semifinal appearance for each school aft er the Terriers and Eagles both swept their quarterfinal series. Boston Universi ty claimed victory in two come-from-behind wins, downing #8 Nor theastern, 3-2, in overtime in Game 1 before earning a 3-2 triumph in regulatio n time in Game 2. The Eagles' offense exploded in two games ove r #6 Vermont, scoring 14 goals in two games to take 7-0 and 7-4 wins from the Catamounts. The two historic programs have not met in the play offs since the 2013 semifinals, a 6-3 Boston University win. The Eagles boast t he most Hockey East Tournament titles in league history, wearin g the crown 11 times in 16 trips to the championship game, while the Terriers eight championships in 11 appearances is the next highest total . All-time in the Hockey East postseason, Boston University owns a 9-3-0 record o ver Boston College, including a 3-1 mark in the semifinals.
---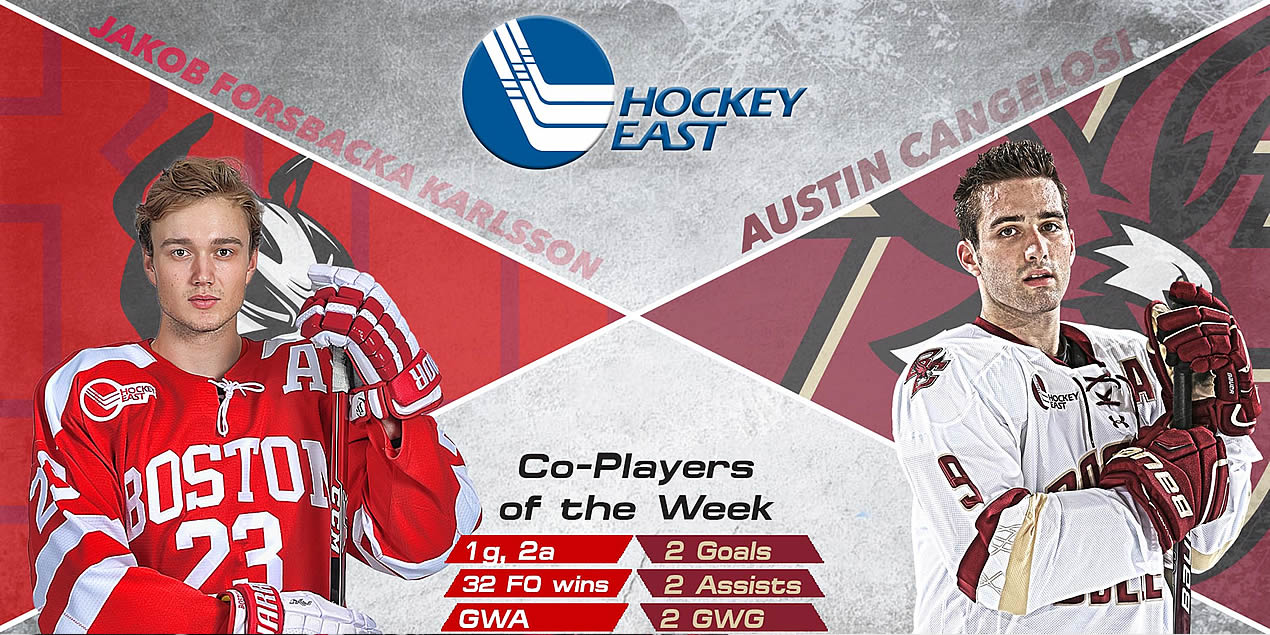 JAKOB FORSBACKA KARLSSON - BOSTON UNIVERSITY
AUSTIN CANGELOSI - BOSTON COLLEGE

Jakob Forsbacka Karlsson (Stockholm, Sweden) factored in on all three Terriers goals in Saturday's 3-2 comeback victory, scoring a goal and dishing out two helpers to push his team into the semifinals. JFK also won 32 faceoffs in the two games and blocked four shots, helping to keep Northeastern's high-powered offense to just two goals per game.

Austin Cangelosi (Estero, Fla.) scored a pair of power-play goals, including the game-winner, and added an assist in the Eagles' Game 2 victory over Vermont. The senior also scored the decisive tally in Game 1, netting a goal just eight seconds into the game for a four-point weekend with two game-winners.
---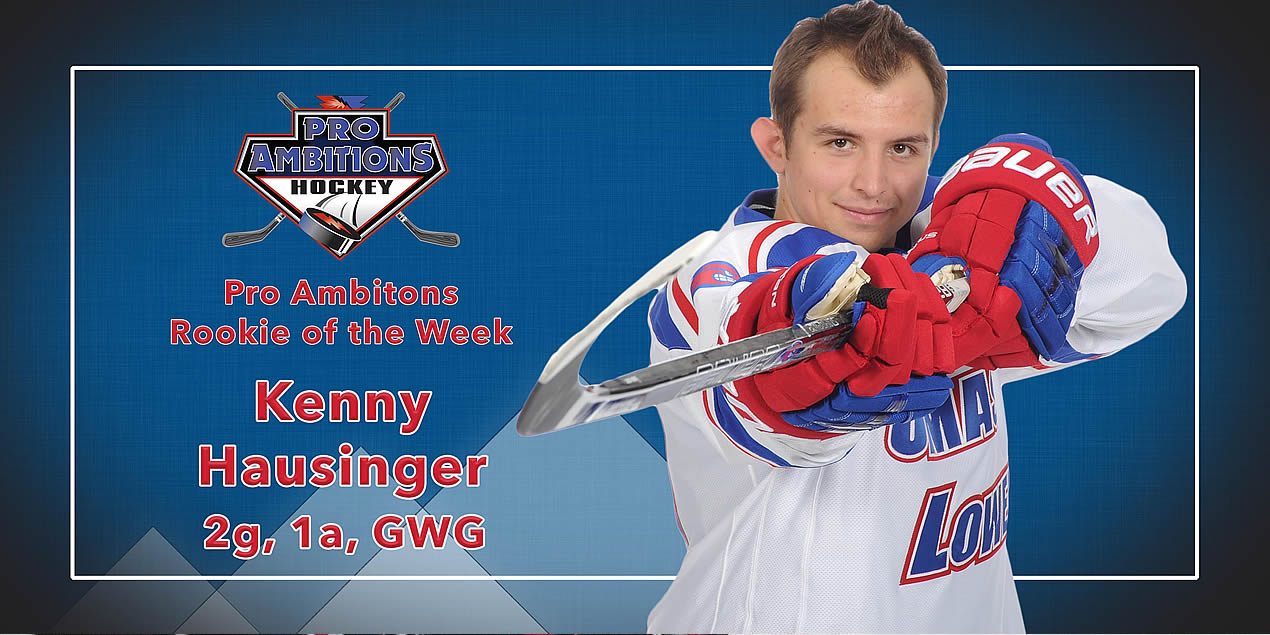 KENNY HAUSINGER - UMASS LOWELL

Kenny Hausinger (Anchorage, Alaska) picked up three points (2g, 1a) in Sunday's 8-2 win over New Hampshire in a decisive Game 3, including the game-winning marker in the first period. It marked his fourth game-winning tally of the season and pushed the River Hawks into the Hockey East semifinals for the fifth straight season.
---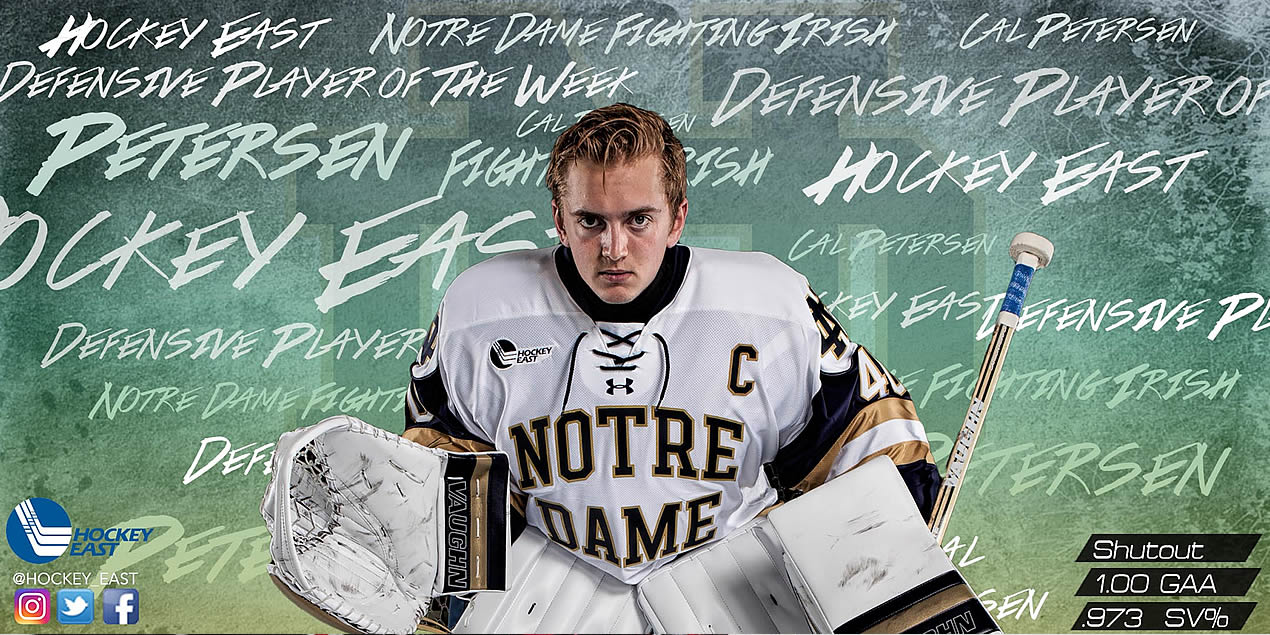 CAL PETERSEN - NOTRE DAME

Cal Petersen (Waterloo, Iowa) registered a 43-save shutout of Providence in a 5-0 Game 1 win, becoming the first netminder to shutout the Friars in their previous 87 games, dating back to Petersen's own 2-0 win against Providence in February 2015. He then stopped 28 of 30 shots in Game 2 to record a 1.00 goals against average an .973 save percentage on the weekend.
---
HOCKEY EAST WEEKLY TOP PERFORMERS
Luke McInnis, BC (Fr., D; Hingham, Mass.) Had the first multi-point outing of his career Friday in a 7-0 win, racking up four points on a goal and three assists to move his season point total to seven on three goals and four helpers.
Joseph Woll, BC (Fr., G; St. Louis, Mo.) Posted his first career shutout Friday in a 7-0 victory over Vermont, kicking out all 22 shots he faced from Vermont.
Chad Krys, BU (Fr., F; Ridgefield, Conn.) Scored a power-play marker with just 24.9 seconds left in the third period to lift his team over Northeastern in Game 2 of the quarterfinal series.
Charlie McAvoy, BU (So., D; Long Beach, N.Y.) Assisted on Boston University's final four goals in a six-goal weekend, including Friday's overtime tally and all three of Saturday's markers.
John Edwardh, UML (Jr., F; Calgary, Alta.) Racked up four points (2g, 2a) in a three-game set with New Hampshire, including three points in a decisive Game 3, an 8-2 victory.
Dylan Zink, UML (Sr., D; Madison, Wis.) Dished out four helpers in the three-game series with UNH, including two in Sunday's Game 3 win.
Andrew Oglevie, ND (So., F; Fullerton, Calif.) Had a goal and three assists in a sweep of Providence to lift the Irish into the Hockey East semifinals at TD Garden.
Cam Morrison, ND (Fr., F; Aurora, Ont.) Netted a goal and set up two more in the Irish's two-game sweep of the Friars.