Thursday, February 9, 2017
Hockey East Weekend Preview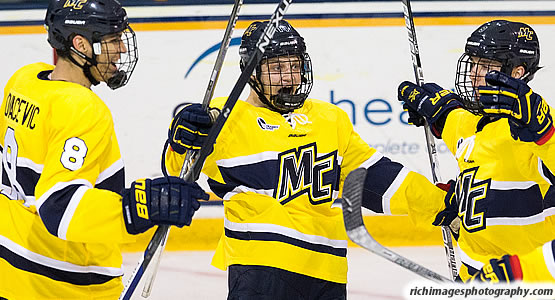 Merrimack College travels to Boston College for a Friday night game on ASN and NESN
No. 3 Boston University vs. No. 9 UMass Lowell/No. 4 Harvard – Fri. 2/11 at UML; Mon. 2/13 at TD Garden
- In the opening game of this series on Jan. 28, the Terriers outlasted the River Hawks, 4-2. Bobo Carpenter (North Reading, Mass.) led the Terriers with two goals and an assist.
- Clayton Keller (Swansea, Ill.) extended his conference-long point streak to 15 games this past Monday against Boston College in the opening round of the Beanpot. During those 15 games, the freshman forward has tallied 25 points on 11 goals and 14 assists. Keller's 30 points this season leads the Terriers in overall scoring.
- No. 3 Boston University and No. 4 Harvard will meet for the second time this season, and for the 45th time in the Beanpot Tournament. Earlier in the year, the Terriers downed the Crimson, 5-3, on Nov. 22. Defenseman Dante Fabbro (New Westminster, B.C.) recorded a goal and two assists in the effort. BU holds a 28-16-0 record against Harvard in the Beanpot, of which the Terriers hold a slight 9-8 edge in championship contests.

No. 7 Boston College vs. Merrimack/Northeastern – Fri. 2/10 at BC; Mon. 2/13 at TD Garden
- This will be the second meeting between No. 7 Boston College and Merrimack this season. These two team first met on October 25 to open league play with a 2-2 stalemate.
- Collin Delia (Rancho Cucamonga, Calif.) has backstopped the Warriors to a 2-0-2 record in his last four starts and holds a .954 save percentage over that time frame, including two wins over then-No. 1 BU.
- Northeastern and Boston College will meet for the third time this season, and the 45th time in the Beanpot Tournament. In the two previous contests this season, the Eagles swept the Huskies, 2-1, and 5-3. Boston College leads the overall Beanpot series with a record of 34-10-0.
- Boston College remains the most prolific offense in league play, scoring an average of 3.76 goals per contest with a plus-26 goal differential.

UConn vs. No. 11 Providence – Fri. 2/10 at PC
- No. 11 Providence is currently riding a conference-long seven-game winning streak. In that time, the Friars have outscored their opponents, 25-13. Forward Erik Foley (Mansfield, Mass.) has recorded a point in five of those contests, tallying three goals and five assists.
- On Saturday, Anthony Florentino (West Roxbury, Mass.) became just the second defenseman in the NCAA to record a hat trick this season. The senior d-man's eight goals lead the team in defensive goal scoring.
- UConn's Tage Thompson (Orange, Conn.) has found the score sheet in four of UConn's past five contests. In that span, Thompson has tallied five points on three goals and two assists to lead the team in overall scoring with 27 points (17g, 10a).
- UConn boasts a pair of top-five goaltenders in Rob Nichols (Dallas, Texas) and Adam Huska (Zvolen, Slovakia). Nichols ranks fifth in the conference with a 2.41 overall goals against average. Huska, on the other hand, ranks third in the league with .920 save percentage overall.

New Hampshire vs. No. 14 Vermont – Fri. 2/10, Sat. 2/11 at UVM
- New Hampshire is looking to right the ship after losing its previous five league games against No. 14 Vermont, which is 1-3-1 in its previous five contests.
- Wildcat senior forward Tyler Kelleher (Longmeadow, Mass.) has recorded two goals and four assists in his last three games to claim the nation's assist crown, with 31 helpers on the year.
- Vermont's Ross Colton (Robbinsville, N.J.) leads his team in scoring with 23 points (10g, 13a). The rookie forward has recorded a point in four of Vermont's previous six contests.
- Since January 1, New Hampshire netminder Daniel Tirone (Trumbull, Conn.) leads the conference in total saves (314) and total shots faced (345).

No. 16 Notre Dame at Maine – Fri. 2/10, Sat. 2/11 at ME
- No. 16 Notre Dame is coming off a big three-point weekend, tying and then defeating then-No. 12 Vermont in come-from-behind fashion. After the series, the Irish moved up to third place in the Hockey East standings with 19 points.
- Cal Peterson (Waterloo, Iowa) maintains his number two spot amongst Hockey East goaltenders in both overall goals against average (2.11) and overall save percentage (.925). The junior captain has started every game for the Irish this season.
- Anders Bjork's (Mequon, Wis.) 38 points (16g, 22a) this season has the junior forward ranked fifth nationally in total scoring. Bjork also leads the nation with five game-winning goals.
- Maine's Blaine Byron (Ottawa, Ont.) is riding a three-game point streak. In that time frame, the senior forward has scored twice and helped on two more.

UMass vs. Northeastern/No. 9 UMass Lowell/Merrimack – Fri. 2/10 at NU; Sat. 2/11 at UML; Tue. 2/14 at UMass
- Zach Aston-Reese (Staten Island, N.Y.) leads Northeastern's prolific offense with 47 points (22g, 25a). Most recently, the senior forward has reached the score sheet in three-straight appearances, tallying six assists in that stretch.
- This will be the second time that No. 9 UMass Lowell and UMass will face each other this season. In their previous matchup on Jan. 14, the River Hawks defeated the Minutemen, 2-1, in a non-league contest. UML's Ryan Lohin (Chadds Ford, Pa.) led the effort with a goal and an assist.
- No. 9 UMass Lowell enjoyed an offensive revival last weekend that saw the River Hawks score a combined 14 goals in wins over Northeastern and New Hampshire. Defensemen Mattias Göransson (Slottsbron, Sweden) and Michael Kapla (Eau Claire, Wis.) each tallied five points in the two victories.
- UMass and Merrimack will square off for the second time this season next Tuesday. In a November road game, UMass defeated Merrimack, 3-1. Minutemen goaltender Nic Reynard (Victoria, B.C.) made 40 saves en route to his first victory of the season.